Mandatory bridge inspections have been required on a federal level since 1970. That was when the Federal-Aid Highway Act of 1970 was created. This landmark legislation was enacted on December 31, 1970, and for the first time in U.S. history, established uniform, national-level standards for bridge inspection and safety evaluation. The highway Act also established funding for the replacement of deficient bridges on the Federal-aid highway system.
Fast forward half a century and many of the bridges that were already built back then are still in use. Unfortunately, a large portion of our nation's bridges are in poor condition despite the regular inspections and periodic repairs. 
Also, much of the same equipment is being used to inspect those bridges.
There are a few under bridge inspection units that are bigger, or more technologically advanced, than what was available in 1970. But many of the same practices and techniques are still used today. 
Enter the Drone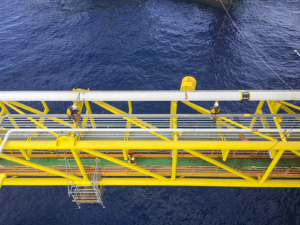 While most bridge inspections still rely on under bridge inspection units or various types of aerial work platforms (AWPs), it is certainly not an inexpensive endeavor. 
According to one article,
"A recent study by the American Association of State Highway and Transportation Officials (AASHTO) found that the average cost to inspect a typical freeway bridge comes out to $4,600 using traditional deck inspection methods. The social costs to the users of the bridge are calculated to be $14,600 due to the disruption caused by extended lane closures."
One intriguing alternative that has come of age just in the last few years is the use of Unmanned Aerial Vehicles (UAVs) or drones as they are commonly known. With the surge in popularity of recreational drone piloting, the technology has developed rapidly to keep pace.
The result is that drones are being used for a wide range of technical and commercial applications. For example, they are regularly used to inspect wind-powered generators, utility towers of various kinds, and – not so surprisingly – bridges.
All That and a Bag of (Micro) Chips
Don't write off the trusty "Snooper" truck or boom lift quite yet, however. Drones may hold great promise and potential for a variety of difficult tasks like bridge inspection, but they are not perfect.
Far from it, apparently.
For one thing, they crash. This can be an expensive risk for a drone operator, especially for bridges over water. And this can be a risk to civilians on the road below and even on a bridge. 
Most drones are completely dependent on GPS and magnetometers for navigation. Under a bridge, however, when surrounded by metal trusses and often blocked from GPS, the drone cannot hold its position without constant operator input.
And drones are highly difficult to operate close to a bridge structure, so operators normally fly at a distance, which then requires expensive, high-resolution cameras to capture visual data. This has not worked out too well for the most part when it comes to under bridge inspections.
Not surprisingly, UAV manufacturers routinely tout the benefits and advantages of drone use for under bridge inspections. And rightly so, to a point. 
Part of the problem has nothing to do with a high-end, enterprise model drone, but with the strict regulations of the FAA. For example, the rules require that drones can be operated only when they're in sight of the pilot. This eliminates much of the under bridge environment because of the complex structures that must be navigated. 
However, the FAA recently approved a waiver to allow this type of piloting. According to an article from Government Technology, 
"The Federal Aviation Administration approved a waiver… that allows North Carolina to operate drones out of sight from the operator during bridge inspections statewide, according to a release from the state's Department of Transportation.
North Carolina is the first state to get the waiver, the release said.
The state has already been using drones regularly for its inspections since 2016, but only when they've been in sight of the pilot, which is federal law."
To accomplish this, operators and inspectors must make use of drones powered by on-board artificial intelligence (AI) that allows the vehicle to fly in hard-to-reach areas and to take high resolution photos even in places where the GPS signal is unreliable.
Until technology takes another small, quantum leap with autonomous UAVs, human operators and inspectors, manning boom lifts and under bridge inspection units like the Aspen Aerials A-30, will still be the standard method for bridge inspections. 
Looking for High Quality Under Bridge Inspection Units?
We provide quality under bridge equipment throughout all the Western States, including California, Washington, and Oregon.
Our inventory of snooper trucks and under bridge access platforms include the state-of-the-art self-drive access platform, the Truck Mounted Hydra Platform HPT43 and the Skyjack SJB-66TK, among others. 
We take great pride in being the only company based in California that offers complete under bridge access. And, by offering world-class customer service, we have managed to build long-lasting relationships with our esteemed customers. And we intend to keep it that way. 
So, contact us today to discuss your under bridge access requirements.