Looking for the safest way to successfully complete an underbridge inspection project? This is where Under Bridge Platforms come in. These monster tools help us maintain the most hard to reach areas of our city bridges.  With two locations nationally, we are poised to serve the entire Western United States. 
Go Big With Our HPT66 Truck-Mounted Underbridge Platform
When the job you need to do is big, you need a big platform and that's what you get with an HTP66. We can help you take on that task with this 66-foot truck-mounted platform that can be lowered 22 feet and reach 4,100 square-feet of underbridge area from one placement.
You know that time is money and the overwhelming time savings of not having to use scaffolding is tremendous. In fact, instead of hours spent setting up, using the HPT66 means your crew can be at work 15 minutes after you've positioned it on the bridge and begin positioning the platform.
The massive HPT66 is our top-of-the-line truck-mounted platform.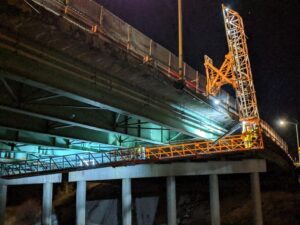 The HPT66 truck-mounted platform is a fully equipped underbridge access and work platforms, which are mounted on diesel-powered trucks. These state-of-the-art access platforms are the most versatile devices for inspections and under-bridge operations. The HPT66 features a patented Tower Separation System (TSS), featuring hydraulically adjustable cross linking arms between the main outside vertical tower and the turntable sub-frame, mounted on the truck.
This system allows operators to erect and extend the tower and the platform to provide easy access over sidewalks, railings and other barriers without restricting your underbridge operations. The main operating system is a silenced 30 kW diesel generator with a hydraulic pump that reduces fuel consumption and pollution during operation by 50 percent.
In addition, the HPT66 platform offers standard Dual Side Hydraulic Outrigger Stabilizers to provide maximum stability and a high level of safety. All of these features come together to make the HPT66 an efficient and effective solution for bridge inspection, repair and under-bridge maintenance tasks. 
HPT66 Specifications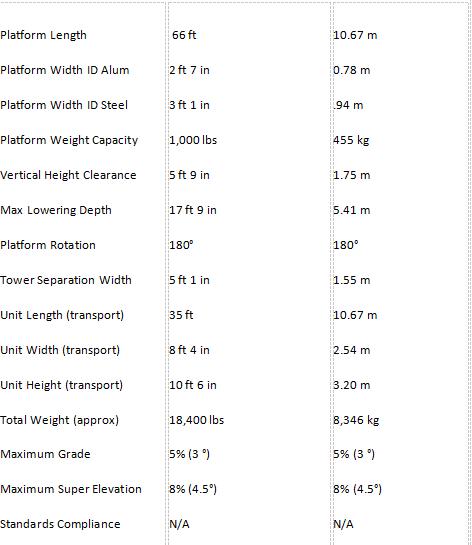 Advantages Of the HPT66
Saves time
It allows underbridge tasks to be completed quickly, as the personnel can be under the bridge working within fifteen minutes of their arrival at the jobsite.
Enhances Safety
The risk associated with use of underbridge access platforms is very minimal. The HPT66 comes with multiple built-in safety features that ensure personnel whenever they climb onboard.        
Saves money
Time saved is often money saved. Since our platform enables your personnel to complete tasks quickly, you can be able to carry out more tasks within a day, which translates to more money at the end of the day.
What Our Under Bridge Platform Equipment Is Used For
You can hire our Under Bridge Platform for all types of under-bridge projects:
Inspections

Repairs

Stripping operations

Painting and sandblasting

General maintenance

Replacement and maintenance of bearings

Installation and maintenance of under-bridge pipe and cables and more!
Hydra Platforms Manufacturing was acquired by Terex in 2008 and then sold to Anderson Hydra Platforms, Inc. in 2014, which is now the nationwide manufacturer, sales, service and rentals source of Hydra Platforms. Anderson Underbridge has become a leading name in underbridge access work with extended platform lengths ranging from 35 to 66 feet.
Why You Should Hire Our HPT66 Platform
24/7 Customer and Technical Support
Regardless of where you are or what time of the day, our customer support team will be ready to answer your phone call and address any questions or concerns you may have.
Professional Operators
The effectiveness of an underside access platform largely depends on the operators that operate it.
Fully-insured operators
Even though our HPT66 platform comes complete with multiple features, we are not oblivious of the fact that accidents can still happen.