The HPT38 is a compact truck model and a versatile under bridge inspection unit with an extended platform length of 38 feet and can reach up to 1,600 square feet of under bridge area from one fixed point on a bridge deck.
HPT 38 Truck Mounted Platform: A Self-Propelled Under Bridge Inspection Unit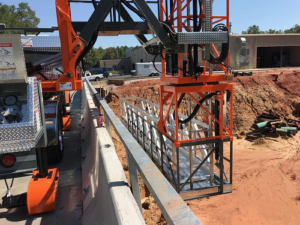 Even though there are under bridge platforms that are larger, the HPT 38 is built to handle large projects. It comes equipped with enough hardware and capabilities to service more than 1,600 square feet of under-bridge area with one deck placement.
With its maximum drop depth of 16 feet 8 inches. (5.09 m) and platform extension of 38 feet (11.58 m), the HPT38 can easily reach across most bridges with two to three lanes of traffic.
The platform weight capacities of 500 pounds at the end of the platform with 1,000 pounds total, provides for secure accommodation of multiple workers along with tooling and equipment.
With a maximum 16-foot lowering depth and 180° rotation, this platform is perfect for numerous applications from bridge inspection and restoration to stripping operations and utility work.
Weighing in at just 30,000 pounds (13,607 kg) the HPT 38 is incredibly stable, and features fall protection anchorage points. It also comes equipped with an economical 19 HP gas engine with auto idle to power the main hydraulic system and a self-propelled hydraulic drive.
The Model HPT 38 features a patented Tower Separation System (TSS) that allows the tower and the platform to be erected and extended by operators to reach over pedestrian sidewalks and other barriers without restricting the under-bridge operations. In addition, it offers ± 5° tower adjustment for super elevation.
And access crossover to the tower remains horizontal at all times during operation.
In addition to these unique features, the HPT 38 Truck Mounted Platform allows for single lane five-minute deployment and includes:
CANbus control system with 7ʺ main panel display

Level-sensing and load-sensing with visual and audible alarms

Multiple control locations

Wireless remote with proportional paddles

Air brakes
The HPT38 is powered by an 18HP V-twin gas engine with auto idle, Auxiliary Hydraulic Backup System: Truck Engine P.T.O., Hydraulic Control Panels (deck, platform & handled).
Specifications US Metric
| | | |
| --- | --- | --- |
| Platform Length | 38 ft | 11.58 m |
| Platform Width ID Alum  | 2 ft 7 in | 0.79 m |
| Platform Width ID Steel | 3 ft 1 in | .94 m |
| Platform Wt Capacity | 1,000 lbs | 454 kg |
| Crossover Ht Clearance | 7 ft 4 in | 2.23 m |
| Max Lowering Depth | 16 ft 8 in | 5.09 m |
| Platform Rotation | 180° | 180° |
| Tower Separation Width | 5 ft 6 in | 1.68 m |
| Unit Length (in transport) | 31 ft 2 in | 9.50 m |
| Unit Width (in transport) | 8 ft 6 in | 2.59 m |
| Unit Height (in transport) | 12 ft 7 in | 3.84 m |
| Total Weight (approximate) | 30,000 lbs | 13,607 kg |
| Maximum Grade | 5% (2°) | 5% (2°) |
| Maximum Super Elevation | 8% (5°) | 8% (5°) |
| Standards Compliance | ANSI A92.20 | ANSI A92.20 |
(Image courtesy of RoadsBridges.com)
Advantages Of The HPT 38 Truck-Mounted Inspection Platform
Saves money
Time saved means money saved. Because the platform enables your personnel to access and complete tasks quickly, you are able to carry out more tasks in less time, which translates to more money at the end of the day.
Saves time
The HPT 38 allows many underbridge tasks to be completed quickly, since your personnel can be under the bridge and working shortly after their arrival at the jobsite.
Increases Safety
The risks often associated with using underbridge platforms are minimized with the HPT 38 since it comes with multiple built-in features that ensure personnel safety whenever it's being operated.
How Our Under Bridge Platform Equipment Is Used
 You can hire our Under Bridge Platforms for all types of under-bridge projects:
Inspections

Repairs

Marine dockside operations

Stripping operations

Painting and sandblasting

General maintenance

Replacement and maintenance of bearings

Installation and maintenance of pipes, cables, and more!
Hydra Platforms Manufacturing was acquired by Terex in 2008 and then sold to Anderson Hydra Platforms, Inc. which is now the nationwide manufacturer of Hydra Platforms, which have become a leading name in under-bridge access work.
Why You Should Rent Our HPT 38 Truck-Mounted Inspection Platform
24/7 Customer and Technical Support
Regardless of where you are or what time of the day, our customer support team will be ready to answer your phone call and address any questions or concerns you may have.
Professional Operators
The effectiveness of any under bridge access platform largely depends on the operators that operate it.
Fully-insured operators
Even though our HPT 38 Truck-Mounted Inspection Platform comes complete with multiple features, we are not oblivious of the fact that accidents can still happen.
We serve California, Oregon, Washington State, Idaho, Nevada, Montana, Wyoming, North Dakota, South Dakota, Nebraska, Kansas, Oklahoma, Texas, New Mexico, Arizona, Utah, Missouri, Arkansas, Louisiana and more!