The industry of bridge riggers, bridge inspection, maintenance and repair covers all 50 states, Guam and Puerto Rico, which, according to the Federal Highway Administration, have over 616,000 bridges.
Unfortunately, an excessively large number of these bridges are in need of repair.
Working Hard to Keep Up With Bridge Repair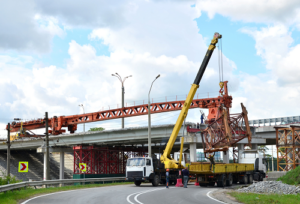 We hear numbers thrown out occasionally on the state of bridges in need of repair, but these are often abstract and lack any real context. Here are some statistics that help provide a bigger picture of the somewhat precarious state of our nation's bridges:
More than 46,000 bridges are rated in poor condition and classified as "structurally deficient."

A total of 81,000 bridges should be replaced.

More than one third (37 percent) of U.S. bridges—nearly 231,000 spans—need repair work.

At the current rate, it will take 50 years to fix all of the nation's structurally deficient bridges.

There are 178 million daily crossings on over 46,100 structurally deficient U.S. bridges in poor condition.

Structurally deficient bridges are nearly 69 years old, on average, compared to 44 years old for non-deficient bridges.

If placed end-to-end, the length of bridges in need of repair would stretch over 6,300 miles.
According to a report from the American Road & Transportation Builders Association (ARTBA),
"Nationwide, the area of structurally deficient is 21.4 million square meters, a total of 5.4 percent of the area of all bridges.  That is enough to cover over 4,000 football fields.  Half of the bridge deck area in the country— 50 percent – is rated in fair condition, with the remaining 44 percent considered to be in good condition."
A snapshot of one state, California, provides a revealing trend. In the nation's largest state, the top ten most traveled structurally deficient bridges are found in just three counties, all in southern California.
The counties of Los Angeles, Orange and Contra Costa have bridges supporting a total of 2,543,000 daily crossings, with the oldest bridge – on Interstate 5 over Marietta Street in Los Angeles County – dating from 1948. In addition, California holds the honor of having 14 of the top 20 "Most Traveled U.S. Structurally Deficient Bridges" in 2019.
Top Ten States – Percentage of Structurally Deficient Bridges
When listed by the percentage of structurally deficient bridges in each state based on the number of bridges in those states, the top ten states are as follows:
(Courtesy of artbabridgereport.org)
There are a total of 46,154 bridges that are classified as structurally deficient and considered to be in poor condition. The combined length of just these bridges is over 1,115 miles and could span the distance between Las Vegas and Seattle. According to data gathered by ARTBA, motorists cross these compromised bridges almost 180 million times every day.
Types of Repair Work Needed By Percentage of Structurally Deficient Bridges
35% – Bridge replacement
23% – Rehabilitation
20% – Other structural work
17% – Widening and other rehabilitation
5%   – Deck rehabilitation or replacement
The state of Texas has the largest number of bridges of any state in the country with 54,432. However, it ties with Nevada for having the lowest percentage of structurally deficient bridges overall in the state with just 1.3% of bridges in need of repairs.
And which state is number one? 
That would be Rhode Island. With only 779 bridges in the state, 174 (or 22.3%) are considered structurally deficient and in need of repairs and rehabilitation.
Need Bridge Rigger Inspection or Repair Equipment Rental?
If your business involves constructing new bridges, repairing existing bridges or simply inspecting them you need a variety of equipment for your work. However, most firms do not have the resources to buy and maintain a fleet of vehicles and equipment to handle every bridge project they acquire. Not to mention the means to store them safely.
This is why renting bridge boom lifts and other bridge equipment is the best way to get the right equipment when you need it.
Depending on the volume of work your company does, you may have times where only a few under bridge inspection units or bridge boom lifts are needed. Other times, however, might see your company engaged on several job sites simultaneously. Over time, it becomes far more cost-effective to simply rent the right equipment when you need it and only when you need it.
Another advantage of renting your bridge boom lifts and other related equipment is having access to newer and more advanced models. Purchasing your own lift can be a major capital investment and you'd likely feel pressed to rely on that unit long past the time it should be replaced. With most rentals, however, you are far more likely to have use of much newer models and have several to choose from, as well.
Having a professional firm you can rely on to guide you through the process of hiring the right under bridge inspection vehicle and bridge inspection platform equipment for your project is key to making the proper selection.
We take a great deal of pride in being the only company in California that offers total under bridge access. By offering high quality customer service, we have managed to build long-lasting relationships with our esteemed customers. And we intend to keep it that way.
Contact us today to discuss your requirements.