A maximum horizontal reach of 60'6″ is provided by our Aspen UB-60 unit. This device can be operated from above, below, or next to the bridge span.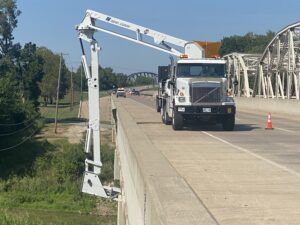 The Aspen UB60 Bridge Inspection Unit 
Bridge inspection projects are often difficult and require specialized equipment that allow the inspector or operator to move securely into any position adjacent to the bridge structure in order to conduct any type of close inspection. This is why having the right equipment is essential in this field.
To ensure that our equipment will satisfy all the requirements, our design engineers at UNDER BRIDGE PLATFORMS have engaged the assistance of several inspection specialists. A unit created with your bridges in mind is the product of our listening and consideration.
We provide a complete bridge inspection unit that enables you to operate above, below, or on the span to complete your task with the least amount of disruption to daily traffic.
Truck travel is made possible in the deployed position when the platform is positioned outside or under the bridge structure. It is safer to operate when there is constant contact between the inspector and the truck driver.
Traffic control issues have received particular focus. The UNDER BRIDGE PLATFORMS UB units provide stability without the need for outriggers, and spinning counterweights remain within 96″ (2436 mm) of the truck body, preventing any part of the unit from blocking more than one lane of traffic.
Aspen UB60 Features
EXTRA AGILITY – The UB60 model of UNDER BRIDGE PLATFORMS comes equipped with extra agility. This unit has a fourth boom that is hydraulically activated, extending the working range to allow travel between bridge girders for a close-up view of the underside. On the type Aspen UB60, this boom can lift an inspector 3.0 meters (9'9″) above the third boom when it is positioned perpendicular to it.
GOOD SYSTEM CONTROL – The typical feature that has been adopted as a trademark by UNDER BRIDGE PLATFORMS is smooth, precise control. All boom and rotation functions may be precisely metered using electro/proportional valves, and each function has a separate control. Three (3) control stations are offered: one on the work platform, one connected to a 20′ (6.1 m) extensible remote cord and employing interchangeable electro/hydraulic controls, and a third set, fully hydraulic, at the main control station. An engine kill switch is included at each control station, and when pressed, it will turn off both the auxiliary and the chassis engines. All units in the UNDER BRIDGE PLATFORMS UB series come with these characteristics as standard.
VERTICAL BARRIER CLEARANCE is made to extend across fences taller than ten feet.
Two rotating turrets are available for maneuverability, one at the pedestal (T-1) that allows for 155° of rotation and the other at the end of the first boom (T-2) that allows for up to 360° of rotation. T-2 has a 224° rotation when it is deployed, giving it more agility to thread through narrow trusswork and avoid underbridge support, allowing it to easily reach more underbridge space.
IMMENSE WORK STATION – With UNDER BRIDGE PLATFORMS units, spacious work platforms are standard. The UB60 comes equipped with a 600 Ib (272 kg) capacity, 24″ x 54″ x 42″ deep (609 mm x 1370 mm x 1066 mm) fiberglass platform with recess hand grips for hand safety. Every platform is made to be switchable.
Additionally available is the 8-foot wide, 3-man metal work platform with 180° hydraulic rotation.

The fourth boom can optionally have a hydraulic extension installed for more reach behind deep girders.
POWER SOURCES – There are two power sources available. The main power source is a liquid-cooled diesel engine that can run the Bridge Inspection Unit while also running a direct-mounted generator to supply electricity to the platform. The truck transmission's power take-off serves as the backup power source.
ACCESSORIES – A three-station communication system, electric outlets with 115 and 220 volts, platform heaters, floodlights, tool trays, and a platform cover are all included as accessories.
OVERHEAD CAPABILITIES – Every UNDER BRIDGE PLATFORM has overhead capabilities. The third boom may be lifted vertically and no further booms need to be attached.
Aspen UB60 47′ 3″ is the vertical distance measured from the bridge deck to the base of the work platform (14.4 m)
Aspen UB60 Specifications:
Reach Under Bridge Horizontal: 60'6″

70′ Above Vertical Reach Down 

47'3″ Vertical Reach Up

Fence Clearance: 10′ 

Sidewalk Dimensions: 12'6″

Turret 1's rotational range is 270 degrees.

Turret 2's rotation range is 180 degrees.

Weight declared: 65,000 (32.5 Tons)

Axle distance from front to back: 28'10"

40'4″ in length overall

Height overall: 12'10"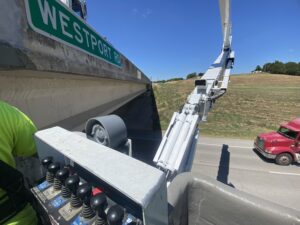 Benefits of Aspen UB60
Reduces costs and time
Time and money are both saved. You can accomplish more activities in less time, which results in more money at the end of the day because the platform makes it easy for your staff to access and finish jobs swiftly.
With the Aspen UB60, many underbridge operations may be finished rapidly since your staff can start working underneath the bridge within 15 minutes of arriving at the job site.
Improves Safety
The Aspen Aerials UB60 comes with several built-in safeguards that assure crew safety while it is being used, minimizing the hazards sometimes connected with using underbridge platforms.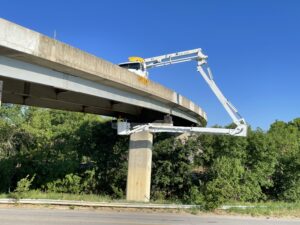 Usage of Aspen UB60
For all kinds of under-bridge tasks, you can hire our Under Bridge Platforms:
Stripping operations

Repairs

Painting and Sandblasting

Bearing Maintenance and Inspection

Utility Maintenance

Fiber-Optic Installation

Marine dockside operations

Installation and maintenance of pipes, decks, beams, cables, railings, and more
Why Choose Our Aspen UB 60 Unit
At Under Bridge Platforms we'll provide you with professional and fully insured operators with experience in operating in highly complex projects.  You'll also get a support team dedicated to your specific needs 24/7.