The Bridgemaster-Art-B-4 features a convenient double-telescopic primary boom that allows it to be stowed securely and compactly for transit and over-the-road travel. The articulating boom Bucket Mount provides impressively high up-reach for accessing behind fascia beams. 
This reach allows for close-up, hands-on accessibility, and easy bucket threading for tight through-truss access. While some under bridge access units are either too large for easy access, or too small for the reach required, the Bridgemaster-Art-B-4 provides just the right fit for many jobs.
This versatile under bridge inspection unit doesn't require a large workspace profile, yet it can still provide an under bridge reach of up to 55 feet. This unit features a right-hand deployment and typically only requires a minimal shoulder closure for safe operation.
Working With Our Bridgemaster-Art-B-4 Under Bridge Unit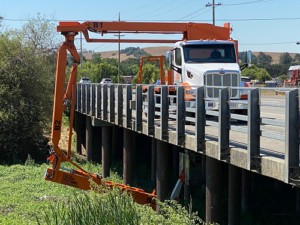 With right-side only deployment and no outriggers required, this vehicle offers a minimized traffic lane footprint. The machine can extend a platform 55 feet under a bridge and features four booms.
The first can move 17 feet and the second boom can reach under girders as deep as 21-feet. The third can reach to the centerline of a 116-foot wide bridge deck. The fourth boom can place a 3-man bucket underneath 20-foot girders and up between the girders.
"The Bridgemaster provides us with the ability to access virtually every square inch of the super- and substructure with only minimal traffic impacts. The vehicle also has the versatility to be operated from beneath the structure as a relatively flexible lift device."  – Marc S. Grunert, P.E., Principal Bridge Design Engineer, Nevada Department of Transportation
DFM Bridgemaster-Art-B-4 Specifications and Features
SPECIFICATIONS:
Horizontal Under Bridge Reach:  Up to 55'

Optional 4th Telescoping Boom: Yes (4′)

Fence Clearance: 8′

Deploys: Right Only

GVW: 56,000lbs

Length: 37'

Height: 12'6″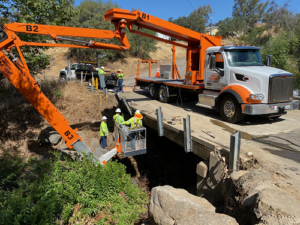 FEATURES:
Fiberglass Bucket

Bucket Weight Capacity: 600lbs

Bucket Size: 2'x 4′ x 4′

Bucket Type: 3 Man Bucket

Outriggers: None required

Heated Buckets: Available
Advantages Of the DFM Bridgemaster-Art-B-4
Ease of Use
It allows under bridge tasks to be completed quickly, as the personnel can be under the bridge working within minutes of their arrival at the jobsite.
Enhanced Safety
The risk associated with use of under bridge access platforms is very minimal. The DFM Bridgemaster-Art-B-4 comes with multiple built-in safety features that protect personnel using the platform.        
Saves Money
Since our platform enables your personnel to complete tasks quickly, you can be able to carry out more tasks in less time, which translates to more money at the end of the day.
Using Our Under Bridge Platform Units
 You can hire our DFM Bridgemaster-Art-B-4 for all types of under-bridge projects:
Inspections and repairs 

Painting and sandblasting

General maintenance

Replacement and maintenance of bearings

Installation and maintenance of lights, pipe, and cables
If your job requires you to carry out routine cleaning, repair, or maintenance of roadway or railroad bridges, you already know that working on – and under – bridges involves a high level of risk. Inability to reach critical areas under a bridge, or mistakes made due to limited access, can create costly delays.
In addition, using inappropriate methods or equipment to access the underside of bridges and bridge structural elements can create safety issues. There is only one way to make certain that your under bridge project is complete on schedule and with the safest method available, and that is by using under bridge access platforms and leaving scaffolds, ladders, and ropes behind. And this is why you need Under Bridge Platforms, your trusted source for under bridge inspection units.
Why You Should Rent Our DFM Bridgemaster-Art-B-4 
Our 24/7 Customer and Technical Support
Regardless of where you are or what time of the day, our customer support team will be ready to answer your phone call and address any questions or concerns you may have.
Professional Operators
The effectiveness of any under bridge access platform depends primarily on the expertise and professionalism of the operators who use it.
Fully Insured Operators
Even though our DFM Bridgemaster-Art-B-4 comes complete with safety features, we realize that accidents can still happen.
Advantages Of Under Bridge Platforms
Does your job require you to carry out routine cleaning, repairs, or maintenance on bridges? Working on bridges involves a high level of risk and any small mistake might result in delays and safety issues. There is only one way to ensure that your project is completed on time and in the safest way possible – foregoing ladders and ropes and opting for under bridge inspection units from Under Bridge Platforms. 
We serve California, Oregon, Washington State, Idaho, Nevada, Montana, Wyoming, North Dakota, South Dakota, Nebraska, Kansas, Oklahoma, Texas, New Mexico, Arizona, Utah, Missouri, Arkansas, Louisiana and more!