The HPT66 is our top-of-the-line truck-mounted platform: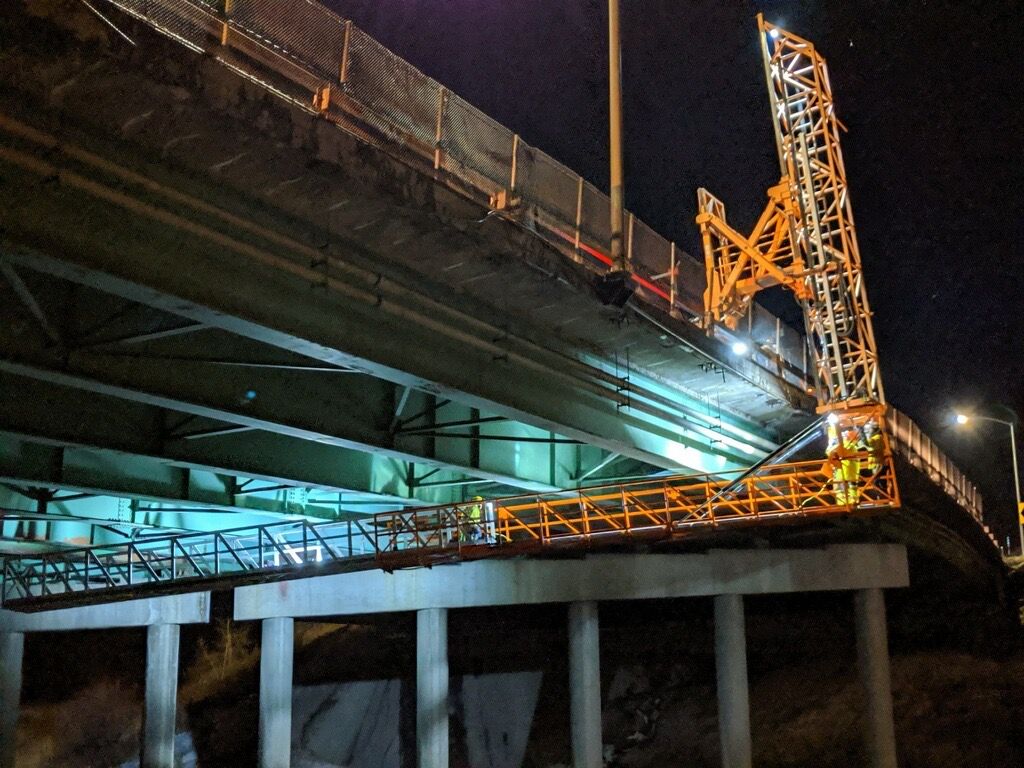 When the job you need to do is big, you need a big platform and that's what you get with an HTP66. We can help you take on that task with this 66-foot truck-mounted platform that can be lowered 22 feet and…
HPT 43 Truck Mounted Platform: Self-Propelled Under Bridge Access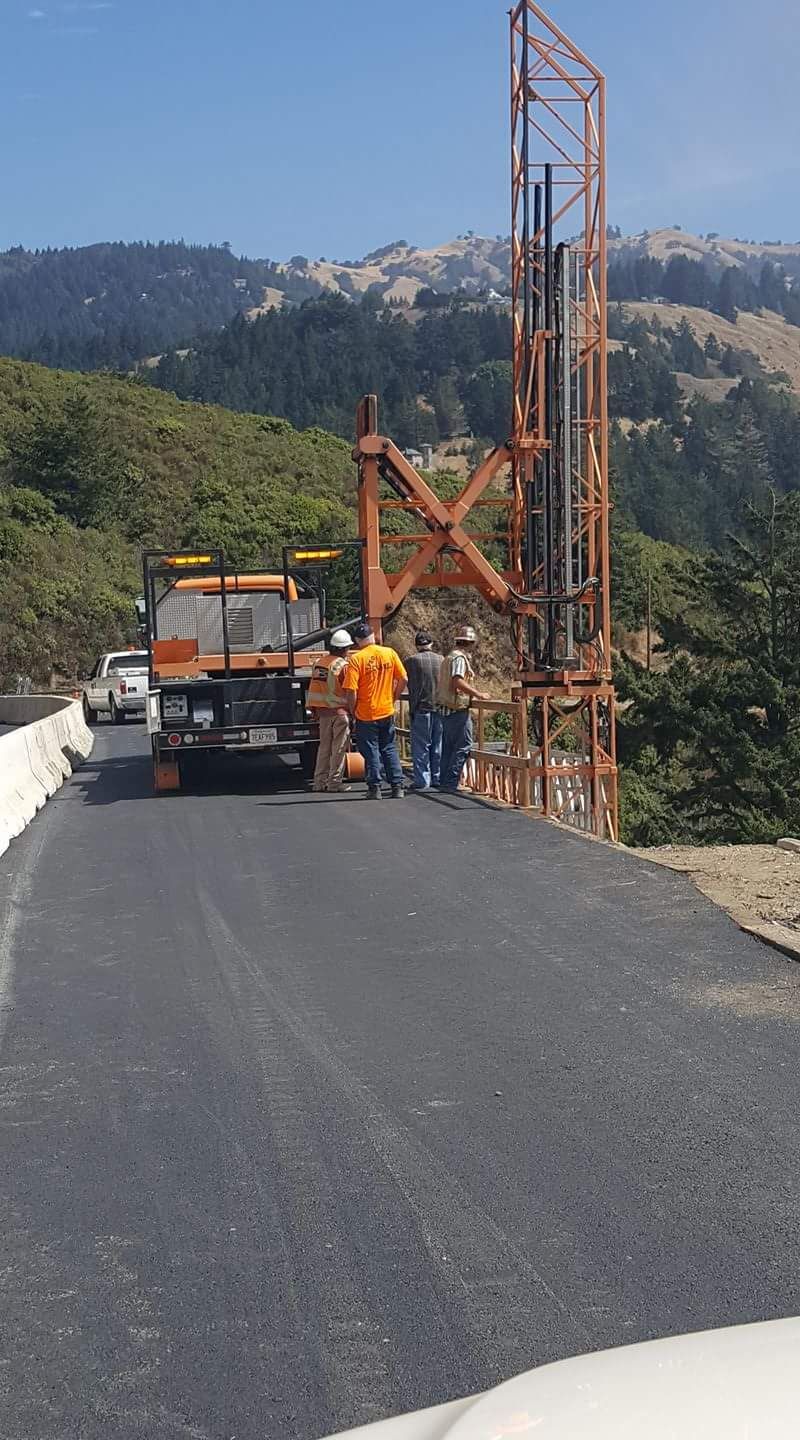 Even though there are under bridge platforms that are larger, the HPT43 is built to handle large projects. Providing a maximum drop depth of 19.5 feet (5.94 m) and platform that can extend to just over 42 feet (13.08 m), the HPT43 will allow you access to more than 1,700 square feet of under-bridge area in a single placement.
HPT 32 Trailer-Mounted Under-Bridge Access Platform: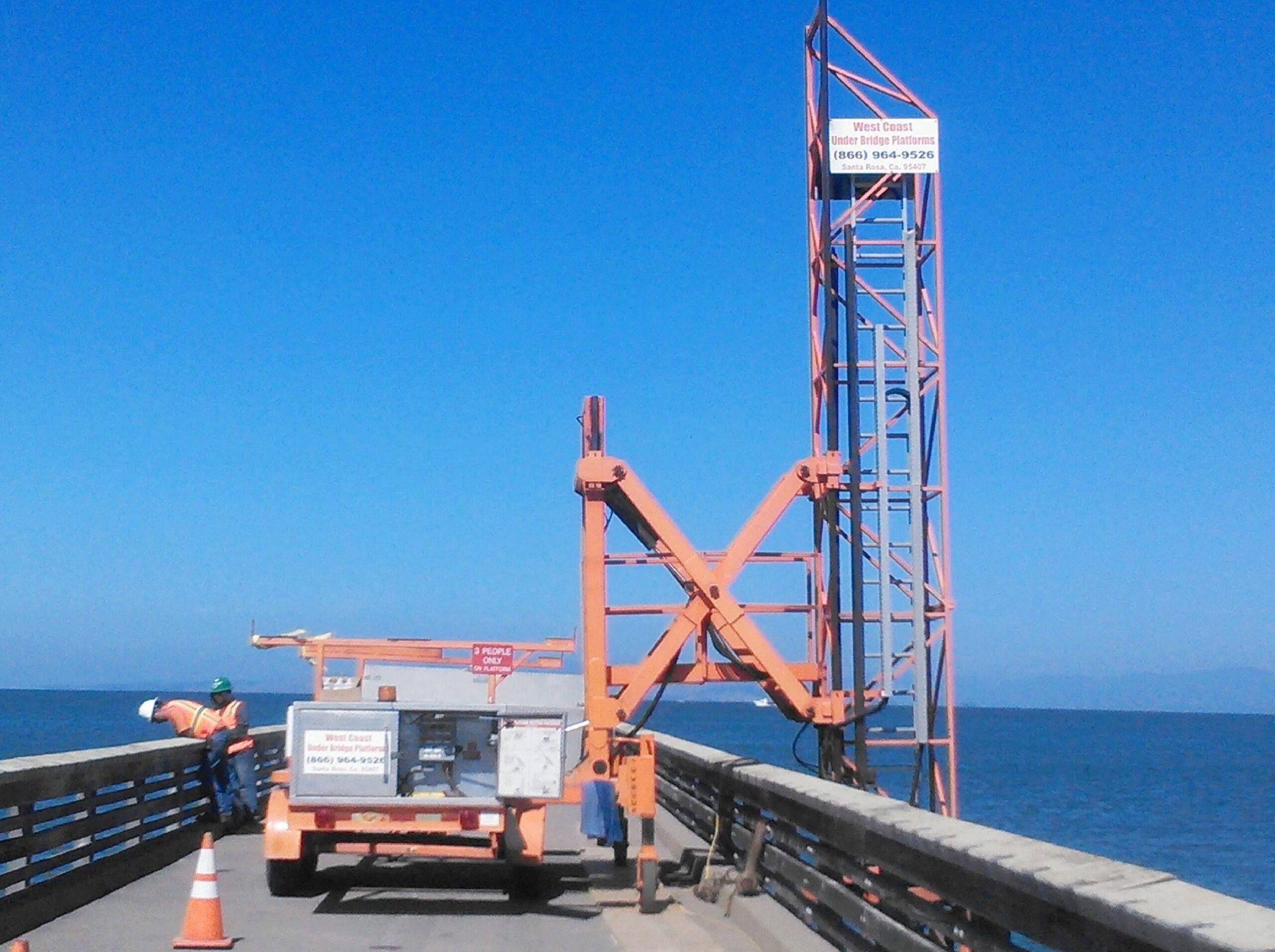 We offer the Anderson Hydra Platforms trailer-mounted model HPT 32, which is a fully equipped under-bridge access and work platform. The HPT 32 is mounted on a mobile trailer making it highly portable. for versatility.
Reliable Access and Rugged Performance: Skyjack SJB-66TK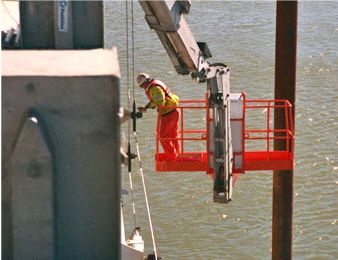 The SJB-66TK is designed to handle rugged terrain for enhanced access. Its energy efficient, high-performance drive system is second to none. When you need to solve complex and daunting access challenges, the Skyjack SJB-66TK is the ultimate solution.
A Very Brief History of Aerial Lifts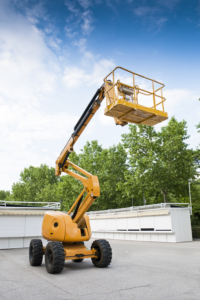 What we know today as boom lifts, or aerial lifts, came into being just a few decades ago. Apparently, it was back in 1951 that a Canadian named Walter E. Thornton-Trump invented a boom lift with the purpose of making it easier to reach and work in high places.
Although Mr. Thornton-Trump called his boom lift the Giraffe, the original patent drawing refers to it as a "Machine With Elevatable And Traveling Carriage".
However, it soon became a popular piece of equipment for picking fruit, including cherries, from the tall trees in orchards. Apparently the boom lift was being called a "cherry picker" by workers in the orchards and this name stuck.
By 1958, boom lifts were being used on fire engines and workers in different industries began using boom lifts for servicing or repairing power cables, phone lines, street lights, and any other place that required reaching up and around objects.
By the early 60s. Specialized vehicles called "boom trucks" were outfitted with many of the first boom lifts, including the ones used on fire trucks.
Using various types of boom trucks for bridge inspections and other bridge-related tasks began to come into being in the late 1960s with the passage of Federal Highway Act.
This was brought about by an infamous bridge collapse just prior to that. 
According to a document published by the Industry Specific Subcommittee, in association with the Society of Professional Rope Access Technicians (SPRAT),
"The emphasis on safety and reliability of the nations' in-service bridges underwent a dramatic shift on December 15, 1967 with the collapse of the 2235-ft long Silver Bridge in Point Pleasant, West Virginia.
The holiday-season disaster claimed the lives of 46 people and aroused increased scrutiny of the safety inspection and maintenance of bridges carrying public routes. The following year, the U.S. Congress enacted the Federal Highway Act of 1968. This act directed the U.S. Secretary of Transportation to develop and implement the first National Bridge Inspection Standard outlining bridge inspection qualifications, definitions, and recommended frequencies."
Consequently, the need for specialized bridge inspection equipment and vehicles increased dramatically. Today, the United States is home to 614,387 bridges, almost 40 percent of which are 50 years old or older.
A Lift By Any Other Name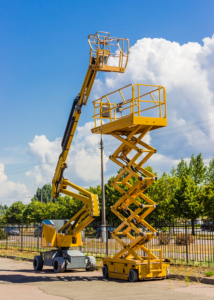 Boom lifts are popular aerial equipment that include scissor lifts, forklifts, and other aerial lifts. Boom lifts go by many names: Cherry pickers, aerial work platforms, aerial devices, elevating work platforms, mobile elevating work platforms and under bridge platforms. 
All of these are essentially different names for boom lifts.
The primary purpose of a boom lift is to provide workers access high areas. Given the vast array of jobs these workers do, many lifts are designed with special equipment for performing specific tasks. Most boom lifts are relatively easy to use and many are designed so that a single person can operate it alone. 
Even the term "under bridge platform" can be used generically to refer to a number of lifts used especially for bridge work. Smaller bridges over roads and other level ground can often be accessed with a scissor lift or small telescopic boom lift.
Telescopic boom lifts an extendable arm, or boom, that can reach varying heights. Unlike an articulated boom lift, the telescoping boom has a straight arm that is attached to a turntable that can be rotated up to 360 degrees on some models. The bucket on these lifts typically hold one person at a time. Telescopic boom lifts are often used for specialized work like electrical repairs or bridge inspection that may only require one worker for the job.
Getting underneath taller bridges, those typically over 60 feet above the ground, require platforms that are mounted on the bridge deck. These are often articulated boom lifts that can place a bucket or platform over a bridge railing and either alongside the bridger or even underneath. 
These are one type of aerial lift that are a common part of a bridge inspection fleet. In addition, many bridge inspectors and maintenance workers use straight telescopic boom lifts. Both of these boom lifts have a platform that can be raised.
Articulated, or knuckle, boom lifts are more flexible because they are jointed, which makes them more versatile, as well. On the other hand, while straight telescopic boom lifts can only go in a straight line, they do provide maximum height reach.
Another common term used in the industry is "Snooper truck." Most everyone involved with bridge maintenance and inspections is familiar with the terms "snooper", "snooper truck" and "snooper crane."
What many may not know is that the name Snooper® is actually a trademarked brand name owned by Paxton-Mitchell Co., LLC. The popularity of these vehicles has led, over time, to the name being used as a generic term to refer to any under bridge inspection vehicle.
A Closer Look at Under Bridge Platforms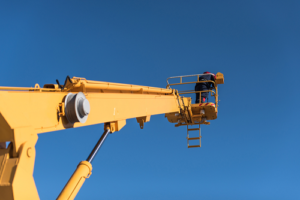 There is a variety of work done on and under bridges. Tasks can include under bridge repairs, inspections, installation and maintenance of cables and pipes, painting, sandblasting and other general maintenance.
All of this work must be performed manually, on-site, and "hands on." This means having close, stable and safe access to any part of a bridge structure. As noted previously, smaller bridges such as those under 50 or 60 feet high and not spanning active roadways or water, can often be accessed with a ground-based boom lift.
However, if there is no suitable ground underneath the bridge to position a boom truck, then the structure needs to be accessed from the bridge deck. And this type of access requires an articulated boom crane of some type. 
Articulated boom lifts have an arm that features multiple joints that allow it to bend. This is what gave rise to the name "knuckle boom lift." The flexibility of this design allows the arm to bend around and over obstacles, lifting a worker platform into areas that might otherwise be dangerous or impossible to get to.
The various configurations and designs of under bridge platforms can be overwhelming. The choices run from relatively simple articulated booms with a two-man bucket, to tower separation systems featuring a hydraulically controlled tower and adjoining platform. 
The latter system, such as the Hydra HPT 13/43 can lower its platform over 20 feet over the bridge railing. The platform extends to 43 feet across and can provide access to more than 1,700 square feet of under-bridge area in a fixed position. The patented Tower Separation System (TSS) reaches over sidewalks and railings and provides easy access between the platform and the bridge deck regardless of platform height or extension. It essentially functions as an inverted scaffold offering a high degree of stability, safety and access. 
While the term "under bridge platform" can and is used quite broadly, it more properly refers to the various trailer and truck mounted booms that are set up or parked on a bridge deck as opposed to the ground underneath.
Alternatives to Under Bridge Platforms
We would be remiss her if we didn't acknowledge the more traditional methods of bridge access, primarily rope access. 
Due to its versatility, industrial rope access has been typically used to perform in-depth inspections. These are defined as hands-on or arms reach range inspections of specified
Components. However, rope access can and is used on all types of bridge inspections. 
According to the Society of Professional Rope Access Technicians (SPRAT) website, 
"Rope access refers to a set of techniques where ropes and specialized hardware are used as the primary means of providing access and support to workers. Generally a two-rope system is employed: the working rope supports the worker and the safety rope provides back-up fall protection.
Why use rope access? Modern rope access equipment, techniques, and training can be combined to produce an exceptionally safe, versatile, efficient, and cost-effective way to solve vertical access problems."
In addition to rope access there is a variety of specialized bridge rigging equipment that can be utilized for accessing under bridge areas. These include rolling scaffold systems on tensioned catenary cables for floor system inspections, as well as standard swing stages and work baskets or even custom float platforms.