Does your job description include carrying out routine cleaning, repairing or maintenance on bridges? Avoid delays that can occur due to risks associated with bridge inspection projects.  There is only one way to ensure that  projects are completed on time and in the safest way possible. 
We serve California, Oregon, Washington State, Idaho, Nevada, Montana, Wyoming, North Dakota, South Dakota, Nebraska, Kansas, Oklahoma, Texas, New Mexico, Arizona, Utah, Missouri, Arkansas, Louisiana and more!
HPT 43 Truck Mounted Platform: Self-Propelled Under Bridge Access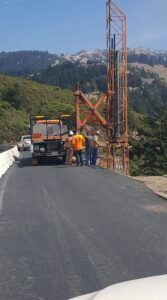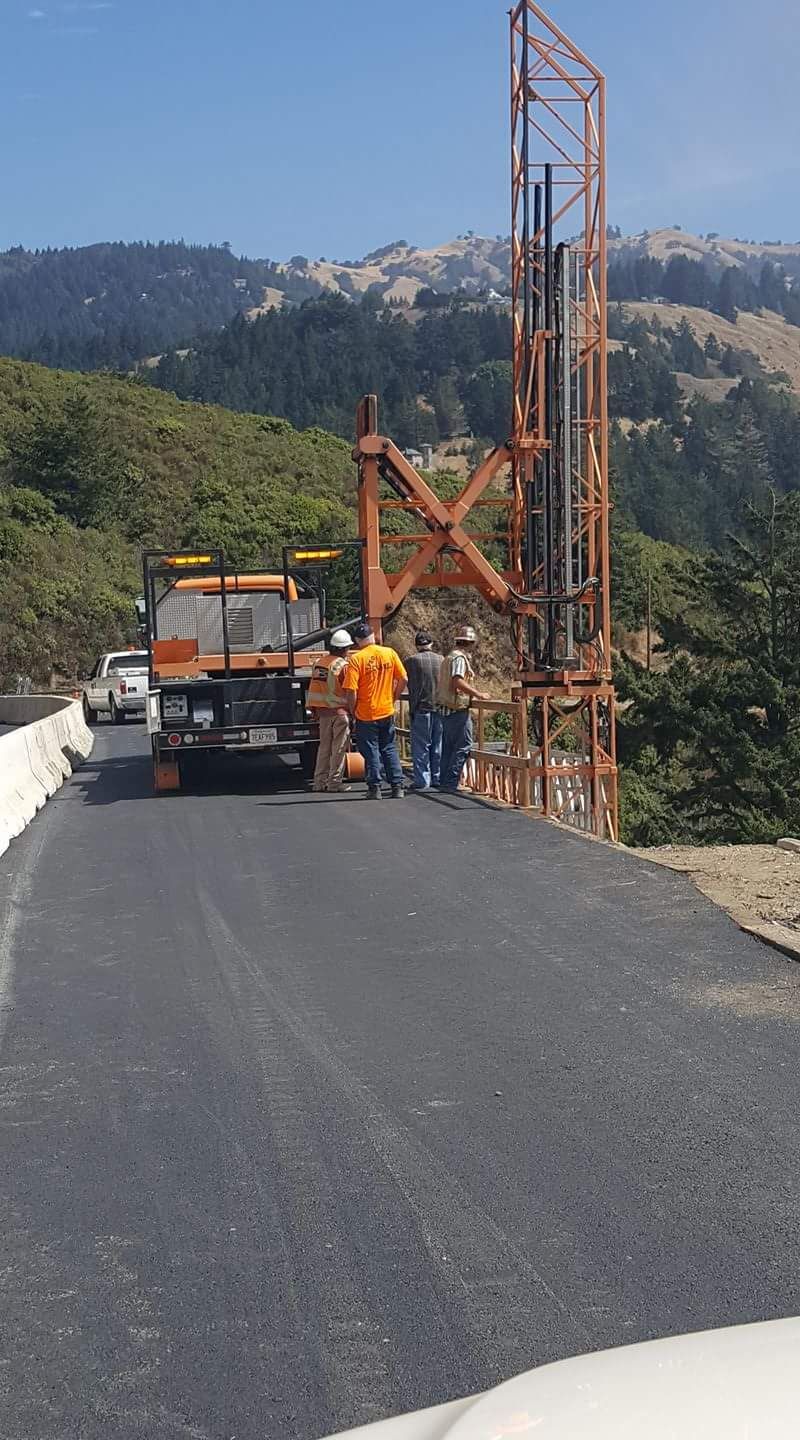 Even though there are under bridge platforms that are larger, the HPT43 is built to handle large projects. Providing a maximum drop depth of 19.5 feet (5.94 m) and platform that can extend to just over 42 feet (13.08 m), the HPT43 will allow you access to more than 1,700 square feet of under-bridge area in a single placement.
A total weight of 45,000 lbs (20,412 kg), provides the HPT43 enormous natural stability. The economical 30kW silenced diesel generator with hydraulic pump, with an auxiliary hydraulic back up system utilizing truck engine P.T.O. 
The Model HPT 43 features a patented Tower Separation System (TSS), allowing the tower and the platform to be erected and extended over pedestrian sidewalks and other barriers without restricting the under-bridge operations. 
In addition to these unique features, the HPT 43 Truck Mounted Platform allows for single lane five minute deployment and a voice-activated communication system from the platform to the bridge deak and the truck cab. 
HPT 43 Specifications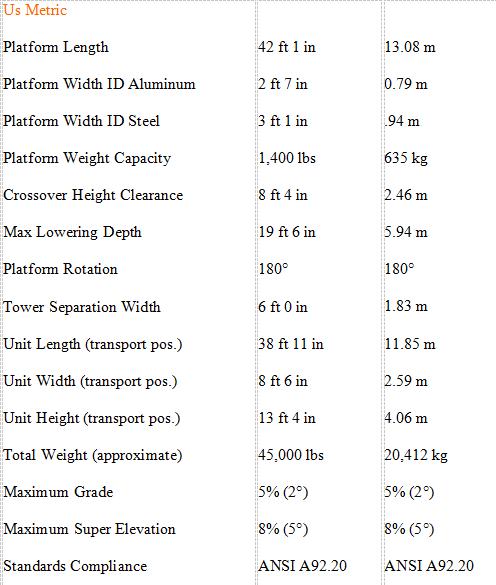 Advantages Of the HPT 43 Truck-Mounted Inspection Platform
Saves time
The HPT 43 allows many underbridge tasks to be completed quickly, since your personnel can be under the bridge and working within fifteen minutes of their arrival at the jobsite.
Enhances Safety
The risks often associated with using underbridge platforms are minimized with the HPT 43 since it comes with multiple built-in features that ensure personnel safety whenever it's being operated.
Saves money
Time saved means money saved. Because the platform enables your personnel to access and complete tasks quickly, you are able to carry out more tasks in less time, which translates to more money at the end of the day.
What Our Under Bridge Platform Equipment Is Used For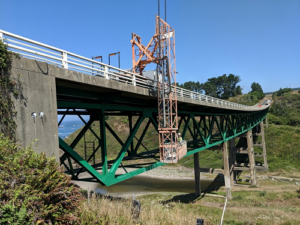 You can hire our Under Bridge Platforms for all types of under-bridge projects:
Inspections

Repairs

Marine dockside operations

Stripping operations

Painting and sandblasting

General maintenance

Replacement and maintenance of bearings

Installation and maintenance of pipes, cables, and more



Hydra Platforms Manufacturing was acquired by Terex in 2008 and then sold to Anderson Hydra Platforms, Inc. which is now the nationwide manufacturer of Hydra Platforms, which have become a leading name in under-bridge access work.
Why You Should Hire Our HPT 43 Truck-Mounted Inspection Platform
24/7 Customer and Technical Support
Regardless of where you are or what time of the day, our customer support team will be ready to answer your phone call and address any questions or concerns you may have.
Professional Operators
The effectiveness of any under bridge access platform largely depends on the operators that operate it.
Fully-insured operators
Even though our HPT 43 Truck-Mounted Inspection Platform comes complete with multiple features, we are not oblivious of the fact that accidents can still happen.