Working on bridges carries a high level of risk and any small mistake might result in delays and safety issues. Ensure safety by opting for under bridge access platforms. With two locations nationally, we are poised to serve the entire Western United States. 
HPT 32 Trailer-Mounted Under-Bridge Access Platform:
Big Performance With a Small and Lightweight Unit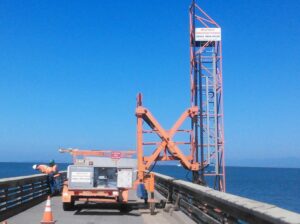 We offer the Anderson Hydra Platforms trailer-mounted model HPT 32, which is a fully equipped under-bridge access and work platform. The HPT 32 is mounted on a mobile trailer making it highly portable. for versatility.
This Anderson Hydra Platform features the patented Tower Separation System (TSS), which allows for erecting and extending the tower and the platform over pedestrian sidewalks and other barriers without restricting the under-bridge operations.
The HPT 32 trailer-mounted under-bridge platform has the capability of reaching more than 1,000 square feet of under-bridge area with one deck placement. The maximum drop depth of more than 18 feet combined with a platform extension of 32 feet means that the HPT 32 can provide access across most bridges with up to three lanes of traffic.
An 18 hp, V-twin gas engine with auto-idle provides plenty of power for the entire hydraulic system including the patented Tower Separation System (TSS). Access to the platform from the deck is always safe and secure thanks to the specially-designed crossover platform that remains horizontal at all times.
The three-axle configuration and 1500 lb (680 kg) tongue weight ensures that it is well-balanced and easy to tow with one ton trucks. Because the HPT 32 is a self-contained unit and fully functional, they can be dropped off on site, while the towing vehicle can leave the site if needed. 
Because it is trailer mounted, the HPT 32 offers an economical platform for bridge inspections, maintenance, restoration and other utility work. The unit comes standard with a platform length 32 foot (9.8m) that provides a 1000 lb (54 kg) platform capacity. This means support for up to three workers plus equipment.
The dual hydraulic outriggers ensure stable platform operation and can be mounted on either side of the trailer for left- or ride-side platform deployment. The self-erecting platform can be set up in as little as five minutes and requires only a single lane closure to operate. A hydraulically powered front drive wheel controls trailer movement on the bridge deck.
The platform rotates 180˚ and can be lowered to 18 feet (5.5 m). Workers on the platform can use a voice-activated communication system to connect them to personnel at the main control of the trailer. This allows for efficient trailer movement without workers having to leave the platform.
In addition, an auxiliary hydraulic pump and motor system is available to retract the platform to transport position should an issue arise with the main hydraulics.
This easy to set up and safe HPT 32 under-bridge unit allows for safe and reliable operations for multiple tasks including: 
Inspections
Painting
Sandblasting
Repairs
General Maintenance
Installation of Pipes and Cables
Stripping Operations
Bearing Maintenance

HPT 32 Specifications
This relatively lightweight and highly portable, trailer-mounted platform requires only a five minute setup time, only takes up a single lane, comes with two outboard hydraulic stabilizers, and includes a platform-to-deck communication system.
The overall specifications of the HPT 32 under bridge platform include:
Platform Length 32 ft (9,754 mm)

Platform Width 3 ft 6 in (1,067 mm)

Platform Weight Capacity 1,000 lb (455 kg)

Max. Lowering Depth 18 ft (5,486 mm)

Platform Rotation 180º

Tower Separation Width 7 ft 8 in (2,337 mm)

Unit Length 32 ft (9,754 mm)

Unit Width 8 ft 2 in (2,489 mm)

Unit Height (transport pos.) 10 ft 6 in (3,200 mm)

Total Weight (approximate) 17,200 lb (7,802 kg)

Hydraulic Pressure 2,800 psi
Advantages Of the HPT 32 Trailer-Mounted Under-Bridge Access Unit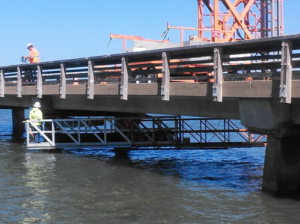 Saves time
The HPT 32 allows many underbridge tasks to be completed quickly, since your personnel can be under the bridge and working within fifteen minutes of their arrival at the jobsite.
Enhances Safety
The risks often associated with using underbridge platforms are minimized with the HPT 32 since it comes with multiple built-in features that ensure personnel safety whenever it's being operated.
Saves money
Time saved means money saved. Because the platform enables your personnel to access and complete tasks quickly, you are able to carry out more tasks in less time, which translates to more money at the end of the day.
What Our Under Bridge Platform Equipment Is Used For
You can hire our Under Bridge Platforms for all types of under-bridge projects:
Inspections

Repairs

Marine dockside operations

Stripping operations

Painting and sandblasting

General maintenance

Replacement and maintenance of bearings

Installation and maintenance of pipes, cables, and more



Hydra Platforms Manufacturing was acquired by Terex in 2008 and then sold to Anderson Hydra Platforms, Inc. which is now the nationwide manufacturer of Hydra Platforms, which have become a leading name in under-bridge access work.
Why You Should Hire Our HPT 32 Trailer-Mounted Access Unit
24/7 customer and technical support
Regardless of where you are or what time of the day, our customer support team will be ready to answer your phone call and address any questions or concerns you may have.
Professional Operators
The effectiveness of any under bridge access platform largely depends on the operators that operate it.
Fully-insured operators
Even though our HPT 32 Trailer Mounted Under Bridge Unit comes complete with multiple features, we are not oblivious of the fact that accidents can still happen.