Under Bridge Platforms is the premier under bridge access equipment source in the Western United states. We are proud to be the only aerial lift company in Oklahoma and California that offers total under bridge access, and we specialize in providing truck-mounted under bridge platform equipment.
We are much more than an equipment rental firm, however. We provide the experience, skill, knowledge, and expertise you need to help you save time, maintain safety, save money on each and every project. We work with you to help make your under bridge project a success each and every time. 
We have locations in beautiful Northern California and in the heart of Oklahoma. Our expert and committed staff have worked to make Under Bridge Platforms the benchmark for under bridge inspection and access vehicles and equipment since we began in 1993.
 At Under Bridge Platforms we provide vital bridge access equipment for contractors and engineering firms, as well as local government agencies to support the inspection, repair, and maintenance of bridges. Since we started, our company has expanded to become one of the largest under bridge platform equipment suppliers in California, Oklahoma, and all of the western states.
What We Do
Under Bridge Platforms specializes in the rental of under bridge access equipment and we provide bare rental for a wide variety of models. Because we understand that the safety and effectiveness of an underside access platform largely depends on the skill and expertise of the equipment operators, we also provide highly skilled and fully-insured operators.
Why Choose Us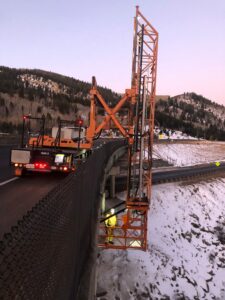 When it comes to renting under bridge access equipment, there are several options open to inspectors and contractors. In most situations, however, choosing to work with a truck-mounted under bridge platform unit is the best option.
 And renting from Under Bridge Platforms is your best choice.
We stand apart from other rental companies by consistently providing high-quality customer service which includes offering our specialist expertise throughout the entirety of your rental agreement. We have one of the largest inventories of under bridge equipment in the region and can offer a diverse selection of models to fit your project.
In addition, at Under Bridge Platforms, we can assist you with a wide range of requests and requirements to improve the efficiency of your project.
Our collective experience and knowledge is second to none. What this means for you is that we have a broad wealth of knowledge that is supported by the staff and equipment resources to help you complete even the most complex of projects.
At Under Bridge Platforms we prioritize quality workmanship, safety, and reliability.
Part of how we maintain this is ensuring that our crane services are performed in strict compliance with all applicable API specifications, MMS, ANSI, ABS, USCG, and OSHA regulations.
Do your projects require you or your workers to carry out highway bridge inspections? Perhaps your firm engages in routine cleaning, repairing, and maintenance of highway bridges?  If so, you already know that bridge access work, by its very nature, involves a high level of risk. As with many other professions, mistakes and errors in judgement can be costly and sometimes tragic.
We are committed to the belief that there really is only one way to ensure that your project is completed on time and in the safest way possible and that's by making full use of high quality and versatile under bridge access platforms.
And Under Bridge Platforms is just as committed to being your premier source for quality under bridge access equipment rentals.
Contact Us for Your Next Project
So, remember to give us a call for your next bridge work project and let us partner with you to make your job a success.  No matter where you are working in the Western United States, we can serve you through one of our two national locations. We can provide equipment and service, for example, to California, Oregon, Washington, Idaho, Nevada, Montana, Wyoming, North Dakota, South Dakota, Nebraska, Kansas, Oklahoma, Texas, New Mexico, Arizona, Utah, Missouri, Arkansas, Louisiana and elsewhere!