This unique machine provides access underneath road and railway bridges, as well as viaducts and other structures.
The Barin Automatic Bridge Control ABC 50/C, known as a crawler, can be used for the inspection and maintenance of road bridges to guarantee a safe, quick, and economic approach for accessing those structures where large under bridge inspection platform vehicles are not feasible.
Working With Our Barin ABC 50/C Crawler Under Bridge Unit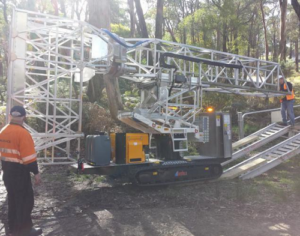 When the job you have requires under bridge access but provides limited deck access, a lighter weight crawler unit can be just the ticket. 
These vehicles have been specially designed to be operated on narrow sidewalks, pedestrian bridges, or sidewalks with low load capacity restrictions. Its total weight of just over three tons is equally distributed on both crawler tracks. In addition, the ABC 50/c has a transport height of just over 10 feet allowing for transport on a standard trailer.
While smaller in size than many under bridge platform vehicles, the reach and platform size are still impressive making this a highly versatile choice. With a nearly 13.5-foot maximum lowering depth and a 180° rotation range, the ABC 50/C offers ample reach and access for almost any under bridge task. 
You know that time is money and not having to use scaffolding or some other specialized form of under bridge access means you save time and money. In fact, instead of hours spent setting up, using the ABC 50/C crawler means your crew can be working soon after you've positioned it on the bridge deck and placed the platform.
In addition, the low profile and broad width of the Barin ABC 50/C Crawler offers great stability and exceptional safety. With its ability to access smaller approaches, it is a versatile and effective solution for most any under bridge inspection, maintenance, and repair assignment.
ABC 50/C Specifications
16.4 foot Platform length

3.6 foot Platform width

440 lbs. Max. platform payload (2 persons plus 88 lbs. of tools)

440 lbs. Max. payload of telescopic platform

180° Rotation range under bridge

13.45 foot Max. lowering depth

3.6 foot Max. overbridging of sidewalk

5.9 foot Max. crossing of sound barrier

5.25 feet of space required on bridge

28 mph Max. admitted wind speed

0.37 mph (32.8 ft/min) Max. creep speed of the unit

6600 lbs. Total weight of unit
BARIN S.r.L. has been working in the field of design and construction of bridge inspection units since the 1960s.
Advantages Of the Barin ABC 50/C Crawler
Ease of Use
It allows under bridge tasks to be completed quickly, as the personnel can be under the bridge working within minutes of their arrival at the jobsite.
Enhanced Safety
The risk associated with use of under bridge access platforms is very minimal. The ABC 50/C comes with multiple built-in safety features that protect personnel using the platform.        
Saves Money
Since our platform enables your personnel to complete tasks quickly, you can be able to carry out more tasks in less time, which translates to more money at the end of the day.
Using Our Under Bridge Platform Units
 You can hire our ABC 50/C Crawler for all types of under-bridge projects:
Inspections and repairs 

Painting and sandblasting

General maintenance

Replacement and maintenance of bearings

Installation and maintenance of lights, pipe, and cables
If your job requires you to carry out routine cleaning, repair, or maintenance of roadway or railroad bridges, you already know that working on – and under – bridges involves a high level of risk. Inability to reach critical areas under a bridge, or mistakes made due to limited access, can create costly delays.
In addition, using inappropriate methods or equipment to access the underside of bridges and bridge structural elements can create safety issues. There is only one way to make certain that your under bridge project is complete on schedule and with the safest method available, and that is by using under bridge access platforms and leaving scaffolds, ladders, and ropes behind. 
And this is why you need Under Bridge Platforms, your trusted source for under bridge inspection units.
Why You Should Rent Our Barin ABC 50/C Crawler
Our 24/7 Customer and Technical Support
Regardless of where you are or what time of the day, our customer support team will be ready to answer your phone call and address any questions or concerns you may have.
Professional Operators
The effectiveness of any under bridge access platform depends primarily on the expertise and professionalism of the operators who use it.
Fully Insured Operators
Even though our Barin ABC 50/C Crawler comes complete with safety features, we realize that accidents can still happen.