About Our Equipment
If your job description includes carrying out routine cleaning, repairing or maintenance on bridges then you already know that working on bridges carries a high level of risk and any small mistake might result in delays and safety issues. There is only one way to ensure that your project is completed on time and in the safest way possible and that is to leave ladders and ropes behind and make use of under bridge access platforms.
And this is where Under Bridge Platforms come in.
With two locations nationally, we are poised to serve the entire Western United States. This includes but is not limited to: California, Oregon, Washington State, Idaho, Nevada, Montana, Wyoming, North Dakota, South Dakota, Nebraska, Kansas, Oklahoma, Texas, New Mexico, Arizona, Utah, Missouri, Arkansas, Louisiana and more!
The Aspen Aerials A-40 Bridge Inspection Unit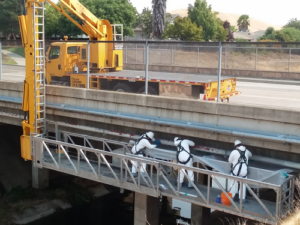 Bridge inspections require getting up close and hands-on with most every part of a bridge structure. In addition, most bridge inspection work also means having deadlines to meet, and that means often working quickly.
Even more reasons why you need a bridge inspection unit that is efficient, lightweight, and versatile.
Enter the Aspen Aerials A-40 bridge inspection unit. The A-40 is perfect for those smaller bridge inspection and maintenance needs. While other aerial lift equipment may provide some of the features and benefits of the A-40, when it comes to actual field performance, they can't compare with the convenient combination of features that the Aspen Aerials A-40 offers.
With its options and versatile capabilities, the Aspen Aerials A-40 can be employed for:
Painting and Sandblasting

Bearing Maintenance and Inspection

Utility Maintenance

Fiber-Optic Installation

Deck, Beam and Railing Maintenance

And more…
Interchangeable Platforms for Different Bridge Inspection and Maintenance Requirements
The Aspen A-40 provides maximum flexibility with the option of being fitted with either of two fully-interchangeable platforms.
Inspection Platform
A 3.5 foot by 5-foot aluminum inspection platform for three workers is included as standard equipment.

It provides up to 600 lb. capacity and includes an access gate for easy entry and exit.

Fully proportional controls on the pedestal and attached to a remote extension for operation at the bridge edge.

A hand-held control digitizer provides personalized control settings.

Operators can constantly monitor boom and turret movements with an indicator panel at the pedestal.
Optional 1,500 lb. Capacity Work Platform
Interchangeable with the boom/bucket feature. 

Platform levels automatically by means of a hydraulic leveling system.

Proportional radio controls allow the operator to move the platform without cables.

The controls allow movement of all boom, platform, and turntable functions.

Operators have the choice of riding the unit over or using the easy access ladder.

Load materials from the bridge deck.

The platform is extended hydraulically, providing smooth under bridge movement.
Comprehensive Stabilizing Systems
No outriggers are required with the Aspen A-40. It has been engineered with stabilizing systems that give operators the ability to move the truck while the platform is deployed.
The Aspen A-40 Stabilizing System
Operators can move the truck while the platform is deployed.

Outriggers are not required for stability.

Only 102″ of the bridge deck is occupied avoiding "point loading".

Torsion-box subframe and hydraulic axle locks unitize the chassis and truck axles.

The vehicle can be moved while the platform is fully deployed.

Any counterweight at the base of the pedestal rotates with the unit, staying within the width of the chassis.
Accessibility and Maneuverability
The Aspen A-40's three articulating booms and two turntables give it the ability to operate in, around, through and over all types of obstructions. Even in smaller spaces, the Aspen A-40 can be deployed to reach across sidewalks and over guardrails or fences to gain access to underbridge areas.
Being able to move the vehicle while the platform is under the bridge allows the Aspen A-40 to provide even greater range and operating efficiency. An interlock system tied to the controls maintains operation within the unit's full range of stability, and an indicator panel at the pedestal enables operators to constantly monitor boom and turret movements
As a versatile inspection and maintenance unit, the A-40 provides broad working range and operating efficiency because of its ability to be moved while the platform is deployed under the bridge, offering both right and left deployment.
Versatility and Efficiency for Highway and Rail Bridges
Communication System
Located at all workstations, this system provides continuous communication between the truck operator and inspectors to facilitate safe operation. "Hands-free" operation is incorporated at the platform.
Primary and Secondary Power Sources
To assure reliable performance and an Engine Shut Down System with an activation button at each control station.
Electrical System Diagnostics
Enables operators to determine when unit limits have been met and helps speed troubleshooting with a motion indicator panel.
Aspen A-40 Overview
Horizontal Underbridge Reach 44.5 ft
Vertical Reach Down 47.25 ft
Vertical Reach Up 32.83 ft
Sidewalk Clearance 11.5 ft
Fence Clearance 11 ft
Overall Length 37.5 ft
Aspen A-40 Specifications
Overall Height 12.5 ft
Overall Weight 58,000 lbs
Platform Capacity 600 lbs
Platform Rotation NA
Platform Size 40" x 60" x 42"
Boom No.1 Movement +30 to -35 degrees
Boom No.2 Movement +0 to -105 degrees
Boom No.3 Movement +90 to -60 degrees
Space Required on Bridge 102 in
Walkway Reach 39.33 ft
Walkway Capacity 1,500 lbs
Benefits of the Aspen A-40 Bridge Inspection Unit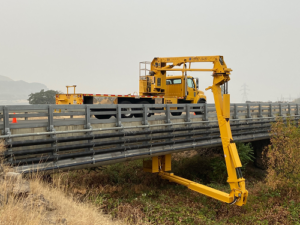 Saves time
The Aspen A-40 allows many underbridge tasks to be completed quickly, since your personnel can be under the bridge and working within fifteen minutes of their arrival at the jobsite.
Enhances Safety
The risks often associated with using underbridge platforms are minimized with the Aspen Aerials A-40 since it comes with multiple built-in features that ensure personnel safety whenever it's being operated.
Saves money
Time saved means money saved. Because the platform enables your personnel to access and complete tasks quickly, you are can carry out more tasks in less time, which translates to more money at the end of the day.
What Our Under Bridge Platform Equipment Is Used For
You can hire our Under Bridge Platforms for all types of under-bridge projects:
Inspections

Repairs

Marine dockside operations

Stripping operations

Painting and sandblasting

General maintenance

Replacement and maintenance of bearings

Installation and maintenance of pipes, cables, and more



Why You Should Hire Our Aspen Aerials A-40 Bridge Inspection Unit
24/7 Customer and Technical Support
Regardless of where you are or what time of the day, our customer support team will be ready to answer your phone call and address any questions or concerns you may have.
Professional Operators
The effectiveness of any under bridge access platform largely depends on the operators that operate it.
Fully-insured operators
Even though our Aspen Aerials A-40 Truck-Mounted Bridge Inspection Unit comes complete with multiple features, we are not oblivious of the fact that accidents can still happen.