Does your job description include carrying out routine cleaning, repairing or maintenance on bridges? Working on bridges carries a high level of risk and any small mistake might result in delays and safety issues. There is only one way to ensure that your project is completed on time and in the safest way possible – ditching ladders and ropes and opting for under bridge access platforms. This is where Under Bridge Platforms come in.
With two locations nationally, we are poised to serve the entire Western United States. This includes but is not limited to: California, Oregon, Washington State, Idaho, Nevada, Montana, Wyoming, North Dakota, South Dakota, Nebraska, Kansas, Oklahoma, Texas, New Mexico, Arizona, Utah, Missouri, Arkansas, Louisiana and more!
Reliable Access and Rugged Performance: Skyjack SJB-66TK 
The SJB-66TK is designed to handle rugged terrain for enhanced access. Its energy efficient, high-performance drive system is second to none. When you need to solve complex and daunting access challenges, the Skyjack SJB-66TK is the ultimate solution.
The unique Skyjack SJB-66TK has a 72 foot work height above elevation and extends to 37 feet below elevation, or grade, which allows you to reach all complex work areas.
The rotating 6 foot hydraulic jib functions regardless of jib location and produces 155° range making sure you're capable of completing your work no matter the conditions.
The 8 foot wide standard work platform easily accommodates two people and has an unrestricted capacity of 600 pounds. This unit is driveable at full height and offers continuous 360˚ turret rotation.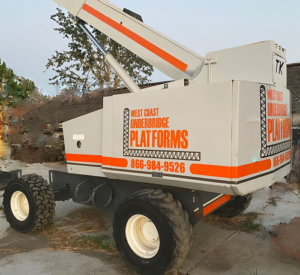 Skyjack SJB-66TK Specifications        
US Metric
Turret Rotation

Cage Rotation

Max Working Height

Max Working Outreach

Negative Reach

Stowed Width

Stowed Height

Stowed Length

Power Options

360° (continuous)

180°

72ft

59ft

37ft

8ft

9.25ft

29.5ft

Diesel

360° (continuous)

180°

21.95m

17.98m

11.28m

2.44m

2.82m

8.99m

Diesel
Advantages Of the Skyjack SJB-66TK
Saves time
The SJB-66TK allows many underbridge tasks to be completed quickly, since your personnel can be under the bridge and working within fifteen minutes of their arrival at the jobsite.
Enhances Safety
The risks often associated with this underbridge platform is very minimal as the SJB-66TK comes with multiple built-in features that ensure personnel safety whenever it's being operated.        
Saves money
Time saved means money saved. Since our platform enables your personnel to access and complete tasks quickly, you are able to carry out more tasks in less time, which translates to more money at the end of the day.
What Our Under Bridge Platform Equipment Is Used For
You can hire our Under Bridge Platform for all types of under-bridge projects:
Inspections

Repairs

Marine dockside operations

Stripping operations

Painting and sandblasting

General maintenance

Replacement and maintenance of bearings

Installation and maintenance of pipes, cables, and more



Skyjack was formed in 1985 and since then Skyjack has maintained a solid reputation due to the quality and reliability of their products. In 2002, Skyjack became part of the Linamar Corporation, a diversified global manufacturing company of highly engineered products powering vehicles, motion, work and lives. Skyjack had a landmark year in 2013 as they manufactured their 250,000th machine.
Why You Should Hire Our Skyjack SJB-66TK Articulated Boom Lift
24/7 customer and technical support
Regardless of where you are or what time of the day, our customer support team will be ready to answer your phone call and address any questions or concerns you may have.
Professional Operators
The effectiveness of any boom lift platform largely depends on the operators that operate it.
Fully-insured operators
Even though our SJB-66TK articulated boom lift comes complete with multiple features, we are not oblivious of the fact that accidents can still happen.