"There is nothing in machinery, there is nothing in embankments and railways and iron bridges and engineering devices to oblige them to be ugly. Ugliness is the measure of imperfection."
While some of us may well agree that simply because bridges are utilitarian doesn't mean they should be unsightly, we would all agree that – aesthetically pleasing or not – they ought to be safe. Which is why we inspect them on a regular basis.
And to make these inspections possible, safe and cost-effective, special tools and equipment is required. 
Boom Lifts: Underbridge Inspection Workhorses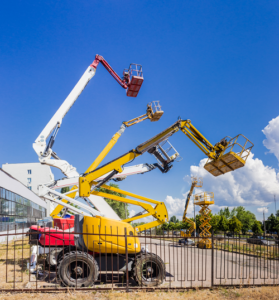 As we've touched on in previous posts, there are actually a number of different machines that can be employed when inspecting bridges. And there are a couple of different approaches that make use of vastly different types of equipment. 
For example, many bridges can be accessed through the use of scaffolding. And these scaffolds can be either mounted on the ground underneath a bridge or actually suspended under it, as well. While there are limitations and downsides with this approach, it does represent a relatively affordable and secure means of carrying out underbridge inspections. 
Another common inspection approach is with the use of ropes and rigging and highly-trained bridge riggers. As one source notes,
"Caltrans bridge engineers have historically used heavy industrial rope and rigging techniques to gain access for bridge inspection. The rigging was done by either Caltrans' Bay toll bridge paint crew or private contractors following the standards of the construction industry.
Now, rope access techniques are used in California as an alternative means of gaining access to bridges and structures when other conventional methods cannot be used due to inspection equipment limitations and/or when traffic is greatly impacted. More than 50 bridges in Caltrans' jurisdiction have been identified as structures where climbing is the only means available to perform structural investigations."
However, while it is true that some structures cannot be easily accessed using boom lifts, or not accessed at all other than with bridge riggers, 
Bridge boom lifts, which are a type of aerial lift, are quite commonly used as bridge access equipment. As bridge inspection and maintenance workers know full well, when working on or inspecting a bridge, not all areas of the bridge are easy to access. Yet, it is vitally essential for bridge inspectors to be able to inspect all parts of the bridge and the most common issue is bridge height.
The two main types of aerial lifts known as boom lifts are straight telescopic boom lifts and articulated, or knuckle, boom lifts. Unlike scissor lifts or scaffolds, these machines rely on a long boom, or arm, that can raise a work platform or bucket into the air. The main difference between the two types is the movement of the booms. 
The straight telescopic boom lifts only go in a straight line with limited range flexibility, but they can provide a great deal of height reach. The articulated knuckle boom lifts on the other hand, are far more flexible, as they have moveable joints that enable them to move and place the worker platform almost anywhere it needs to be.
Another fundamental distinction between these two types of bridge boom lifts is where they can be situated while in use. Straight telescopic lifts almost always have to be positioned on a surface or roadway underneath the bridge. Obviously this is a problem when the bridge spans water or is more than 100 feet or so above the ground. While there are a few straight boom lifts that can reach above 120 or 130 feet, much more than that becomes impractical. 
Enter the articulated boom lift! These units can be parked or mounted on a bridge deck and used to maneuver buckets or platforms over and then under the bridge. 
This is a significant advantage over the ground-based aerial lifts for access to the underside of bridges that are situated over water, busy roadways or railroad tracks, not to mention those bridges that are too high above the ground to allow access from there.
The exact type and model of bridge boom lift you need will be determined primarily by the particular bridge and environment you're working with.
Here are a few questions to ask yourself when renting a bridge boom lift:
How high do you need to be?

How large of a platform do you need?

What weight capacity do you need to lift?

Can you work from the surface underneath the bridge?
Considering a Bridge Boom Lift Rental?
If your business involves constructing new bridges, repairing existing bridges or simply inspecting them you need a variety of equipment for your work. However, most firms do not have the resources to buy and maintain a fleet of vehicles and equipment to handle every bridge project they acquire. Not to mention the means to store them safely.
For these reasons renting bridge boom lifts and other bridge equipment is the best way to access the right equipment when you need it.
Depending on the volume of work your company does, you may have periods where only a few under bridge inspection units or bridge boom lifts are needed. At other times, however, you may be engaged in several job sites simultaneously. Over time, it becomes far more cost-effective to simply rent the right equipment when you need it and only when you need it.
Another advantage of renting your bridge boom lifts and other related equipment is having access to newer and more advanced models. Purchasing your own lift can be a major capital investment and you'd likely feel pressed to rely on that unit long past the time it should be replaced. With most rentals, however, you are far more likely to have use of much newer models and have several to choose from, as well.