If you're reading this you are most likely engaged in some type of bridge inspection, maintenance or repair work. 
With over 600,000 bridges in the United States alone and, of those, over 54,000 in need of major repairs, there is likely no shortage of work. All bridges must be inspected regularly and there is routine maintenance, cleaning and upgrades to be done on an ongoing basis. New bridges are being built and old ones repaired or replaced.
And they all have to be accessed somehow.
Equipment for Bridge Construction, Inspection and Maintenance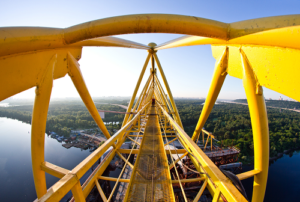 There was a time prior to the early 1960's when getting access under a bridge required either scaffolding or men with ropes and rigging. And anyone who has worked with scaffolding knows that, while it can provide a stable platform with ample space to work, it is static so it must be moved to reach other areas. 
In addition, transporting, assembling and dismantling scaffolding is cumbersome, labor-intensive and time consuming. Generally speaking, bridge boom lifts are far more efficient, as well. 
Consider that most lifts are self-propelled and can be driven into position and ready to use. Scaffolding, on the other hand, must be manually transported to the work-site after being delivered as close as possible. This could involve the added expense of a third vendor specializing in erecting and dismantling scaffolding systems.
Another time and efficiency drawback with scaffolding is, once installed at the jobsite, workers must climb up carrying or hoisting their tools and materials. Not so with boom lifts. These can provide large platforms designed to accommodate a number of workers, their tools and their supplies. In addition, these platforms can reach heights unattainable with free-standing scaffolds.
Just how high can an aerial lift get to?
Currently, the world's tallest aerial lift is a 215-ft. working height monster created by Elliott Equipment. The E160/215 is actually labeled an aerial work platform (AWP), but is still the tallest aerial lift in the world. It also boasts a platform capacity of up to 1,200 pounds and can reach up to 80 feet on each side. 
Strictly speaking, there are three major types of aerial work platforms: boom lifts, scissor lifts, and mechanical lifts. For bridge work, boom lifts are the most common types of equipment used for underbridge access. 
Limitations of Bridge Boom Lifts
These non-articulated boom aerial lifts were specifically designed to provide access to hard-to-reach areas such as the outside and undersides of bridges. The booms can typically be extended in sections, which allows the worker platform to be maneuvered up and over obstacles. These boom lifts are popular for bridge work and similar situations, such as work on utility lines.
However, although bridge boom lifts work well for working on and inspecting elements of the bridge above the deck, they do have limitations when you need to work under the bridge deck. These limitations can be summed up by reach and terrain. 
If the underside of the bridge is more than, say, 120 feet it's unlikely that a bridge boom lift will work for you. And even if reach is not an issue, there is the matter of the terrain underneath the bridge. If the bridge is spanning a body of water or a river, you will have to opt for another type of access.
This is usually true, as well, if the bridge spans a major roadway or railroad track. Unless it's possible to divert traffic or schedule work when there is little or no traffic, this is also a time for using a different piece of equipment. 
Alternatives to a Non-Articulated Bridge Boom Lift
When it's not feasible or possible to go "straight up" to access the underside of a bridge, there are other vehicles sometimes referred to as boom lifts, but are more properly known as under bridge inspection units, or UBIUs.
These machines can lift a platform over a bridge railing, lower it to beneath the bridge deck and place it underneath a bridge for optimum access. These articulated boom lifts come in both a variety of configurations and capabilities, and are either truck-mounted, self-propelled, or towed into place. 
Finding Under Bridge Inspection Equipment
With the wide range of capabilities available, determining the best choice for your bridge inspection project can be challenging. However, it often depends on the structure itself and the terrain you're working on.
As industry professionals, we can guide you through the process of renting or buying the right vehicle and equipment for your project. Experience and knowledge are keys to making the best choice. We provide quality under bridge equipment throughout all the Western States, including California, Washington, and Oregon.
Our inventory of under bridge access platforms include the state-of-the-art self-drive access platform, the Truck Mounted Hydra Platform HPT43: 
"With its maximum drop depth of over 20 ft. (6.16 m) and platform extension of 43 ft. (13.10 m), the HPT43 will allow you access to more than 1,700 square feet of under-bridge area in a single placement.
At a total weight of 45,000 lbs. (20,412 kg), the HPT43 provides enormous natural stability. It is powered by a cost-efficient 30kW silenced diesel generator with hydraulic pump, with PTO backup from the truck engine.
[The] patented Tower Separation System (TSS), provides easy access over sidewalks and railings. The horizontal-always crossover platform makes access between platform and deck easy regardless of platform height or extension."
We take a great deal of pride in being the only company in California that offers total under bridge access. Because of our exceptional customer service, we've managed to build long-lasting relationships with our esteemed customers. And we intend to keep it that way. Contact us today to discuss your requirements.