Routine bridge inspections are a required activity for every state Department of Transportation in the United States. Administered by the United States Department of Transportation, each state DOT is required to complete a regular audit of each of the bridges in their purview.
In many cases, state agencies do not have sufficient equipment or the resources to inspect all their state's bridges. Private contractors such as engineering firms that are qualified to inspect bridges are used. These firms routinely use bridge inspection platform equipment to complete these required tasks.
There are a number of basic requirements that must be considered when buying or renting bridge inspection platforms. 
Bridge Inspections Platform Capabilities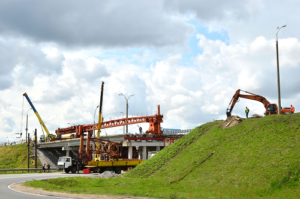 According to a publication from the state of Minnesota's Department of Transportation:
"An under bridge inspection vehicle is a specialized bucket truck with an articulated
boom designed to reach under the superstructure while parked on the bridge deck.
Usually the third boom has the capacity for extending and retracting, allowing for
greater reach under a structure. Some of the larger under bridge inspection vehicles
have four booms, allowing an even greater reach."
Picture a bridge inspection platform unit parked on a bridge deck, along the roadway. The objective is to place the worker's platform underneath the bridge where the inspection must be performed. To accomplish this, the unit – either trailer-mounted or on a truck – must be able to maneuver the platform up, over, down and under the bridge.
In other words, to get the platform across the sidewalk over the bridge railing, lowered down below the bottom of the bridge deck and then under the bridge, several distances must be covered. 
These are commonly referred to as sidewalk clearance, horizontal reach, downward reach, and under-bridge reach. These are defined as follows:
Sidewalk clearance – The horizontal reach required to clear any pedestrian traffic-ways
Horizontal reach – The overall horizontal distance that a unit can extend in any one direction
Downward reach – The total distance below a bridge railing the platform can be extended
Under bridge reach – The maximum distance under a bridge that a platform can be extended
All of these capabilities should be considered before purchasing or renting bridge inspection equipment. 
Another essential consideration is the size and capacity of the platform. On the smaller end of the bridge inspection platform equipment range, units such as the Aspen A-30 comes with a three person, 3 foot by 5 foot aluminum platform with a 600 pound weight capacity. However, this particular vehicle can also be fitted with a 3.5 foot by 30 foot long interchangeable maintenance platform that can also attach to the end of a second boom.
This platform provides a 1,000 pound capacity, which can safely accommodate five workers,   and provides a large working space for all types of repair work. Other models from various manufacturers offer platforms with weight capacities from 500 to 1,000 pounds.
Just as essential is the overall reach of the booms. Some units provide minimal access below a bridge deck, while others can position workers as much as 60 feet or more under a bridge. While many platforms are attached to articulated booms with limited rotation, some platforms can rotate up to 180 degrees, providing access to large work areas without repositioning the platform as often.
Playing Safe on Bridge Inspection Platforms
An unfortunate reality in the field of bridge inspections are the accidents that can and do occur in the course of a bridge inspection. 
Any experienced inspector knows that familiarity can breed confidence, and confidence – if not properly curbed – can breed carelessness. On the other side of the equation is lack of experience and the dangers of unknowingly engaging in unsafe operations.
The Minnesota DOT advises, 
"If the inspector is not familiar with the inspection vehicle being used, then take the time required to become accustomed to its operation. In some cases, formal operator training may be necessary or required. When operating any inspection vehicle, always be aware of any overhead power lines or other hazards that may exist. It is also important to be aware of any restrictions on the vehicle, such as weight limits for the bucket, support surface slope limits, and reach restrictions. Always be alert to your location. Do not extend the boom out into unsafe areas such as unprotected traffic lanes or near electrical lines. Use OSHA-approved safety harnesses with shock absorbing lanyards when using access vehicles."
Unfortunately, accidents during bridge inspections are far too frequent and the resulting injuries and fatalities make for lurid media headlines and stories such as this one from NBC Connecticut,
"Worker Killed in Bridge Inspection Accident – A worker performing a routine bridge inspection for the state Department of Transportation was killed when his truck tipped over and crushed him on a West Hartford entrance ramp…"
The good news is that bridge inspection platform vehicles and trailers are safe and reliable pieces of essential equipment if operated properly and professionally. 
We are committed to safety and customer satisfaction. We provide training at the job site to your job crew and we offer 24-hour response to any questions you may have regarding issues that may come up on your job.
We are committed to providing safe access to the underside of bridges for the purpose of repairs, maintenance and inspections. We provide quality customer service and enjoy building lasting relationships with the companies we do business with.
Our trained specialists go the extra mile to maintain the integrity of our machines through regular service inspections. All our operators are highly trained, fully insured and experienced with bridge inspection work. Contact us for more information.