If you're already involved in the industry of bridge inspection, maintenance and repair you probably know the story: more than 47,000 bridges are in need of major repairs. 
And that's less than eight percent of the 616,096 bridges in all the 50 states, Guam and Puerto Rico, according to the Federal Highway Administration as of Dec. 31, 2018. Their breakdown of current bridge conditions looks like this:
283,316: Good (46%)

285,676: Fair (46.4%)

47,054: Poor (7.6%)
Closer to home on the West Coast, we have a large percentage of those bridges. For example, according to the State of California's DOT website,
"Caltrans bridge inspectors are responsible for maintaining the safety and integrity of over 24000 bridges owned by the State of California and California's local government agencies.
Structure Maintenance and Investigations is responsible for managing the department's transportation structures. This includes performing bridge inspections in accordance with federal regulations on over 12,000 State Highway bridges and approximately 12,200 bridges owned by local government agencies, making structure work repair recommendations, determining the safe load capacity of all bridges, reviewing and approving encroachment permits and air space lease proposals involving structures, delivering plans, specifications and estimates for bridge maintenance on projects, and coordinating the protective coating work on over 800 state highway steel bridges."
Bridge Inspections Require Equipment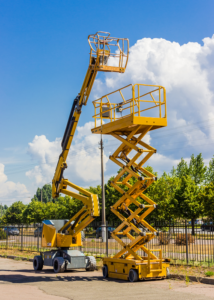 The equipment used to inspect a bridge depends on a number of factors including the type of inspection being conducted and location of the bridge. Access is the primary driver and is further determined by whether only visual access is needed, or hands-on access, as well. 
The available options for under bridge access are varied. If a bridge is relatively low to the ground and not over an active roadway, railroad bed, or water, the bridge inspection teams can often use ladders or scaffolds in most situations. In addition, depending on the location of the bridge, equipment such as scissor lifts might be employed. 
For bridges that span waterways such as lakes, streams and rivers, boats or barges can sometimes be used. This is not the case for bridges over highways and other high-traffic roadways. In those situations, or when the bridge cannot be accessed from the surface of the water underneath, then under bridge access requires different equipment.
There are, of course, some bridges that are built with access structures incorporated in the bridge itself. Many large bridge structures are designed and built with permanent inspection structures such as catwalks or travelers. A traveler is a permanent bridge inspection platform similar to a catwalk except that it's movable, as the term implies.
Traveler platforms are typically perpendicular to the bridge girders. The traveler platform runs on a rail system between the bridge's substructure elements. Because the traveler platform is perpendicular to the girders, this gives inspectors and maintenance workers a wider range of under bridge access, while enabling them to view more of the superstructure components.
Other Common Under Bridge Inspection Equipment
Using bridge rigging and professional riggers is still fairly common. Many inspection firms will employ climbers who either free climb and rappel, or make use of suspended chairs. Although riggers agree that this approach is no more dangerous than many underbridge inspection units (UBIUs), any bridge inspection work is inherently risky. 
This is why, when inspectors climb on the bridge members using bridge rigging  to gain access, safety awareness is a priority. When properly making use of this method, an inspector should be tied off to the bridge using an independent safety harness and lanyard.
If a bridge is too difficult to reach with under bridge inspection platforms, and is too dangerous for a human to access, inspection Robots or drones can be used. While robots cannot replace qualified inspectors, they can detect flaws that may not be visible to the human eye. And robots equipped with sonar capabilities can detect internal flaws in bridge members.
Finally, and most commonly, there are the self-driving or stationary under bridge inspection units. Also known as snooper trucks, boom lifts, and aerial lifts, among other things, these often highly articulated and flexible units can provide ease and breadth of access unmatched by other methods.
An under bridge inspection unit (UBIU) is a specialized "bucket truck" that typically has an articulated boom. These are designed to reach under the superstructure of a bridge while parked on the bridge deck. Often featuring three boom segments, the third boom can extend and retract, which provides greater reach and access under a structure than a stationary platform.
In fact, a few larger UBIUs have four booms, which means they provide even greater reach and access. Depending on the under bridge inspection vehicles, they can feature a two or three-person bucket, while other models such as the HPT43, come with a multiple-person platform on the third boom and a ladder on the second boom.
Your Best Choice for Under Bridge Inspection Units
We provide quality under bridge equipment throughout all the Western States, including California, Washington, and Oregon. Our inventory of snooper trucks and under bridge access platforms include the state-of-the-art self-drive access platform, the Truck Mounted Hydra Platform HPT43. 
We take a great deal of pride in being the only company in California that offers total under bridge access. By offering high quality customer service, we have managed to build long-lasting relationships with our esteemed customers. And we intend to keep it that way. Contact us today to discuss your requirements.