In the United States, bridge inspections are regulated by both federal and state guidelines. The latter can vary significantly by state. Federal regulations on bridge inspections are covered by the National Bridge Inventory Standards (NBIS).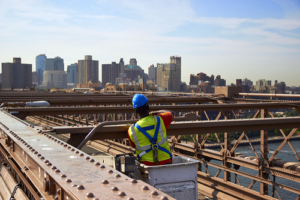 They various rules and regulations primarily cover the qualifications needed to be a bridge inspector, the types of bridges required to be inspected and how often they should be inspected.
Generally speaking, the various State Departments of Transportation (DOTs) incorporate the same guidelines from the NBIS, while expanding on them, as well. The result is that most states require more types of bridges be inspected and for inspections to be conducted more frequently than recommended by the NBIS.
Many states also place more qualification requirements on inspectors based on local inspection needs.
Types of Bridge Inspections Commonly Performed
Of course, there are a handful of common inspections that most firms carry out regularly and that make up most of their under bridge inspection unit work. However, there are quite a few different categories of bridge inspection tasks outlined by Code of Federal Regulations at the Department of Transportation's Federal Highway Administration.
Here's a brief overview of these inspection types: 
Damage inspections: These are unscheduled inspection to assesses environmental damage or damage caused by accidents of some type. 
Fracture-critical member inspections: These require a hands-on inspection of parts of the bridge that, if fractured by stress or from environmental events, could lead to serious consequences.
Hands-on inspections: These are generically referred to inspections that require visual and hands-on inspection of any part of the bridge.
In-depth inspections: These types of inspections require close-up inspection of one or more parts of a bridge and may involve specialized tools to detect fractures, etc. These inspections may take place above or below water level. Typically, these types of inspections are carried out to identify any issues that are not easy to detect using more routine inspection procedures.
Initial inspections: These are the first inspections of new bridges prior to opening for public use. They are performed to determine baseline structural conditions and to collect baseline data about the bridge.
Routine inspections: Required on federal and state levels, these regularly scheduled periodic inspections generally includes both observations and hands-on measurements. Typically, a routine inspection is used to determine the physical and functional condition of the bridge, identify changes in the bridge from the last time it was inspected and to make certain that the bridge is safe and meets service requirements.
Special inspections: As the name implies, these are inspections that are scheduled by the owner of a bridge to inspect or monitor a known or suspected structural issue.
In addition, there are circumstances where an under bridge unit cannot be employed such as performing inspections of the underwater sections of a bridge and the water areas around it. This type of inspection often requires specialized diving and other techniques and equipment.
How Often Bridges are Inspected
Based on data from NBI, the chart below shows the frequency for certain types of bridge inspections.  Critical inspections are performed more frequently than routine ones, while the more difficult and expensive underwater are carried out less often.
Notice that critical inspections happen on a more frequent basis than routine ones. More difficult and expensive underwater ones happen less often.
While there are a variety of inspections that are performed on a wide array of structures and bridge types, it's critical to avoid using disparate tools for inspecting bridges. It can be dangerous to combine tools that should not be used together and can result in accidents, injuries, and death.
Although ropes, ladders and rigging can be used in many instances, specialized equipment can make it easier more efficient for performing inspections. Under bridge inspection units are often the best choice due to their high flexibility and articulated booms. These units make it easier for inspectors and repair crews to access hard-to-reach areas of bridges.
Some of the Problems With Bridge Inspections
It's no surprise to most bridge inspectors and others working with bridges and related structures in the U.S. that our nation's infrastructure is in urgent need of repair, upgrading and replacement. And it has been an issue for a few decades now.
There are approximately 700,000 bridges throughout the U.S. that are owned and maintained by vast numbers of state, local, and other entities. However, a vast majority of these are either working through bankruptcy or struggling with a variety of budget woes. 
This means that many, if not most, of these agencies and entities have limited resources available to conduct adequate and frequent in-depth inspections.
One article noted that, 
"Most bridge inspections focus on critical structural components of bridges, those that could lead to significant property damage, the collapse of the bridge, injuries, and deaths. However, there are few guidelines related to inspecting the equally important utility infrastructure suspended from many bridges.
The impact could be significant to local communities if power lines, cables, gas lines, and other utility infrastructure carried across bridges become compromised. Like most other bridge elements, utility components can be affected by weather, accidents, and normal wear and tear.
Because of state government staffing restraints, financial constraints, and a lack of clear guidance, bridge utility inspections tend to take place ad hoc or are handled by utility companies and are generally not connected with DOT inspections.
With the nation's bridges — and the utility systems they transport — aging at a rapid rate, it's important that local bridge and utility authorities work closely together to build a plan to inspect critical utility infrastructure regularly."
On the bright side, about 95 percent of routine bridge inspections in the United States do take place at least every 24 months or even more often. This means that most states still manage to comply with the minimum federal guidelines.
Your Source for Under Bridge Inspection Units
We provide quality under bridge equipment throughout all the Western States, including California, Washington, and Oregon. Our inventory of snooper trucks and under bridge access platforms include the state-of-the-art self-drive access platform, the Truck Mounted Hydra Platform HPT43. 
We take a great deal of pride in being the only company in California that offers total under bridge access. By offering high quality customer service, we have managed to build long-lasting relationships with our esteemed customers. And we intend to keep it that way. Contact us today to discuss your requirements.