When you choose to rent an underbridge inspection unit you often have a variety of choices. And your choice of platform is usually determined by both the size and height of the bridge, and the equipment available to you.
One of the most significant advantages of renting your under bridge inspection equipment is the broad selection of inspection platforms that can be used.
UnderBridge Inspection Units: A Range of Capabilities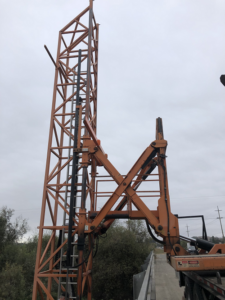 Not every bridge inspection or maintenance task requires "monster" platforms. For example, the smallest work platforms, often referred to as buckets, provide just enough platform area to accommodate up to two workers and somewhere around a 500 pound limit. And these smaller boom lifts or aerial lifts are often sufficient for many under bridge inspection, repair, or maintenance tasks. 
However, there are many bridge jobs that require far more capability than a basic boom lift. Some of these larger projects must employ larger under bridge inspection platforms with a length of up to 35 feet in length or so and a platform capacity of 1,000 pounds.
And then there are times when you may have an inspection job on an even larger structure, or a job that requires a larger crew and more equipment to be placed underneath the bridge deck. That's when you can make use of a unit such as the HPT43 with its extensive 43 foot long under bridge reach of its three and half foot wide platform.
But what if you need even more reach under that bridge deck?
Considering the Anderson/Terex HPT 66
Originally manufactured by the Terex company, the Anderson Hydra Platforms HPT 20/66 truck-mounted model is a fully equipped under-bridge access and work platform. This access platform is mounted on a diesel-powered truck and is one of the most versatile platforms for inspections and other underbridge tasks.
Terex was acquired by Hydra Platforms Manufacturing in 2008 and then sold to Anderson Hydra Platforms, Inc. in 2014. Today, Anderson Underbridge is now the nationwide manufacturer, sales, service, and rentals source of Hydra Platforms, which has become a leading name in under bridge access equipment.
As with every Anderson/Terex Hydra Platforms truck model, the HPT 66 features a patented Tower Separation System, which includes hydraulically adjustable cross-linking arms between the main outside vertical tower and the turntable sub-frame that is mounted on the truck. This system allows operators to raise and extend the tower and platform up and over pedestrian sidewalks and other bridge deck barriers without restricting under bridge functionality.
The main operating system of the HPT 66 uses a silenced 30 kW diesel generator with a hydraulic pump. Because fuel consumption and pollution are reduced by 50 percent during operation, this means the HPT 66 is a fuel-efficient and cost-effective option for large capacity under bridge inspection, repair and maintenance jobs.
One concern with large, truck-mounted models is stability and safety. No one wants to have their under bridge inspection unit tipping over! The good news is that the Anderson/Terex Hydra Platforms have Dual Side Hydraulic Outrigger Stabilizers as standard features, which provide maximum stability and an added level of safety.
Why choose an Anderson/Terex HTP 66 for your large under bridge project?
The HTP 66 is a truck-mounted bridge inspection unit that is 66 feet long and can be lowered up to 21 feet below deck grade. In addition, the platform can cover up to 4,100 square feet of under bridge area in one placement. And perhaps best of all, this unit can be operating in just 15 minutes after you've positioned it on the bridge deck. This is just a fraction of the time and labor that would be needed to set up scaffolding to cover the same area.
Specifications
 Platform Length
Platform Width ID Aluminum

Platform Width ID Steel

Platform Weight Capacity

Crossover Height Clearance

Max Lowering Depth

Platform Rotation

Tower Separation Width

Unit Length (transport position)

Unit Width (transport position)

Unit Height (transport position)

Total Weight (approximate)
66 ft 1 in
2 ft 7 in
3 ft 1 in
1,400 lbs
8 ft 1 in
21 ft 7 in
180°
6 ft 0 in
38 ft 6 in
8 ft 6 in
13 ft 6 in
65,000 lbs

You Have Bridge Inspection Platform Options
There are a variety of capabilities with different bridge inspection platform vehicles. Determining the best choice for your work or project depends on both the structure and the terrain. While cost is also a factor, the vehicle capabilities and your specific project needs should be the dominant deciding factors.
Having a professional firm you can rely on to guide you through the process of hiring the right under bridge inspection vehicle and bridge inspection platform equipment for your project is key to making the proper selection.
We take a great deal of pride in being the only company in California that offers total under bridge access. By offering high quality customer service, we have managed to build long-lasting relationships with our esteemed customers. And we intend to keep it that way.
Contact us today to discuss your requirements.