"A rose by any other name…"
One of the interesting aspects of bridge inspection platform vehicles is that they go by a wide variety of names. For example, we've previously noted that the common term of "Snooper" truck is actually a trademarked brand name that has become practically a generic name similar to Kleenex® and Q-Tips®, among others. 
Here is a short list of other commonly used terms for bridge inspection platforms:
Under bridge inspection vehicle

Under bridge access platform

Bridge inspection vehicle

Bridge inspection truck

Bridge inspection unit

Platform truck

Bucket truck

Boom lift

Aerial lift

Snooper truck

Bridge snooper
Essentials of Bridge Inspection Platforms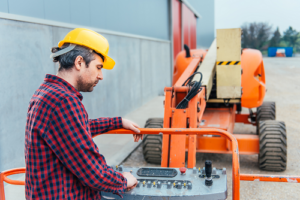 For the sake of simplicity we could agree that most of these various terms refer to what we usually call under bridge inspection vehicles. And we could describe an under bridge inspection vehicle as a specialized truck that can place a positionable work platform underneath a bridge, typically from the bridge deck. 
Most every professional that works with bridge repair, cleaning, maintenance and inspections would likely agree that a bridge inspection platform is essentially an under bridge inspection platform. 
For example, the state of Minnesota Department of Transportation describes these vehicles in their Bridge Inspector's Reference Manual:
"An under bridge inspection vehicle is a specialized bucket truck with an articulated
boom designed to reach under the superstructure while parked on the bridge deck.
Usually the third boom has the capacity for extending and retracting, allowing for
greater reach under a structure. Some of the larger under bridge inspection vehicles
have four booms, allowing an even greater reach."
There are a number of different variations including self-propelled units, truck-mounted units, and trailer-mounted units. Some inspection platform equipment utilize outriggers for added stability, while others – such as the Anderson Hydra Platforms HPT43 – can be mounted on a mobile track for versatility.
There are four major capability considerations with bridge inspection platform vehicles:
Horizontal reach – the horizontal distance that a unit can extend in any one direction

Under-bridge reach – the distance under a bridge that a platform can be extended

Downward reach – the downward distance that a platform can be extended

Sidewalk clearance – additional horizontal reach to clear sidewalks or catwalks
Your Platform May Vary
In addition to these different factors, the actual size of the work platform can vary dramatically. The smallest work platform is often referred to as a bucket and may have just enough "floor space" for two workers and a 500 pound limit. For many under bridge inspection, repair or maintenance tasks this is often sufficient. 
On the other extreme, some bigger under bridge inspection platforms can be as large as 35 feet in length and boast a capacity of 1,000 pounds. However, units like the HPT43, comes with a massive platform that is 43 feet long, 3 feet 6 inches wide, and provides a platform weight capacity of 1,400 pounds. In addition, the HPT43 platform has a rotation of 180 degrees.
Another "monster" under bridge inspection platform is the Moog MBI 200-1,5/S. This relatively new machine maneuvers a massive platform that is almost five feet wide, can hold over 1,750 pounds, and extends horizontally up to 65 feet in length providing space for up to eight workers.
The truth is, for most bridge inspection work, a modest two or three person bucket or small platform is sufficient. 
Whether you need a small bridge inspection platform unit, or a far larger vehicle with far greater capacity, it pays to find a rental firm with the experience, knowledge and understanding to help you make the right choice for all your bridge work projects.
Choosing Your Best Bridge Inspection Platform
There are a variety of capabilities with different bridge inspection platform vehicles. Determining the best choice for your work or project depends on both the structure and the terrain. While cost is also a factor, the vehicle capabilities and your specific project needs should be the dominant deciding factors.
Having a professional firm you can rely on to guide you through the process of hiring the right under bridge inspection vehicle and bridge inspection platform equipment for your project is key to making the proper selection.
We take a great deal of pride in being the only company in California that offers total under bridge access. By offering high quality customer service, we have managed to build long-lasting relationships with our esteemed customers. And we intend to keep it that way.
Contact us today to discuss your requirements.