With over 600,000 bridges in the United States, there are plenty of inspections to be performed. Especially in light of the fact that, according to a new report from the American Road and Transportation Builders Association, as of 2017 there were more than 47,000 bridges in the U.S. are in poor condition and in need of urgent repairs.
While the number of bridges that are in such poor condition as to be considered structurally deficient is decreasing, according to the 2017 Infrastructure Report Card, the average age of America's bridges keeps going up and many of the nation's bridges are approaching the end of their design life.
According to the U.S. Department of Transportation, there are five basic types of bridge inspections that are conducted. These are:
Initial

Routine

In-depth

Damage

Special inspections
The so-called "routine" inspections, the most common type of inspections performed, are required bi-annually, or every two years. As a result, these are also the type of inspections most contractors and state DOTs engage in.
Bridge Inspections and the Equipment Required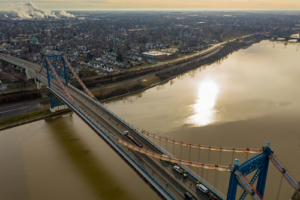 Put simply, the purpose of routine inspections is to determine the physical and functional condition of a bridge.
These inspections are carried out primarily with visual inspections. In the course of these inspections, a variety of tools are used for cleaning, probing, sounding, and measuring. In addition, inspectors often make use of mechanical visual aids such as borescopes, microscopes, and other optical devices.
In addition to routine inspections, bridge workers also carry out routine cleaning and repairs along with performing a variety of maintenance tasks on bridges of all types. Many times, this type of work, along with routine inspections, requires accessibility to the underside of the bridge. 
Having versatile access with an under bridge platform, or snooper truck, makes these tasks far easier to perform. And, in many situations, these vehicles provide the only means of accessing the work areas that must be reached.
A snooper truck bridge platform vehicle allows hands-free access for certified inspectors to use the tools required to conduct visual inspections.
But have you ever wondered where the name "snooper truck" came from?
If you work in the bridge building, maintenance and inspection industries, you're likely familiar with the terms, "snooper", "snooper truck" and "snooper crane." But you may not be aware of the origin of these names.
The name Snooper® is actually a trademarked brand name, much like Kleenex®, Xerox® and ChapStick®, and is owned by Paxton-Mitchell Co., LLC. And, like these other well-known brand names, it has become commonly used as a generic term for under bridge inspection vehicles. 
According to the Paxton-Mitchell website, the first "SNOOPER®" Underbridge Inspection and Maintenance Truck was designed and manufactured in 1964. In the more than five decades since, the SNOOPER® has been sold to state highway departments, DOTs, municipalities, counties, contractors, and construction equipment rental companies.
Thinking Beyond the Typical "Snooper"
The wide variety of work done on and under bridges can include under bridge repairs and inspections, installation and maintenance of cables and pipes, and ongoing painting, sandblasting and other general maintenance tasks.
Since almost all of this work must be performed manually, on-site, and "hands on", having up-close and safe access to any part of a bridge structure is essential. For smaller bridges, such as those under 50 or 60 feet high and not spanning active roadways or water, this can often be accomplished with a ground-based aerial boom lift.
However, if there is no suitable ground underneath the bridge to position a boom truck, access to the bridge fascia and underdeck area must be accessed from the bridge deck. And this type of access usually requires an articulated boom crane.
While the term "snooper truck" can and is used quite broadly, it is often used in reference to these various trailer and truck mounted booms that are set up or parked on a bridge deck as opposed to the ground underneath.
These articulated boom vehicles have a boom arm with multiple joints allowing it to bend and is often called a "knuckle boom lift." The versatility of this design allows the arm to bend over and under obstacles to lift a worker platform into areas that might otherwise be dangerous or even impossible to access.
There are various configurations and designs of under bridge platforms from relatively simple articulated booms with a two-man bucket, to tower separation systems featuring a hydraulically controlled tower and adjoining platform. 
The tower separation system feature is available with our Hydra HPT43 platform. This crane can lower its platform over 20 feet over the bridge railing and can extend it to 43 feet across. This allows access to more than 1,700 square feet of under-bridge area in a fixed position.
The Hydra's patented Tower Separation System (TSS) reaches over sidewalks and railings to provide easy access between the platform and the bridge deck regardless of platform height or extension. It essentially functions as an inverted scaffold offering a high degree of stability, safety and access. 
Also, the machine is well capable of reversible deployment as is the norm with high-quality, high-powered platforms. The Tower Separation Systems which are made up of hydraulic adjustable cross-linking arms fixed between turntable sub-frame and vertical towers enables you to erect the platform far and wide. You can stretch the tower and platform beyond barriers and sidewalks while the under bridge operations continue.
Your Best Choice for "Snooper Trucks"
We provide quality under bridge equipment throughout all the Western States, including California, Washington, and Oregon. Our inventory of snooper trucks and under bridge access platforms include the state-of-the-art self-drive access platform, the Truck Mounted Hydra Platform HPT43. 
We take a great deal of pride in being the only company in California that offers total under bridge access. By offering high quality customer service, we have managed to build long-lasting relationships with our esteemed customers. And we intend to keep it that way. Contact us today to discuss your requirements.