As every bridge inspector and DOT employees knows, highway bridges throughout the United States over 20 feet in length must be inspected. 
While the NBIS requires safety bridge inspections at least once every 24 months for highway bridges, some states have more stringent inspection requirements. 
And for good reason.
Taking a Detour on I-40 to Memphis for Bridge Repairs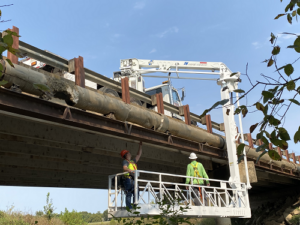 On May 11, 2021, the Hernando de Soto Bridge was shut down after a "structural crack" was found during a routine inspection. The shutdown closed all Interstate 40 lanes over the Mississippi River to traffic.
The Tennessee DOT noted in a press release that contract crews were to begin emergency repairs on the I-40 Hernando DeSoto Bridge over the Mississippi River "after a routine inspection uncovered a crack in the bottom side of the bridge truss."
They went on to note that repairs could take some time.
According to an article from CNN, 
The Hernando de Soto Bridge on Interstate 40 in Memphis, Tennessee, was shut down Tuesday and will be closed for emergency repairs, according to a news release from the Tennessee Department of Transportation (TDOT).
Tennessee shares responsibility for the bridge with the Arkansas Department of Transportation (ArDOT), which discovered the crack during a routine inspection and immediately shut down the bridge, the release said.
"For the motoring public's safety, the bridge will be entirely shut down while crews investigate the crack's extent further and then repair the problem, which could take some time," the TDOT release read. It is unknown how long the bridge will be closed. Authorities have also shut down river traffic until further notice.
The location and size of the Hernando de Soto Bridge means a logistics, commerce, and commuting headache of monstrous proportions for several parties and agencies. 
For example, upon closure of the bridge and river traffic, the Coast Guard reported that there were at least 24 vessels with a total of 346 barges waiting to travel the Lower Mississippi River in either direction.
In addition, more than 50,000 vehicles drive over the bridge each day, which was opened in 1973 and took six years to complete. 
Because the span crosses the state line, the Tennessee DOT is responsible for repairs and maintenance of the Hernando de Soto Bridge, while Arkansas DOT is responsible for inspections, which happen every two years.
Tennessee DOT photo of the crack that shut down the I-40 Hernando de Soto Bridge
A Big Bridge, But Just One of 20,000 Plus
While it hasn't always been the case, Tennessee today ranks in the top 20 percent of states when it comes to bridge structural quality. 
An article from the Time Free Press noted that,  
In 2018, about 4.3% of bridges in Tennessee — or 871 of the 20,177 bridges — were considered "structurally deficient," meaning one of the key elements was in poor or worse condition. The share of bridges judged to be deficient in Tennessee was less than half the U.S. average and ranks Tennessee among the best states for bridge infrastructure, according to the 2019 report from the American Road & Transportation Builders Association.
Only nine states and the District of Columbia have fewer structurally deficient bridges than Tennessee.
Tennessee is ranked 10th in the nation for total number of bridges with 19,915. Tennessee inspects all state- and locally-maintained bridges, whereas other states only inspect the state-maintained bridges.
While the United States as a whole is surely in need of an infrastructure boost when it comes to bridges, it's not as dire as some would have us think. 
For example, the US only earned a C- in the American Society of Civil Engineers infrastructure report card, which said an additional $2.6 trillion in funding is required over the next decade. More recently, the current Transportation Secretary described America's roads and bridges as "crumbling."
And the new administration's infrastructure plan states that, "After decades of disinvestment, our roads, bridges, and water systems are crumbling," and claims that 45,000 bridges are in "poor condition," while a 2018 NBC report stated that 54,259 bridges are "structurally deficient."
However, America's bridges have been steadily improving for three decades.
The Federal Highway Administration produces annual data on the condition of the nation's more than 600,000 highway bridges and has found that the structurally deficient share fell from 21.7 percent in 1992 to 8.9 percent in 2017, while the poor share fell from 10.1 percent in 2009 to 7.3 percent in 2020.
Chart courtesy of Newsmax
The bottom line is that, while the current administration's figures of 45,000 bridges and NBC's 54,259 bridges are accurate, they ignore the larger fact of dramatic improvements made over the last three decades.
And these improvements are due in large part to the ongoing efforts of contract crews of bridge inspectors and state DOTs across the nation.
Your Best Choice for Bridge Inspection Equipment
We invite you to look into Under Bridge Platforms.
We provide quality under bridge equipment throughout all the Western States, including California, Washington, and Oregon. Our inventory of snooper trucks and under bridge access platforms includes the state-of-the-art self-drive access platform, the Truck Mounted Hydra Platform HPT43. 
We take a great deal of pride in being the only company in California that offers total under bridge access. By offering high quality customer service, we have managed to build long-lasting relationships with our esteemed customers. And we intend to keep it that way.
Contact us today to discuss your requirements.