Some anniversaries are both celebratory and somber. On April 27th of this year, the national bridge inspection program, which has been at the core of highway bridge safety, was recognized for its 50th anniversary.
The Federal Highway Administration's (FHWA) program mandates regular bridge inspections and the collection of relevant data by trained professionals. And, for 50 years, this has been occurring all across the United States.
The FHWA was authorized by the Federal-aid Highway Act of 1968 to enact the National Bridge Inspection Standards (NBIS) regulations on April 27, 1971, which created the first federal level bridge safety program.
But the event that spurred the creation of the NBIS was a grim one.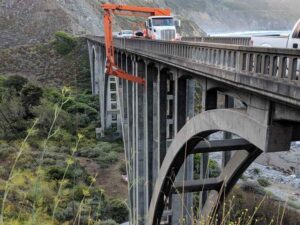 Ensuring the Safety and Integrity of Our Nation's Transportation System
The birth of the NBIS was the direct result of the collapse of the Silver Bridge in Point Pleasant, West Virginia, on December 15, 1967. That tragedy claimed the lives of 46 people and brought national attention to the need for regulated bridge safety. And within four years it also led to a systematic program of bridge inspections. 
According to an article at Road & Bridges, 
"The NBIS required that bridges and their various component parts—ranging from pilings to deck slab—be inspected at least once every two years by inspectors that were appropriately trained. It also required written reports of the inspection findings that include needed follow-up actions to address any identified damage, deterioration, or defects. In addition, FHWA was charged with using the bridge inspection data to create the National Bridge Inventory to track the performance of highway bridges."
The magazine's article goes on to note that the federal standards apply to all highway bridges on all public roads and that states, local agencies, federal agencies own most highway bridges. 
However, the NBIS was developed, implemented, and is maintained by the Federal Highway Administration, but its primary role in the program is to provide oversight of state, federal, and tribal bridge inspection programs that implement the NBIS.
The overall results have been substantial, quantitative, and impressive. 
For example, Road & Bridges points out that the number of bridges included in the NBIS program increased from 587,735 to 618,456 bridges since 2000. Yet, during that same time period, the percentage of bridges in poor condition, which had been at 15.2 percent 20 years ago, dropped to just 7.2 percent.
Prior to April 27, 1961 we would not have had the data to compile those figures and, as a result, would not know how well or how poorly the condition of the country's bridges were.
50 Years: Marking Laudable Success While Acknowledging a Growing Need
One of the very real downsides of the passing of five decades is that bridges – much like everything else – are aging. And that means that each year, more and more bridges fall further into decline from the simple passage of time and millions of cars.
According to an analysis of the U.S. DOT 2020 National Bridge Inventory (NBI) database conducted by the American Road & Transportation Builders Association (ARTBA), over 220,000 U.S. bridges need major repair work or should be replaced.
This works out to more than one-third, or 36 percent, of all highway bridges in the United States.
The analysis also found that while the number of bridges deemed "structurally deficient" (SD) declined 2.5 percent in 2020 to 45,000. However, more than 3,600 bridges that were downgraded to "fair condition" bringing the number of bridges in that category to almost 295,000.
Somewhat distressingly, ARTBA pointed out that it would take 40 years to repair the current backlog of SD bridges at the current rate of bridge repair.
Of the 45,000 "structurally deficient" or SD bridges, more than 11,000 were found to be in "serious" or worse condition. However, American drivers continue to cross these SD structures more than 171 million times each day. And, while it is apparent that this is an untenable situation, it's estimated that the cost to repair them will exceed $41 billion.
America's highway transportation system relies on the safety and structural integrity of its bridges. And it is the ongoing, regular, and thorough bridge inspections that help ensure safe bridge operations and prevent structural or functional failures.
When You Need Reliable Under Bridge Inspection Platforms
With the wide range of requirements that are common, determining the best choice of under bridge platform vehicle for your bridge inspection job can be challenging. However, it often depends on the structure itself and the terrain you're working on.
While the price of equipment rental is certainly a major consideration, your specific project needs and required capabilities should be the primary deciding factors for your under bridge inspection vehicle choice.
Having a professional resource to guide you through the process of finding the right vehicle and equipment for your project is key to making the proper choice.
With two locations nationally, Under Bridge Platforms, provides quality underbridge equipment and we are able to serve the entire Western United States. This includes but is not limited to:
California

Oregon

Washington State

Idaho

Nevada

Montana

Wyoming

North Dakota

South Dakota

Nebraska

Kansas

Oklahoma

Texas

New Mexico

Arizona

Utah

Missouri

Arkansas

Louisiana



Our inventory includes boom lifts, underbridge access platforms, and state-of-the-art self-drive access platforms. 
We are proud to be the only company in California to offer total under bridge access. By offering high quality customer service, we have managed to build long-lasting relationships with our esteemed customers. And we intend to keep it that way. 
Contact us today to talk about your under-bridge requirements.