We use highway and railroad bridges extensively throughout the United States.  In fact, at last count, there were more than 61,000 Class I railroad bridges in the United States, and at least 590,000 highway bridges. And almost all of them must be inspected regularly. While this is certainly a great deal of work – and numbers fluctuate constantly – there are some profoundly good reasons for that requirement.
Silver Bridge Collapse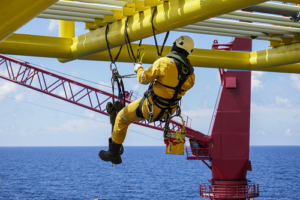 It's been 53 years since that day in December 1967 when the Silver Bridge between Point Pleasant, W.V. and Gallipolis, OH suddenly collapsed just over a week before Christmas. The suspension bridge gave way unexpectedly, dropping 32 vehicles into the freezing cold Ohio River.
Ultimately, 46 people were killed in the collapse and, of those killed, two whose bodies were never found. Inspectors determined afterwards that a defect of just 0.1-inch in one of the bridge's metal bars led to the structure's failure.
The weight of rush hour traffic and a history of poor maintenance were believed to be contributing factors as well. The Silver Memorial Bridge replaced it in 1969, and still stands today.
How Many Bridges Collapse?
A dissertation published in 2014 entitled Bridge Failure Rates, Consequences, and Predictive Trends noted in its Public Abstract section,
"Probability and statistics were used to estimate the average number of bridge collapses throughout the United States and a value of 128 annually was determined with a range between 87 and 222. Life loss occurred on about 4% of bridge collapses.
Similarities among collapsed bridges include bridges being classified as structurally deficient, bridges which have had the load carrying capacity lowered below the normal legal limit of vehicles, and bridges which have limited vertical clearance under the structure and a roadway under the structure. Age influences bridge collapses for only specific causes of collapse."
While inspections, repairs, and maintenance can drastically reduce the probability of a bridge failure or collapse, sometimes it is an inherent design flaw that dooms a particular bridge.
Tacoma Narrows Bridge
According to an account at History.com,
"On November 7, high winds buffeted the area and the bridge swayed considerably. The first failure came at about 11 a.m., when concrete dropped from the road surface. Just minutes later, a 600-foot section of the bridge broke free…
At one time, the elevation of the sidewalk on one side of the bridge was 28 feet above that of the sidewalk on the other side. Even though the bridge towers were made of strong structural carbon steel, the bridge proved no match for the violent movement, and collapsed."
Fortunately, no one was killed or injured as the bridge was largely abandoned by that time. There was, however, a small dog that was trapped on the bridge at the time of the collapse and subsequently perished in the waters below. 
After the collapse, it was discovered that the engineers had not properly considered the aerodynamic forces that occurred at the bridge's location during periods of strong winds. At the time the bridge was constructed, these types of forces were not commonly taken into consideration by engineers and designers.
Your West Coast Resource for Bridge Inspection Equipment Rental
If your company builds bridges, repairs existing bridges, or simply inspects them, then you need a variety of large pieces of equipment to do your work. However, most firms do not have the resources to buy and maintain a fleet of vehicles and equipment to handle every bridge project they acquire.
Not to mention the means to store them safely.
This is why renting under bridge inspection units and other bridge equipment is the best way to get the right equipment when you need it.
Depending on the volume of work your company does, you may have times where only a few under bridge inspection units or bridge boom lifts are needed. Other times, however, your company might be engaged on several job sites at the same time. Eventually, it becomes a far more cost-effective option to simply rent the right equipment when you need it and only when you need it.
Another advantage of renting your "snooper" trucks and other related lunder bridge access equipment is being able to make use of newer and more advanced models. 
You could buy your own, but purchasing under bridge inspection equipment is a major capital investment and you'd likely feel the need to keep relying on that unit long past the time it should be replaced. With most rentals, however, you are far more likely to have use of much newer models and have several to choose from, as well.
Having a professional firm you can rely on to guide you through the process of hiring the right under bridge inspection vehicle and bridge inspection platform equipment for your project is key to making the proper selection.
We take a great deal of pride in being the only company in California that offers total under bridge access – here, and in Oregon and Washington. By offering high quality customer service, we have managed to build long-lasting relationships with our esteemed customers. And we intend to keep it that way.
Contact us today to discuss your requirements.