There were over 616,000 bridges in the United States as of 2019. And of these, more than 47,000 bridges were in poor condition and in need of urgent repairs, according to a report issued by the American Road and Transportation Builders Association in 2017. 
The report, known as the 2017 Infrastructure Report Card, noted that while the total number of structurally deficient bridges have decreased, the average age of bridges in the US is increasing each year. What this means on a practical level is that many of our road and railway bridges are approaching a point where they will need to be replaced.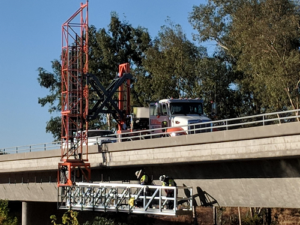 Talking About Bridges
When it comes to bridges, not every location has the same burden. Some state DOTs, for example, have relatively few structures to routinely inspect, maintain, and repair. 
The five states with the least number of public bridges as of 2019 were:
Alaska

1,595

Hawaii

 1,138

Delaware

879

Rhode Island

779

Washington D.C.

244
The small geographic size of four of these states and DC, combined with the population of all five locations, makes this list no real surprise. What may be a bit more surprising for some is the disparity in the total number of bridges in the "number one" state, Texas, and the subsequent states that make up the top five states with the most bridges in 2019:
Texas

54,432

Ohio

27,167

Illinois

26,825

California

25,771

Kansas

24,934
The Lake Pontchartrain Causeway is a fixed link composed of two parallel bridges crossing Lake Pontchartrain in southern Louisiana. The longer of the two bridges is 23.83 miles (38.35 km) long making it the longest bridge in the United States.
The tallest, or highest, bridge in the US is the Royal Gorge Bridge spanning the Arkansas River in southern Colorado. At a dizzying height of 955 feet, this tourist attraction was completed in 1929.
While the Royal Gorge Bridge might be considered old at over 90 years, it's still a youngster when compared to the oldest bridge in the United States that is still being used today.
That honor goes to The Frankford Avenue Bridge. Also known variously as the Pennypack Creek Bridge, the Pennypack Bridge, the Holmesburg Bridge, and King's Highway Bridge, it was built in 1697 nearly 80 years before the United States became a country. Not only is it the oldest bridge still in use, but it is also the oldest existing bridge in the United States.
One of the first railroad bridges in the country is the Baltimore & Ohio Railroad's Thomas Viaduct built in 1835 located at Elkridge, Maryland over the Patapsco River. At the time of its construction was the world's longest masonry bridge and the first curved structure of its kind. It is still the largest bridge of its type and still carries regular freight and passenger trains.
The worst bridge collapse disaster in the United States occurred on December 5, 1967 when the Silver Bridge, between Point Pleasant, West Virginia and Gallipolis, Ohio crumbled and fell in the Ohio River. 64 people and 32 vehicles fell into the river, and 46 people died.
It was this unprecedented disaster that spurred the legislation and formation of the National bridge inspection program that was created in response to the collapse.
Talking About Bridge Inspections
One of the results of the program was regular inspections of roadway bridges throughout the United States. 
According to the U.S. Department of Transportation website,
"The NBIS requires safety inspections at least once every 24 months for highway bridges that exceed 20 feet in total length located on public roads. Many bridges are inspected more frequently.  However, with the express approval by FHWA of State-specific policies and criteria, some bridges can be inspected at intervals greater than 24 months. New or newly reconstructed bridges, for example, may qualify for less frequent inspections."
In addition to the bridge inspection program and regulations, a bridge inspector's training manual was prepared, and a training course was developed to provide specialized training. Due to the varying needs and circumstances of bridges throughout the country, some state and local inspection standards are often even more restrictive than the national standards.
According to the US DOT, only about 12 percent of highway bridges are inspected annually, while almost 83 percent of bridges are inspected once every 24 months. This leaves just five 5 percent that are inspected every four years.
There are five basic types of bridge inspections that are conducted. These are:
Initial inspections

Routine inspections

In-depth inspections

Damage inspections

Special inspections
The generically designated "routine" inspections are also the most common type of inspections performed and are required every two years. And that means that these are also the type of inspections carried out by contractors and state DOTs most frequently.
Talking About Bridge Inspection Equipment
The primary purpose of routine inspections is determining the physical and functional condition and integrity of a bridge structure.
Typically, routine inspections are conducted with manual, visual inspections. These inspections require the use of a variety of tools for cleaning, probing, sounding, and measuring. Other instruments are also used by inspectors such as borescopes, microscopes, and other optical devices.
Bridge workers also keep busy with routine cleaning and bridge repairs, as well as performing various maintenance tasks on all types of bridge. And these tasks, as well as routine inspections, require under bridge accessibility. 
The most convenient method for gaining access is with an under bridge platform, which greatly speeds and simplifies these tasks. In addition, under bridge platform vehicles offer the only means of access for areas that must be reached.
Most every professional that works with bridge repair, cleaning, maintenance, and inspections makes use of some type of under bridge inspection platform.
 As explained by the Minnesota DOT,
"An under bridge inspection vehicle is a specialized bucket truck with an articulated boom designed to reach under the superstructure while parked on the bridge deck.
Usually the third boom has the capacity for extending and retracting, allowing for greater reach under a structure. Some of the larger under bridge inspection vehicles have four booms, allowing an even greater reach."
There are several different variations including self-propelled units, truck-mounted units, and trailer-mounted units. Some inspection platform equipment utilizes outriggers for added stability, while others can be mounted on a portable track for versatility.
Your Best Choice for Bridge Inspection Equipment
We provide quality under bridge equipment throughout all the Western States, including California, Washington, and Oregon. Our inventory of snooper trucks and under bridge access platforms includes the state-of-the-art self-drive access platform, the Truck Mounted Hydra Platform HPT43. 
We take a great deal of pride in being the only company in California that offers total under bridge access. By offering high quality customer service, we have managed to build long-lasting relationships with our esteemed customers. And we intend to keep it that way.
Contact us today to discuss your requirements.