The minimum height for highway overpasses and bridges in the United States is 14 to 16 feet. When it comes to bridge inspections for these typical structures, particularly large capacity under bridge inspections units are not usually required.
Other bridges, such as the Auburn‑Foresthill Bridge in California spanning 730 feet above the American River, are not going to be reached by an aerial lift positioned underneath it!
Then you have bridges that are not only high, but exceptionally wide.
For example, in Erie County, New York, the Main/Pearl Streets Bridge was built in 1944 and has a deck width of 453.4 feet. Or the Big Bridge, a deck plate girder bridge over Erie Canal on Main Street in Lockport, Niagara County, New York. Built in the years between 1912 and 14, it is still open to traffic and has a deck width of just under 400 feet.
For these types of bridges, and thousands of others throughout the US of varying heights, widths, and levels of structural complexity, bridge inspectors and workers need different types of equipment.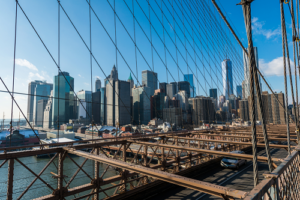 For Under Bridge Platform Versatility, Size Matters
When performing routine bridge inspections, it is absolutely essential to physically "get up close" to every critical component of the bridge structure.
If the equipment used to place workers within the necessary proximity to the under bridge areas are not versatile enough or have enough reach, this can be problematic. In addition, failure to clearly view those critical components can result in potentially catastrophic failure of a bridge.
While the Hernando de Soto Bridge connecting I-40 to Arkansas and Tennessee did not fail nor collapse, it was not a good situation. The resulting costs and delays from an apparently botched series of routine inspections are a good testimony to the necessity of both thorough and proper bridge inspections. 
Aside from the almost universal backlog of inspections and rehabilitation of structurally deficient highway bridges, there are always deadlines to meet so work must be performed quickly oftentimes by necessity.
Which is why many bridge inspection or repair and maintenance projects require a UBIU that is efficient, lightweight, and versatile.
That's why the Aspen Aerials A-30 is a perennially popular choice among engineers and contractors.
The Aspen Aerials A-30 Bridge Inspection Unit – When Smaller Matters Most
The Aspen A-30 truck-mounted under bridge platform provides maximum flexibility with the option of being fitted with either of two fully-interchangeable platforms.
The Inspection Platform is a 3-foot wide by 5-foot long aluminum platform that can support up to three workers and is included as standard equipment. With its 600 pound capacity, it is equipped with an "easy entry" gate and is attached to the end of the articulating fourth boom.

The Maintenance Platform boasts an expansive 3.5-foot wide by 17-foot long aluminum platform that is attached to the end of the second boom. This platform can support 1,000 pounds along with almost 60 square foot working space for all types of repair work.
The A-30 bridge inspection unit can help you with those smaller bridge inspection and maintenance needs and, unlike other units, outriggers aren't required. 
Its four articulating booms and two points of rotation give the Aspen A-30 the capability to operate in, around, through and over all types of barriers and obstructions. This means that even in very closed-in spaces, the Aspen A-30 can be used to reach over sidewalks and fences to access hard to reach under bridge areas.
With the smaller, three-person platform attached, operators can reach up and behind deep girders for thorough inspections. And the A-30 can be moved while the platform is deployed under the bridge, which provides even greater working range and operating efficiency.
In addition, this UBIU can be used on either rail or highway bridges.
On narrow roadway bridges and rail bridges, the unit can be deployed off of both sides of the truck allowing operators to reach more area without having to reposition the vehicle.
The Aspen A-30 offers significant advantages for railway bridge inspection and maintenance such as its ability to extend the width of double-track bridges. Also, being mounted on a short wheelbase chassis means it can be set up quickly on tracks at most road crossings.
Aspen A-30 Specs and Diagram
Horizontal Under Bridge Reach 30.92 ft

Vertical Reach Down 40 ft

Vertical Reach Up 30.25 ft

Sidewalk Clearance 7.5 ft

Fence Clearance 10 ft

Overall Length 32.67 ft
When It Comes to Under Bridge Inspection Units You Have Options
There are different capabilities with different UBIUs and bridge inspection platform vehicles. 
The needs of your project are what best determine the right choice of equipment. Part of that depends on both the structure and the terrain. Part of it is the height, location, and structure of the bridge.
While the cost of renting an under bridge platform is certainly a factor, the vehicle's capability to meet your project's specific needs should be the dominant deciding factor.
And having a professional firm you can rely on to guide you through the process of hiring the right under bridge inspection vehicle and bridge inspection platform equipment for your project is key to making the proper selection.
We take a great deal of pride in being the only company in California that offers total under bridge access. By offering high quality customer service, we have managed to build long-lasting relationships with our esteemed customers. And we intend to keep it that way.
Contact us today to discuss your project needs.