As someone who either builds, repairs, maintains, or inspects highway bridges, it is no secret how critical our nation's roadways are to our economic survival. These highways and bridges literally provide the lifeblood of our country to move from producer to marketplace.
In fact, our nation's highways and roads move 72 percent, or nearly $17 trillion, of the nation's goods. 
Not to mention providing for our daily commutes, for first responders and, if ever needed, unhindered access for our military cross-country.
According to a 2017 statement given at a Senate committee hearing by the Secretary of Transportation,
"[T]he National Highway System (NHS) is comprised of 223,257 miles of road, which is approximately five percent of the total mileage in our country. Despite this low percentage, the NHS accounts for 55 percent of the total vehicle miles travelled (VMT) and over 83 percent of the miles traveled by truck in the country.
In 2016, total miles driven on public roads in the U.S. increased for a fifth straight year by 1.65 percent to 3.2 trillion miles.  These figures underscore the critical demands placed on America's highways and bridges."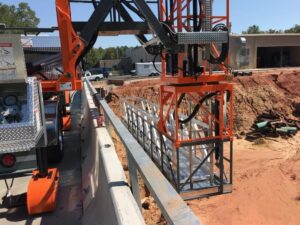 Today, these roadways are expected to carry increasingly more traffic each year, with vehicle miles traveled reaching more than 3.2 trillion in 2019, an 18 percent increase from 2000.
And all these roadways and bridges must be maintained and preserved. And bridges must be inspected. According to a recent policy statement issued by the American Road and Transportation Builders Association (ARTBA),
"Building and maintaining roads and bridges is generally the responsibility of state and local governments. Of the 4.1 million miles of road in the U.S., almost 97 percent are under the jurisdiction of state and local governments. Only 146,000 miles are under the jurisdiction of federal agencies, including roads in national forests and parks and on military and Indian reservations."
The Much Needed Roadway and Bridge Improvements Cost Money
While our country has done an admirable job of maintaining our highways and bridges despite the "doom and gloom" tenor of most media stories to the contrary, there is still much more work that could and should be done. 
According to the most recent Report Card for America's Infrastructure released by the American Society of Civil Engineers, or ASCE,
"…the growing wear and tear to our nation's roads has left 43% of our public roadways in poor or mediocre condition, a number that has remained stagnant over the past several years."
And that's just the roadways. Bridges are graded as a separate category in the ASCE's reporting.
"There are more than 617,000 bridges across the United States. Currently, 42% of all bridges are at least 50 years old, and 46,154, or 7.5% of the nation's bridges, are considered structurally deficient, meaning they are in "poor" condition. Unfortunately, 178 million trips are taken across these structurally deficient bridges every day. In recent years, though, as the average age of America's bridges increases to 44 years, the number of structurally deficient bridges has continued to decline; however, the rate of improvements has slowed."
However, it is important to keep in mind that just 20 years ago, the ASCEs 2001 Report Card noted that 29 percent of the nation's bridges were "structurally deficient or functionally obsolete." Which means we have succeeded in reducing the number of failing bridges by almost 75 percent.
And this despite ongoing issues with lack of funding.
The 2021 Report Card also notes that all levels of government have prioritized bridge repairs through investments. However, despite states' increased investments, overall spending in the country's bridges remains insufficient.
In fact, according to the most recent Conditions and Performance Report from the Federal Highway Administration, the estimated bridge backlog for repairs for existing bridges is at $125 billion. In addition, the FHA estimates that we need to increase spending on bridge rehabilitation by 58 percent from $14.4 billion annually to $22.7 billion annually if we are to improve the condition.
So, what states have the highest percentage of bridges in "Good" condition, according to the FHA?
Florida

64.87% 

Georgia

62.00%

Arizona

61.84%

Ohio

60.02%

Mississippi

59.83%
However, the fact remains that nearly 231,000 bridges in all 50 states still need repair and preservation work.
And this means an ongoing and possibly increasing need for inspectors and other highway bridge workers – and under bridge platforms to facilitate that work.
Your Best Choice for Under Bridge Platforms
We provide quality under bridge equipment throughout all the Western States, including California, Washington, Oregon, Idaho, Nevada, Montana, and Wyoming. Our inventory of under bridge access platforms includes the state-of-the-art self-drive access platforms such as the Truck Mounted Hydra Platform HPT43 and the versatile Aspen Aerials A-30 Bridge Inspection Unit.
There are a variety of capabilities with different bridge inspection platform vehicles. Determining the best choice for your work or project depends on both the structure and the terrain. While cost is also a factor, the vehicle capabilities and your specific project needs should be the dominant deciding factors.
Having a professional firm you can rely on to guide you through the process of hiring the right under bridge inspection vehicle and bridge inspection platform equipment for your project is key to making the proper selection.
We take a great deal of pride in being the only company in California that offers total under bridge access. By offering high quality customer service, we have managed to build long-lasting relationships with our esteemed customers. And we intend to keep it that way.
Contact us today and let us help meet your under bridge platform needs.