It's not uncommon to hear workers in the field or on job sites refer to various types of boom lifts and aerial bucket lift vehicles as "cherry pickers." 
However, not only is the term a bit misleading, but it is also wholly inadequate to describe the wide variety of boom lifts and other under bridge platforms available for special tasks.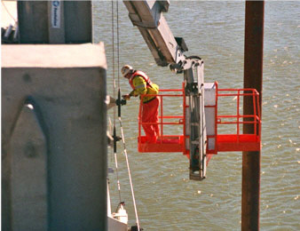 A Boom Lift by Any Other Name
As in any industry, names and appellations are numerous when it comes to the equipment commonly used by those in the industry. And this is true for boom lifts, as well. 
For example, common terms tossed around in the field include:
"Snooper" trucks

Cherry pickers

Boom lifts

Aerial lifts

Underbridge units

Basket crane

Bucket truck

Man lift
So, a fair question to ask is, "What is a boom lift?"
One source described it this way,
"Boom lifts are used for lifting workers and their equipment to worksites at heights. They are used to help build and maintain structures, in addition to power line work, window washing, and tree care.
A boom lift may be used at construction sites, maintenance sites, and in both rural and urban areas for reaching power lines. If a height is unsafe for reaching with a ladder, a boom lift may be used as a substitute.
Boom lifts are used for many types of jobs, including any situation that requires safe and stable elevation of workers and materials. Some boom lifts can even extend hundreds of feet into the air."
In addition, it should be noted that, strictly speaking, there are two main types of boom lifts, the articulating boom lift and the telescopic boom lifts.
Articulating boom lifts differ in that they have arms, or booms, that bend. The bending ability of an articulating boom lift makes it easier to move the bucket or platform around objects and obstructions
The telescopic boom lifts, on the other hand, have straight arms that can extend to great lengths. Telescopic boom lifts also have higher weight capacities than most articulating boom lifts.
Boom lifts are essentially powerful, vehicle-mounted devices used to lift people.
The base of the boom lift typically rests on wheels or stabilizing "feet" while workers are lifted or lowered as they ride in a bucket or work platform attached to the end of the boom lift's arm. This type of aerial lift is commonly used in construction as well as a wide variety of other industries.
Versatile and Rugged Access and Impressive Reach – The Skyjack SJB-66TK 
Highly regarded and widely used, the Skyjack SJB-66TK Boom Work Platform, or boom lift, is designed to transport and raise workers and their tools to overhead work areas, or below grade to lower work areas.
The SJB-66TK is designed for use on rugged terrain to provide access to areas that other truck-mounted or trailer-mounted under bridge inspection units might not be able to go.
In addition to under bridge work or for overhead bridge work, this versatile vehicle can be employed for arborist and tree trimming work, material handling below shipping dock level, and for a wide variety of overhead access work purposes.
Skyjack's powerful yet energy efficient drive system means a high-performance vehicle that can be just the ticket for those complex or challenging access situations. The unique, self-contained Skyjack SJB-66TK provides for a 72 foot work height above elevation, as well as the ability to extend to 37 feet below grade
This means the SJB-66TK is ideal for harbor and sea wall work, as well as for bridge repairs and inspections.
The rotating 6 foot hydraulic jib functions regardless of its location and has a range of 155° to give it the versatility needed for most any job. The vehicle is driveable when extended at full height and the base turret offers a continuous 360˚ rotation.
When It Comes to Boom Lifts, Platforms Matter, Too
The platform on the Skyjack SJB-66TK boom is constructed with a skid-resistant, see-through deck material. It is enclosed with a 42" high tubular steel railing system composed of midrails and 6" toe boards.
The platform provides entry and exit using either a sliding midrail bar or with an optional hinged gate. In addition, the work platform can be rotated 90 degrees from the platform's center in either direction. With a weight capacity of 600 pounds, the platform can facilitate up to three workers and measures 30" wide and 96" long, and is supplied with a 110 VAC GFI outlet.
The Skyjack SJB-66TK can raise its platform to a maximum height of 65 feet, nine inches to offer a maximum working height of 71 feet, nine inches.
Your Go-To Source for Bridge Inspection Platform Options
Having different bridge inspection platform vehicles to choose from means having a variety of capabilities.
And part of determining the best choice for your work or project depends on both the structure and the terrain. While cost is also a factor, the vehicle capabilities and your specific project needs should be the dominant deciding factors.
Having a professional firm you can rely on to guide you through the process of hiring the right under bridge inspection vehicle and bridge inspection platform equipment for your project is key to making the proper selection.
We provide quality under bridge equipment throughout all the Western States, including California, Washington, and Oregon. Our inventory of "snooper" trucks and under bridge inspection units includes the state-of-the-art self-drive access platform, the Truck Mounted Hydra Platform HPT43, as well as the venerable Skyjack SJB-66TK.
And we take great pride in being the only company in California that offers total under bridge access. By offering high quality customer service, we have managed to build long-lasting relationships with our esteemed customers. And we intend to keep it that way.
Contact us today to discuss your requirements.