There are more than 600,000 bridges throughout the U.S. that are owned and maintained by various federal state, local, and private entities. All of these bridges must be inspected, many of them with federally mandated inspections.
The vast majority of bridge inspections are concerned with the critical structural elements of bridges. These are the components that could, if they fail, cause the collapse of the bridge and possibly injuries and deaths.
However, gaining sufficient access to these various bridge components can be challenging given the nature of where many bridges are placed such as over rivers, streams, open water, highways, railroad tracks, etc. 
This is where under bridge inspections trucks come in. These specialized vehicles and equipment can make it much quicker and easier to perform inspections. Using these highly flexible and articulated units can make it far easier for inspectors to get to hard-to-reach areas of bridges than other rigging methods using ropes, ladders or scaffolding. 
Bridge Inspections and the NBIS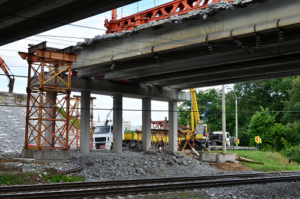 Most bridge inspections are regulated by both federal government's National Bridge Inspection Standards (NBIS). In addition, each state Department of Transportation (DOT) typically has their own guidelines, which can vary from state to state.
The U.S. Department of Transportation's Federal Highway Administration (FHWA) is the agency responsible for establishing rules for bridge inspections. These rules cover:
The types of bridges that require regular inspections

The frequency of bridge inspections

The qualifications required for bridge inspectors
In practice, the various state DOTs follow the NBIS guidelines and typically expand on them. For example, most states require inspections for more bridge types, more frequent bridge inspections, and additional qualifications for bridge inspectors.
In addition, whereas federal guidelines require periodic inspection of bridges and culverts on public roads that have a span greater than 20 feet, many states require inspection of shorter bridges and culverts and expand the types of structures considered bridges.
There are three time frames for bridge inspections established by the NBIS:
Routine inspections – no less than every 24 months

Fracture-critical member inspections – no less than every 24 months

Underwater inspections – no less than every 60 months
There are five additional types of bridge inspections required by the federal government. Here is a list of the inspection types mandated by the NBIS that has been adapted from the Code of Federal Regulations:
| | |
| --- | --- |
| Inspection type | Description |
| Damage inspection | An unscheduled inspection to assess environmentally or accident-caused damage. |
| Fracture-critical member inspection | A hands-on inspection of bridge components that could lead to serious consequences if fractured. |
| Hands-on inspection | A visual and hands-on inspection of any part of a bridge. |
| In-depth inspection | A close-up inspection of parts of the bridge that can take place above or below water level. The objective is to identify any issues that may not be detectable with more routine inspection procedures.  |
| Initial inspection | This is the first inspection of a bridge when initially opened for public use. The goal is to determine baseline structural conditions and to collect baseline bridge data. |
| Routine inspection | This is a regularly scheduled periodic inspection, which includes visual and hands-on measurements. It is done to determine the physical and functional condition of the bridge, identify changes in the bridge from the previous inspection, and to ensure the bridge is safe and meets service requirements. |
| Special inspection | This is scheduled by the bridge owner to inspect a known or suspected issue. |
| Underwater inspections | These are Inspections of any underwater sections of a bridge and the water areas around it. They often require specialized diving and other techniques and equipment. |
Reasons for an Under-Bridge Inspection Truck
An under bridge inspection truck will help you maneuver safely to a wide variety of positions in order to perform hands-on bridge maintenance and inspections. 
Safer Bridge Inspections
Using stable and wide-access equipment can be far safer and more efficient than relying on other bridge rigging options such as ropes, ladders, scaffolding and other equipment. With the right equipment, such as an under bridge inspection truck, inspectors can perform extensive bridge inspections, maintenance and repairs with relative ease.
Cost-Effective Bridge Work
With the right under bridge inspection truck, you will be able to reduce the overall cost of a bridge inspection job. The initial expense of equipment rental can be quickly offset by the increased speed of work and subsequent shorter time required for the job.
Reduces Traffic Closures/Delays
During many bridge inspections, bridge traffic is often closed off or subject to traffic control delays. With many under bridge inspection trucks, these delays can be minimized and, in some cases, avoided altogether while allowing the necessary work to be accomplished quickly and safely.
Increased Versatility
Depending on the model and type of articulated boom rigging you acquire with your under bridge inspection truck, your access can be expanded exponentially. With vertical reaches of up to 75 feet or more, and horizontal access covering more than 60 feet with many models. 
Finding Under Bridge Inspection Equipment
With the wide range of capabilities available, determining the best choice for your bridge inspection project can be challenging. However, it often depends on the structure itself and the terrain you're working on.
Pricing is a major consideration, of course, but your specific project needs and required capabilities should be the primary deciding factors for your under bridge inspection truck choice.
As professionals in the industry, we can guide your through the process of renting or buying the right vehicle and equipment for your project. Experience and knowledge are key to making the best choice.
We provide quality under bridge equipment throughout all the Western States, including California, Washington, and Oregon. Our inventory of snooper trucks and under bridge access platforms include the state-of-the-art self-drive access platform, the Truck Mounted Hydra Platform HPT43. 
We take a great deal of pride in being the only company in California that offers total under bridge access. By offering high quality customer service, we have managed to build long-lasting relationships with our esteemed customers. And we intend to keep it that way. Contact us today to discuss your requirements.