All bridges are not created equal. What that means when it comes to cleaning or inspecting them is that the tools required will depend on the bridge. While some bridges have accessible roadways and shoulders underneath that allow for standard lifts or even ladders, many do not. And that's when you need a snooper truck.
There are Always Bridges That Need Work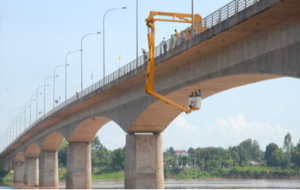 This, of course, is good news for contractors and others that are responsible for inspecting, cleaning and maintaining bridges. And there a lot of bridges out there. In fact, the U.S. has 614,387 bridges and almost 40 percent of them are 50 years or older. And California alone is said to have approximately 24,500 bridges statewide. 
If your job requires you out routine cleaning, repairing or maintenance on bridges, you understand the importance and value of reliable tools and equipment. This is because you know that working on bridges involves a great deal of risk and any small mistake can result in delays, damage and the possibility of someone getting hurt.
Bridge inspection and maintenance is a demanding field that not only requires highly trained technicians and engineers, but the proper equipment that can be used to safely position specialized equipment into place. And the right equipment is essential to safely and efficiently carry out bridge inspections and maintenance work.
The best way to ensure that your project is completed on time – and in the safest way possible – is by foregoing the ladders and ropes and making use of a snooper truck.
A specialty under bridge access vehicle uses a multi-jointed arm with a basket platform attached at the end to hold the bridge workers. The equipment allows the team to maneuver under the bridge, while the truck is parked on the bridge deck.
These trucks come in a variety of configurations, sizes and capabilities that allow you to meet any number of bridge inspection, cleaning or maintenance needs. 
Who Uses Snooper Trucks
With the massive number of bridges already in existence in the U.S. today, and the number of new bridges being constructed regularly throughout the country, there is really no end in sight for bridge work.
Bridge construction, bridge attachments, bridge inspections, and bridge maintenance and repairs are tasks that are required on a daily basis throughout the United States. As noted earlier, with almost a quarter million bridges in the country desperately in need of maintenance or repair, the need for bridge technicians and engineers is growing.
Snooper trucks are utilized for the important work of municipalities, Public Works departments, and State Departments of Transportation to service and maintain bridges, overpasses and similar structures. Assorted railroad company technicians and engineering firms, as well as both government and private sector bridge maintenance crews, routinely make use of snooper trucks to carry out the specialized work needed.
In addition to inspections and repairs, many municipal entities require regular maintenance task such as cleaning bridge decks, scuppers, downspouts, various bridge drainage elements. In addition, bridge cleaning can involve removing organic waste from pigeons and other birds, along with any other assorted debris.
Other uses can include the inspection, maintenance and even installation of signage on bridges, as well as installation of architectural light fixtures below bridge decks. And all of this needs to be accomplished in a safe and efficient manner, which is where snooper trucks come into play.
Snooper Trucks Support the Need For On-Site Visual Inspection
The advent of drones has aided in the routine inspection of bridges in some regions, but nothing can replace the immediacy and scrutiny of a visual inspection that is "hands on", which is largely done with snooper trucks.
It's essential to physically inspect these structures as remote devices such as drones are still limited in what they "see" and how close they can get. Typical bridge inspections involve a team that visually scans the bridge for flaws, cracks, deficiencies or anything that seems unusual.
In many instances, inspection reports include dozens of items on checklists, close-up photography and detailed notes that can then be used for comparison in subsequent inspections.
Outside of inspections, drones and other similar devices offer little for maintenance, repair and cleaning functions that still have to be done regularly on bridges, as well. 
We provide quality under bridge equipment throughout all the Western States, including California, Washington, and Oregon. Our inventory of snooper trucks and under bridge access platforms include the state-of-the-art self-drive access platform, the Truck Mounted Hydra Platform HPT43. 
We take a great deal of pride in being the only company in California that offers total under bridge access. By offering high quality customer service, we have managed to build long-lasting relationships with our esteemed customers. And we intend to keep it that way. Contact us today to discuss your requirements.