In addition to bridge maintenance, cleaning and repairs, bridge inspections make up the bulk of bridge work carried out by state departments of transportation and contractors. 
Currently, the National Bridge Inspection Standards (NBIS) requires safety inspections at least once every 24 months for highway bridges that exceed 20 feet in total length located on public roads.
There are over 600,000 bridges in the United States and, as most everyone in the industry knows, a significant percentage of these are in need of major repair or even being replaced.
Wanted: Bridge Rehabilitation
According to InfrastructureReportCard.org's webpage on bridges,
"The U.S. has 614,387 bridges, almost four in 10 of which are 50 years or older. 56,007 — 9.1% — of the nation's bridges were structurally deficient in 2016, and on average there were 188 million trips across structurally deficient bridges each day. While the number of bridges that are in such poor condition as to be considered structurally deficient is decreasing, the average age of America's bridges keeps going up and many of the nation's bridges are approaching the end of their design life. The most recent estimate puts the nation's backlog of bridge rehabilitation needs at $123 billion."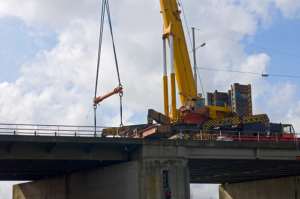 The U.S. Department of Transportation's national bridge inspection program was created in response to the 1967 collapse of the Silver Bridge over the Ohio River between West Virginia and Ohio, which killed 46 people.
At the time of the Silver Bridge collapse, the exact number of highway bridges that we had in the United States was unknown. In addition, there was no systematic bridge inspection program in place to inspect and monitor the condition of the existing bridges we did have. That all changed with the passage of the Federal-Aid Highway Act of 1968.
The Highway Act established three new programs: a National Bridge Inspection Program, a traffic operations study program, and funding and fair housing standards for those displaced by federally funded highway construction.
Today, because the bridges under the umbrella administration of the U.S. DOT must be inspected every other year, which means that in any given year there are close to 300,000 bridges due for an inspection. This means that, in theory, about 1,100 bridges should be inspected every work day.
Under Bridge Inspection Challenges
Many bridges have accessible roadways with shoulders under them that allow standard boom lifts or scaffolding to be used for under bridge inspections. However, that's not always the case and specialized under bridge inspection snooper truck equipment is often required.
This could be rope riggers who operate from rope systems attached to and suspended from the bridges themselves. This is a traditional and highly specialized trade and is still actively used for bridge work today. 
Also, certain types of suspended scaffolds can be employed, also a highly specialized approach and can be used quite effectively on many types of bridges, 
More often than not, however, bridge inspectors use vehicles commonly referred to as "snooper" trucks to inspect and work on the underside of bridges when there's no accessible roadway underneath them or the roadway that is there is too busy to close off.
There are a number of standard types of bridge inspections that can be carried out, and often  workers need to do a close-up inspection in-between hard to reach girders and beams under the bridge deck. Snooper truck equipment can safely maneuver inspectors closer to the bridge structure and allow for hands-on work that can be done more efficiently, safely and effectively. This is true whether the work is above, below, or alongside the bridge.
Part of the reason for the popularity of under bridge platforms – snooper truck equipment – is that the workers in the buckets or on the suspended platforms do not have to possess additional, specialized skills to access the inspection areas. Also, the convenience of articulated booms to place a bucket or platform in just about any location under a bridge is a huge benefit over other approaches.
For purely visual inspection needs, a new breed of inspection tools are becoming more and more common. Drones, or Unmanned Aerial Vehicles (UAVs) are used for a number of purposes and bridge data gathering. A recent American Association of State Highway and Transportation Officials study found that 35 state DOTs were using drones for a variety of purposes. At least 20 state DOTs were using drones daily and another 15 were testing drones to determine how they can be best used for bridge work.
Snooper Truck Equipment – Under Bridge Platforms for Your Project Needs
According to the U.S. DOT, there are five basic types of bridge inspections. These are initial, routine, in-depth, damage, and special inspections. Because the "routine" inspection is the most common type of inspection performed and required every two years, it is the type of inspection most bridge inspection contractors and state DOTs engage in.
The purpose of the routine inspection is to determine the physical and functional condition of a bridge. To accomplish this, a visual inspection is the primary method used to perform routine bridge inspections. Because of this, various tools for cleaning, probing, sounding, and measuring, along with mechanical visual aids such as borescopes, microscopes, and other optical devices are typically used.
Having an under bridge platform vehicle allows hands-free access for certified inspectors to use the tools required to conduct visual inspections. 
In addition to inspections, bridge workers must also clean, repair and perform a variety of maintenance tasks on – and under – bridges of all types. Again, the accessibility and versatility of an under bridge platform makes these tasks far easier to perform. And, in many situations, these vehicles provide the only means of accessing the work areas that must be reached. Contact us for more information.