It's been a year and a half since the Infrastructure Investment and Jobs Act (IIJA) became public law on November 15, 2021. And in those 18 months, a great deal has taken place throughout the nation's transportation infrastructure.
As a February 2023 Whitehouse fact sheet reported, 
"In his first State of the Union Address in 2022, President Biden highlighted how our historic federal investments in infrastructure would create a visible impact in the lives of American families by committing to start repair on 65,000 miles of roads and 1,500 bridges. The President also committed to making rapid progress across every facet of the law.
Since the last State of the Union, the Administration has surpassed those ambitious goals. This includes launching over 3,700 bridge repair and replacement projects across the country, beginning repair of over 69,000 miles of roadway, awarding funds for over 3,000 new clean transit and school buses, increasing enrollment in the Affordable Connectivity Program to over 16 million households, and approving state plans for water funding, EV charging networks and high-speed internet deployment".
Back in January 2023, the President has anniounced awards for regionally or nationally significant projects including over $2 billion to upgrade some of the nation's most economically significant bridges and over $1.2 billion in what are known as Mega grants.
Bridges, Roads, Highways, Buses, and the Internet: The Goals of the IIJA
The ambitious goals of the Bipartisan Infrastructure Law are being met and even surpassed, according to administration spokespersons.
For example, here is a graphic representation of the work taking place across the country in a screenshot of an interactive map from the General Services Administration (GSA) website that was updated data representing announced funding as of March 17, 2023, and awarded funding as of January 31, 2023: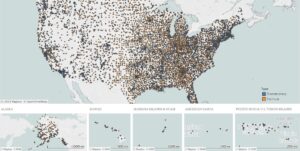 The massive scope of transportation infrastructure projects being planned or already in progress is overwhelming. Projects are underway throughout the breadth of the continental United States as well as in Alaska, Hawaii, Guam, the Mariana Islands, American Samoa, Puerto Rico, and the Virgin Islands.
And the result of all this work, and the bridge-related projects in particular, is the increased demand for under bridge platforms and inspection equipment.
A Brief Overview of Recent Transportation Infrastructure Projects
Recently, in mid-April 2023, the U.S. Department of Transportation's (USDOT) Federal Highway Administration (FHWA) officially announced funding of approximately $300 million for several small and medium-sized bridge projects across the U.S. as part of the Infrastructure Investment and Jobs Act.
According to an article from Roads & Bridges magazine,
"The investment will go to the repair, rehabilitation, and replacement of nine bridge projects, including:
Palm Avenue/Interstate 805 Bridge

– $24 million is going to rehabilitate and preserve the 50-year-old Palm Avenue overcrossing bridge San Diego, California.
Lafayette Bascule Bridge

– $73 million is going to the 85-year-old, bascule-style Lafayette Avenue Bridge over the Saginaw River with a new bascule bridge in Michigan.
Castleton-on-Hudson Bridge

– $21 million is going to rehabilitate the Berkshire Spur of the New York Thruway, which connects I-87 in Albany County to the New York State/Massachusetts State line.

Burgard Bridge

– $13.9 million is going to the 93-year-old viaduct over the Union Pacific Railroad in the St. Johns neighborhood of Portland, Oregon."
A press release issued by the FHWA also noted the following projects among others:
Oklahoma Circuit Engineering District 8 – Improving Rural Bridges in Northwest Oklahoma – $11.5 million (Rural) – Replacement of seven bridges would benefit economic growth, the mobility of people and goods, and transportation network efficiency and accessibility. Nearly 3,000 vehicles cross these bridges every day and the project will improve the reliability and capacity of the bridges for the region's farmers, ranchers, and energy workers.
Texas Department of Transportation – US-59 San Antonio River Bridge – $14 million (Rural) – Replacement of the U.S. Highway 59 bridge over the San Antonio River, which is located fewer than 70 miles from three key water ports (the Port of Corpus Christi, Calhoun Port Authority, and Port of Victoria) and within 150 miles of Port Laredo, the country's largest inland port along the U.S./Mexico border. Over 4,200 vehicles cross this bridge every day and project sponsors estimate that without this investment, the bridge would need to be closed for at least 9 months, resulting in traffic taking a nearly 50-mile detour. This project is estimated to save millions of dollars through reduced travel time and add significant safety benefits.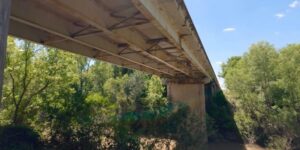 As U.S. Transportation Secretary Pete Buttigieg stated in the administration's announcement,
"When bridges have to close for repairs—or worse, begin to fail—it can cut off access to an entire community, adding hours to commutes, costing money for local businesses, and delaying first responders from getting to an emergency".
He went on to note that these grant awards will help numerous communities across the country modernize their bridges so that school buses, delivery trucks, ambulances, and commuters can get where they need to go quickly and safely.
We Want to Be Your Premier Source for Under Bridge Inspection Equipment
A significant component of the nation's transportation infrastructure is the work done on our highway bridges throughout the country. This includes bridge inspections, routine maintenance, and repair work, not to mention replacement and construction of bridges.
And all these tasks require under-bridge access and the use of under-bridge inspection equipment.
With the wide range of capabilities provided by this specialized equipment, determining which unit to rent for your bridge inspection project can be challenging at times. However, the size and type of equipment needed often depends on the bridge structure itself and the terrain underneath.
While cost is a major consideration, your specific project's needs and the reach and capabilities of the equipment required should be the primary deciding factors for your under-bridge inspection truck choice.
As aerial access professionals, the team at Under Bridge Platforms is fully capable of guiding you through the process of renting or buying the right vehicle and equipment for your project. Our combined years of experience and knowledge are key to helping you make the best choice.
We provide quality under bridge equipment throughout all the Western States, including California, Washington, and Oregon. Our inventory of snooper trucks and under bridge access platforms include the Truck-Mounted Hydra Platform HPT43, a state-of-the-art self-driving access platform, as well as the Barin Automatic Bridge Control ABC 50/C.
We are proud to be the only company in California that offers total under bridge access. By offering high-quality customer service, we have managed to build long-lasting relationships with our esteemed customers. And our mission is to keep it that way.
We invite you to contact us today to discuss your requirements at 707-528-0373 or email us at [email protected]rms.com.