One of the mainstays of state DOTs is bridge inspections. Among the various other duties that fall on these agencies, conducting the required regular, or routine, inspections of the nation's highway bridges that are located within their borders is a major undertaking for many states.
And in the Western states, Texas holds the title for the state with the most bridges. In fact, it has the most bridges of any state in the nation with almost 54,000 bridges, according to the Federal Highway Administration (FHWA).
Coming in at a close fourth place is California with about 25,700 bridges, followed closely by Oklahoma and its more than 23,000 highway bridges.
With that many bridges in any given state, it can be an overwhelming responsibility for the state DOT to maintain compliance with the National Bridge Inspection Standards (NBIS). Nonetheless, the FHWA has established that a State is ultimately responsible for the inspection of all public highway bridges within the State, except for those that are federally or tribally owned.

However, while the FHWA requires state DOTs to inspect, or cause to be inspected, all highway bridges located on public roads, these agencies do not have to carry out all the work. The FHWA has provided that,
 "The State may delegate bridge inspection policies and procedures, quality assurance and quality control, preparation and maintenance of a bridge inventory, bridge inspections, reports, load ratings and other requirements of these standards to smaller units of the State like a city or county."
So, whether these inspections are carried out by state DOTs, county or city agencies, or contracted to private firms, the work of bridge inspections still requires specialized tools and equipment. And, while many traditional types of equipment are still being used, there are growing developments when it comes to bridge inspections.
Highway Bridge Inspection Automation: The Future is Here
One of the issues around the inspection process is the potential for increased automation.
In fact, highway bridge inspections are already becoming automated to some extent, and the trend is expected to continue as technology and innovation evolves. There are several positive aspects as automation in bridge inspections can improve safety, efficiency, and accuracy. In addition, for agencies with limited resources, it can reduce the time and cost required for bridge inspections.
For example, one of the most prevalent current automation trends in bridge inspections is the use of drones, or Unmanned Aerial Vehicles (UAVs) that are equipped with cameras and various sensors to gather data about the condition of the bridge.
The data collected by these agile devices can then be analyzed with software to identify potential safety and integrity issues, such as cracks or corrosion, and also generate a report for inspectors to review.
Another example is the use of remote sensing technologies, such as LiDAR and ground-penetrating radar, to gather data about the condition of the bridge without the need for physical inspection. Simply put, LiDAR, or Light Detection and Ranging, is a remote sensing technology that uses pulsed laser light to measure physical distance. It works by rapidly firing laser beams and measuring the time it takes for emitted light to travel to the nearest surface and back.
According to a paper from the International Association for Automation and Robotics in Construction,        
"Surface defects (e.g. cracks) in concrete bridges can be inspected using 3D Light Detection and Ranging (LiDAR) scanner as a Non-Destructive Testing (NDT) method. However, the commonly used terrestrial LiDAR is limited to stationary data collection, which reduces the accessibility to some components of the bridges. To tackle this limitation, a LiDAR attached to an Unmanned Aerial Vehicle (UAV) provides more flexibility and accessibility for inspecting large surface areas without threatening inspectors' safety."
However, the paper notes that both the scanner and the UAV have their own limitations and specifications.
This type of advanced inspection technology can be particularly useful for inspecting hard-to-reach areas, such as underneath the bridge or inside the structure – access typically provided with under bridge platform equipment.
However, it's important to point out that, while automation has the potential for improving the efficiency and accuracy of highway bridge inspections, it is still highly unlikely to completely replace human inspectors in the near future.
This is because the technology still has certain limitations.
For example, human inspectors are still required for making judgments based on the data collected by either themselves or any automated systems, and for addressing any issues that are identified. In addition, human inspectors can still provide a much more comprehensive assessment of the overall condition of the bridge. This is because, among other issues, inspectors consider factors such as traffic patterns and weather conditions that may affect the structure's safety.
In summary, while automation is expected to play an increasingly important role in highway bridge inspections in the foreseeable future, it is almost certainly going to be used in conjunction with human inspection rather than as a replacement.
Under Bridge Platforms Offers the Best in Bridge Inspection Equipment
The team at Under Bridge Platforms is proud to provide our clients throughout the Western States, including California, Washington, Oregon, Idaho, Nevada, Montana, and Wyoming with the very best in  quality under bridge access equipment.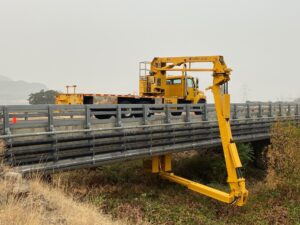 Our expanding inventory of under bridge access platforms includes state-of-the-art bridge access platforms such as the versatile A-40 Bridge Inspection Unit and the massive HPT66 Truck-Mounted Under Bridge Platform.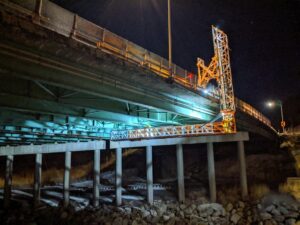 With a professional firm you can rely on to guide you through the process, buying or renting the right under bridge inspection vehicle and bridge inspection platform equipment for your project means we are here to help you make the proper selection.
We are proud to be the only company in our industry based in California that offers total under bridge access. By offering high-quality customer service, we have managed to build long-lasting relationships with our esteemed customers. 
And we work hard to keep it that way. 
Contact us today and let us help you with your under bridge platform and bridge access needs.