The passage of an Obama-era legislation, Moving Ahead for Progress in the 21st Century Act, MAP-21, has had far-reaching implications. These are continuing to bring about some significant changes for agencies involved in infrastructure. 
The act is a funding and authorization bill to govern United States federal surface transportation spending. It was passed by Congress on June 29, 2012, and President Barack Obama signed it on July 6, 2012.
Since its initial enactment, MAP-21 has been extended twice. Early legislation focused primarily on providing financing for highway construction, while later reauthorizations have been much broader in purpose.
Ten years later, changes are still being implemented. At the time of its original passage, Congress declared that "inventorying, inspecting and improving the condition of the nation's highway bridges is in the nation's best interests."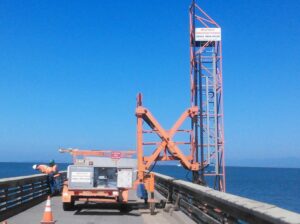 NBIS is Updated and Revised for 2022
Recently, the Federal Highway Administration (FHWA) declared that "As a result of this declaration and the authority established by MAP-21 in 23 U.S.C. 144, FHWA is updating the NBIS."
According a recent article from Construction Equipment Guide, 
"The updates incorporate technological advancements including drone use and repeal of the outdated Highway Bridge Replacement and Rehabilitation Program and the Discretionary Bridge Candidate Rating Factor.
FHWA said the final rule, effective June 6, 2022, includes new requirements for a highway bridge inspection program, maintaining a bridge inventory and reporting inspection results."
Some of the changes in the National Bridge Inspection Standards (NBIS) for highway bridges include required reporting of "critical findings" or any structural or safety-related deficiencies that require immediate follow-up inspection or action.
Along with this reporting, the final rule also requires that written reports be submitted to FHWA of critical findings identified during inspections, as well as providing minimum criteria for what constitutes a "critical finding" for national consistency.
Highway Bridge Inspection Intervals Undergoing Changes
Other changes involve offering states options in determining inspection intervals for bridges.
According to the Construction Equipment Guide article,
"Each state can have the option to continue their current inspection intervals if they determine the requirement is satisfactory or choose to instate more rigorous requirements for inspectors.
This latter method would call for bridge specialists to assess potential risks to the point of failure for each individual bridge, or a cluster of bridges, to be further evaluated by experts, according to the organization Report Card for America's Infrastructure."
Also, as another recent article noted,
"This new rule will extend inspection requirements for many bridges from two years to four years — and in some cases, six years. FHWA's new requirements update the National Bridge Inspection Standards (NBIS) program, which maintains a bridge inventory and reports bridge inspection results — particularly critical findings of structural or safety-related deficiencies — to the FHWA.
The FHWA said the new rule also repeals two outdated regulations, the Highway Bridge Replacement and Rehabilitation Program and the Discretionary Bridge Candidate Rating Factor."
Bridge Conditions are Improving Despite a Growing Numbers of Bridge
The oversight of the NBIS includes 618,456 bridges across the United States. This is a four percent increase from the 588,735 bridges just two decades ago, according to the American Association of State Highway and Transportation Officials (AASHTO).
Of these more than 618,000 structures, almost 224,000 bridges need repair and approximately 43,600 of these are deemed structurally deficient and in poor condition, according to the American Road & Transportation Builders Association (ARTBA).
On the plus side, the number of structurally deficient bridges was down by 1,445 structures compared to the number in 2020. However, 48 percent of the nation's highway bridges are only rated as being in fair condition, meaning the structure shows evidence of minor deterioration or minor cracks.
The top ten states with the largest number of bridges in poor condition are:
Iowa:

4,504

Pennsylvania:

3,198

Illinois:

2,405

Oklahoma:

2,296

Missouri:

2,218

New York:

1,672

Louisiana:

1,631

California:

1,493

West Virginia:

1,490

Ohio:

1,334
As for the states with the most bridges in poor condition as a percentage of their total bridge inventory, West Virginia takes the number one spot with 20 percent of its highway bridges rated in that category.
Keep Up with Your Bridge Inspection Projects with Under Bridge Platforms
With two national locations Under Bridge Platforms is well-suited to provide quality under bridge equipment throughout all the Western States, including Utah, California, Nevada, Washington, and Oregon.
Our inventory of under bridge access platforms and bridge inspection units includes many reliable and high-capacity vehicles, such as the Aspen Aerials A-40 and the versatile Bridgemaster-Art-B-4.
We understand that, while equipment costs are important, the capabilities of the equipment as well as your specific project needs should be the dominant deciding factors in your equipment rental decision.
As an experienced and professional firm you can rely on to guide you through the process, Under Bridge Platforms is your preferred partner for buying or renting the right under bridge inspection vehicle and bridge inspection platform equipment for your project.
Our expertise and exceptional service means we are always able to help you make the proper selection.
We take a great deal of pride in being the only company in California that offers total under bridge access. By offering high quality customer service, we have managed to build long-lasting relationships with our esteemed customers. And we intend to keep it that way.
Contact us today to discuss the specific needs of your project.