For those in the industry, highway bridge inspections are a normal part of work, especially for regular or routine bridge inspections.
There are other types of bridge inspections that have particular purposes, of course, that are not designed for general investigations. These include four basic types in addition to the routine bridge inspections and are often referred to as initial, in-depth, damage, and special inspections. The first inspection to be completed on a bridge is the "initial" inspection.
Of course, the most common type of bridge inspection conducted is the "Routine Inspection".
Routine Inspections, Highway Bridges, and the Common Problems Discovered
This type of inspection is performed to assess the general working condition of a highway bridge and to identify potential repair and maintenance work.
Some of the more common problems found during routine bridge inspections include cracked or decaying pipelines, damaged or compromised wiring, unsecured, insufficient, antiquated hangers, or other elements that attach utilities to bridges. In addition, these inspections often reveal poorly executed repairs and a lack of protective caging.
Of course, inspections of bridge decks are relatively straightforward and easier to carry out than inspections of the regions below the bridge deck.
These include the components and structures alongside the bridge deck as well as the entire area under the bridge, such as support steel box beams. This was the component that was discovered to be severely cracked on the Hernando de Soto bridge between Tennessee and Arkansas.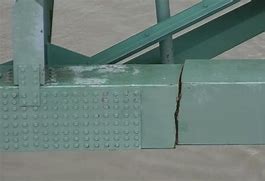 Some of the more common issues discovered beneath bridge decks during routine inspections include corrosion, carbonation, alkali-silica reaction, the influence of high temperature, creep and shrinkage, water penetration, and freeze and thaw.
Common Tools and Equipment Used for Highway Bridge Inspections
Routine and other types of bridge inspections are, as those in the field know, largely visual in nature. There are, of course, acoustic and even tactile – or hands-on – techniques involved, as well.
Visual inspections require bridge inspectors to visually assess the visible condition of the bridge in detail, both on and above the bridge deck as well as underneath. Acoustic bridge deck inspections utilize tools such as hammers, chain drags, or other specialized instruments that allow inspectors to observe changes in sound pitch on the bridge deck.
But even with the prominence of visual inspection tactics, there are various tools and other types of equipment needed to assist in that.
Some of the tools and equipment used during highway bridge inspections include access equipment such as ladders, scaffolding, rope rigging, and under-bridge platforms. In addition, inspectors have been making use of unmanned aircraft systems (UAS) also known as UAVs or Unmanned Aerial Vehicles or drones.
In addition, depending on the location of the bridge, equipment such as small boom lifts might be employed.
Most commonly, however, access to the underside of highway bridges is provided by what are known as under bridge platforms or under bridge access trucks. These specialized aerial access equipment can be either truck or trailer mounted and are designed for placing inspectors under bridges to provide access that would be impossible otherwise.
No Shortage of Routine Highway Bridge Inspections in the United States
Depending on whose data you consider, there are between 600,000 and 700,000 bridges in the US alone that must be regularly inspected and maintained to ensure that they're safe to use.
The National Bridge Inspection Standards (NBIS) require that routine inspections be conducted at least once every 24 months for highway bridges that exceed 20 feet in total length and are located on public roads. However, for various reasons, many bridges are inspected more frequently.
On the other hand, some bridges can be inspected at intervals greater than 24 months with the express approval by FHWA of State-specific policies and criteria.
Unfortunate and sometimes tragic incidents have occurred over the years that underscore the need for these regular inspections. As experience has shown, if a problem in a bridge is not detected early, it could eventually lead to a catastrophic incident, such as a bridge failure or a complete collapse of the bridge, resulting in serious injury or even death.
We Are the Best for the West: Under Bridge Platforms Bridge Inspection Equipment
The staff at Under Bridge Platforms is proud to provide our customers throughout the Western States, including California, Washington, Oregon, Idaho, Nevada, Montana, and Wyoming with the highest quality under bridge access equipment.
Our broad inventory of under bridge access platforms includes state-of-the-art bridge access platforms such as the massive HPT66 Truck-Mounted Under Bridge Platform and the agile and versatile A-40 Bridge Inspection Unit.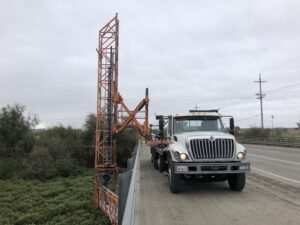 As a professional firm, we can guarantee that you can rely on us to guide you through the process of buying or renting the right under bridge inspection vehicle. Choosing the right bridge inspection platform equipment for your project can be challenging which is why we are here to help you make the proper selection.
And we are proud to be the only company in our industry based in California that offers total under bridge access. By offering high-quality customer service, we have managed to build long-lasting relationships with our esteemed customers.
And we work hard to keep it that way. 
Contact us today and let us help you with your under bridge platform and bridge access needs.