Anyone working in the bridge inspection field understands how essential routine bridge inspections are, along with bridge maintenance and repairs. However, the downside of these activities for everyone involved is the inevitable bridge closures that often must be imposed.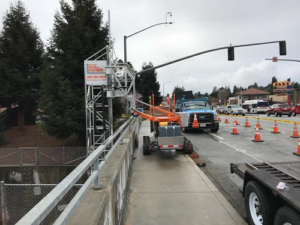 When Bridge Repairs (Or Lack of Them) Create Problems
Recently, in California, a PG&E (Pacific Gas & Electric) worker responding to a reported outage on July 13 saw two blown fuses and flames burning at the base of a tree that was leaning on a 12-kilovolt power line in Feather River Canyon in Plumas County, according to a report PG&E submitted to the California Public Utilities Commission.
PG&E's report noted that its technician had trouble getting to the location of its damaged equipment due to a bridge closure because of roadwork and "challenging terrain."
As of July 26, 2021, the Dixie Fire, as it has been named, was still less than 25 percent contained and had burned almost 200,000 acres.
While the workers on the bridge are not at fault in this particular incident, it is unfortunate that the temporary closure not only coincided with the start of a major wildfire but may have played a role in the possible prevention of that fire.
Meanwhile, in New Haven, Connecticut, a local news article noted, 
"The city plans to 'scour-proof' the Humphrey Street Bridge after a recent routine inspection revealed significant erosion of the riverbed that supports the Mill River-crossing infrastructure.
'Bridge scour' refers to when fast-flowing water or a flood causes erosion of the soil around a bridge foundation, potentially compromising the integrity of the structure. Over the past 15 years, the area around and underneath the bridge has suffered from significant levels of erosion."
And bridge safety and repair issues are not limited to the U.S.
A recent article in the Toronto Star reported, 
"Drivers north-west of Brinston will have to use alternative routes between Gilmour and Kirker Roads as the municipality closed the Taylor Road Bridge.
The Municipality of South Dundas closed the bridge, effective immediately, due to the main bridge structure "failing in key areas" and that there has been "significant and unexpected damage." The Taylor Road bridge failed its bi-annual Ontario Structure Inspection Manual inspection, which was conducted by Keystone Bridge Management for the municipality. In 2019, a previous inspection identified repairs for the bridge were required in 'the near future.'"
Unfortunately, there are many bridges that should have been closed and repaired despite any inconvenience or disruption caused to commuter or pedestrian traffic.
In another recent incident, a pedestrian bridge collapse in Washington DC resulted in at least five injuries.
According to a June 2021 article at Construction Equipment,
"A pedestrian bridge crashed down onto traffic on DC-295 in Northeast Washington, D.C., after a crash Wednesday, leaving at least five people injured and trapping a truck that leaked diesel fuel into drains. The most recent inspection determined the bridge was in poor condition.  
Investigators believe a truck struck the bridge, causing it to come loose and collapse."
Why Proper Under Bridge Inspections Equipment Matters
Despite some claims by diehard riggers, a typical underbridge inspection unit can be in operation in about 15 minutes. This is far faster and easier than assembling traditional scaffolding, and they are far more versatile than a boom lift with a bucket.
The speed, reach, and versatility of most underbridge inspection vehicles means less delays, minimal road closures, and faster results. 
A particularly telling example is found in this news story from Northern Ireland,
"A new Underbridge Unit was used to carry out inspections at Galloon Bridge in Lisnaskea, replacing traditional methods such as scaffolding which can cause disruption to road users and may have a negative impact on the surrounding environment."
The article goes on to note that,
"'The Underbridge Unit is quicker to set up than more traditional methods such as scaffolding, and allowed the team to work more efficiently, completing a six-week job in one week.
'This minimised the disruption to the local people in terms of road closures,' the Height for Hire spokeswoman explained.
Using the Underbridge Unit avoided the need to disturb the riverbed with scaffolding posts, ensuring a positive environmental result for the fish in the river and the birds from the nearby bird sanctuary on Galloon Island."
When you need to work alongside, or under bridges to complete maintenance, inspection, or repair work, underbridge inspection units are the equipment you need to carry out the work quickly, safely, and efficiently.
These vehicles – truck and trailer mounted – possess extensive working reach upward, outward, and downward, as well as underneath bridge deck level. These capabilities make for highly flexible and versatile inspection and maintenance work activities.
Your Best Choice for Under Bridge Inspection Units
We invite you to contact Under Bridge Platforms for all your bridge inspection equipment needs.
We provide quality under bridge equipment throughout all the Western States, including California, Washington, and Oregon. Our inventory of snooper trucks and under bridge access platforms includes the state-of-the-art self-drive access platform, the Truck Mounted Hydra Platform HPT43. 
We take a great deal of pride in being the only company in California that offers total under bridge access. By offering high quality customer service, we have managed to build long-lasting relationships with our esteemed customers. And we intend to keep it that way.
Contact us today to discuss your requirements.