Various types of vehicles with boom attachments have been used for bridge repair, maintenance, and inspections since the 1960s. 
These trucks have been particularly beneficial since the advent of the NBIS in the 1970s.
According to a report at the U.S. Department of Transportation website,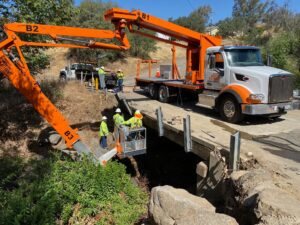 "Bridge inspection techniques and technologies have been continuously evolving since the NBIS were established over 30 years ago and the NBIS regulation has been updated several times, as Congress has revised the inspection program and its companion program, the Highway Bridge Program (formerly Highway Bridge Replacement and Rehabilitation Program)."
However, beginning in the last decade, there has been an increased use of Unmanned aerial vehicles (UAVs), or drones, for inspection of bridges and other hard-to-reach structures such as cell towers and wind-power generators.
As an article at SmartCitiesDive.com notes,
"Drones can also go where humans can't, at least not without considerable risk. Spokane Public Works director of strategic development Marlene Feist told KREM 2 that UAVs can conduct routine inspections faster and more safely than humans, eliminating the need for extensive precautions. A drone might be used, for example, in inspecting a cell tower that a worker would otherwise have to climb."
However, despite the potential and obvious advantages of using UAVs for bridge inspections, there are still unmatched benefits of hands-on, manual inspections using under bridge inspection units.
Five Benefits of Using an Under Bridge Inspection Vehicle
While we recognize the potential and benefits that can be derived from the use of UAVs, there are still several benefits that under bridge platforms offer that cannot be matched by drones.
Safe, Stable, and Secure Working Platform
Modern under bridge inspection trucks can be operated with relatively little effort. Set up time is typically under 30 minutes with many models, and the stabilization systems often allow operators to move the vehicle while the platform is used.
Unlike other inspection approaches such as scaffolding and rope rigging, a stable platform with room for two or more workers and their tools is a far more efficient approach.
Ability to Quickly Identify Problems
A professional bridge inspection will always find and assess all the current issues of a structure. And the use of a bridge inspection vehicle easily facilitates the process by allowing easy access to all the essential areas of the bridge.
Structural damage can be hidden in hard to see areas, which is why using a bridge inspection vehicle is essential for providing safe access all around the structure.
Fast and Efficient Inspections
Using an under bridge inspection truck simplifies the inspection process, resulting in faster and more efficient inspections. In addition, because of the stable and secure working environment provided by under bridge platform vehicles, inspection results are more accurate than they tend to be when not using such vehicles.
And, unlike issues often encountered with drones, human inspectors working from a platform that can be maneuvered as needed, are not restricted by structural obstacles. Nor are they rendered ineffective by dropped GPS signals, which is an inherent problem for UAVs.
No Additional Skill Sets, Equipment, or Licensing Required
Most bridge inspection firms possess the equipment, tools, and qualified personnel required to conduct all the types of inspections necessary for highway bridges. These include initial, routine, in-depth, damage, and special inspections. 
Making use of UAVs requires costly drone equipment and a highly-skilled, FAA licensed drone pilot/operator that is also informed and experienced with bridge inspection work. 
Ability to Operate in Adverse Conditions
While no one enjoys working in high winds or cold rain, these conditions do not deter inspections from being carried out manually with inspectors working from an under bridge platform.
UAVs, on the other hand, are already challenged when it comes to navigating the complex obstacles of a large bridge structure. The added element of wind, rain, and other adverse weather conditions can effectively "ground" a drone.
As one article pointed out,
"The undersides of bridges are often windy and dark, often with tight confined spaces rich in obstacles, making them difficult to navigate. Bridges also often hang over water, which poses a hazard to the drone, or over roads, which raises risks to civilians.
Because manual flight is difficult, inspection protocols for such missions often call for long distances from their surroundings to increase a pilot's margin for error. This results in poorer images, so inspectors may have to compensate with increasingly expensive cameras to capture better pictures."
The Premier Choice for Under Bridge Inspection Equipment
We invite you to consider Under Bridge Platforms for your next bridge inspection equipment rental.
Because of the available capabilities of different under bridge inspection vehicles, determining the best choice for your work or project hinges on the structure and terrain.
While pricing is a factor, capabilities and needs should be the dominant deciding factors. Having a professional firm, you can rely on to guide you through the process of hiring the right vehicle and bridge inspection platform equipment for your project is key to making the proper choice.
We provide quality under bridge equipment throughout all the Western States, including California, Washington, and Oregon. Our inventory of snooper trucks and under bridge access platforms includes the state-of-the-art self-drive access platform, the Truck Mounted Hydra Platform HPT43. 
We take a great deal of pride in being the only company in California that offers total under bridge access. By offering high quality customer service, we have managed to build long-lasting relationships with our esteemed customers. And we intend to keep it that way.
Contact us today to discuss your requirements.