If you're in the business of working on elevated structures you've probably used some type of aerial lift. And if you routinely do underbridge inspection and maintenance work, you've likely used a snooper crane to do it. 
The Venerable "Snooper" Crane
What is often called a "Snooper" crane or truck is, in actuality, any aerial boom lift vehicle. The types and varieties are numerous, as are the manufacturers. However, the practically generic tag of a "snooper" came about because of what was arguably one of the first popular brands of this type of vehicle.
However, the origins of the actual machine go a bit further back than that.
As one article notes,
"In 1951, Walter E. Thornton-Trump, nicknamed Ted, invented boom lifts to make working in high places easier. He lived in Beaver Lake, Canada, born in 1918, and he died in Worcestershire, England, in 1998. Thornton-Trump called the boom lift the Giraffe, but the name cherry picker stuck because people often used it to pick fruit, including cherries, from tall trees in orchards."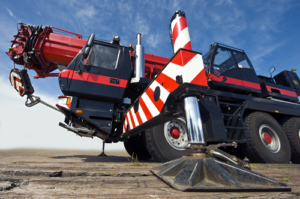 By 1958, various types of boom lifts were being attached to fire engines to help firefighters put out fires quicker and with less risk than using ladders. This apparently led to the practice of utility workers using boom lifts for servicing overhead cables and phone lines, streetlight maintenance, and other jobs requiring high reach or getting up and around obstacles.
The article goes on to explain that, 
"Special trucks called boom trucks carried many of the first boom lifts, including the ones on fire trucks. Mr. Thornton-Trump patented his invention in the early 1960s as a 'power-operated boom structure' and as a 'lifting apparatus for electric line and construction workers.'"
So, where did the name "Snooper" come from?
Workers who carry out bridge inspections and maintenance and inspections are familiar with the terms "snooper", "snooper truck," and "snooper crane."
What they may not know is that the name Snooper® is actually a trademarked brand name owned by Paxton-Mitchell Co., LLC. It was the popularity of these vehicles that led, over time, to the name becoming an almost generic term to refer to all underbridge inspection vehicles.
According to their website, 
"In 1964, the first "SNOOPER®" Underbridge Inspection and Maintenance Truck was designed and manufactured."
Bridge Work Required: The State of Underbridge Inspections
According to InfrastructureReportCard.org's webpage on bridges,
"The U.S. has 614,387 bridges, almost four in 10 of which are 50 years or older. 56,007 — 9.1% — of the nation's bridges were structurally deficient in 2016, and on average there were 188 million trips across structurally deficient bridges each day.
While the number of bridges that are in such poor condition as to be considered structurally deficient is decreasing, the average age of America's bridges keeps going up and many of the nation's bridges are approaching the end of their design life. The most recent estimate puts the nation's backlog of bridge rehabilitation needs at $123 billion."
In response to the 1967 collapse of the Silver Bridge over the Ohio River, which killed 46 people, the Department of Transportation's national bridge inspection program was created.
At that time, the actual number of highway bridges in the United States was unknown and there was no systematic bridge inspection program. This meant that the inspection and monitoring of the existing bridges we did have was inconsistent and without federal oversight.
That changed with the passage of the Federal-Aid Highway Act of 1968.
Since then, the National Bridge Inspection Standards (NBIS) require safety inspections at least once every 24 months for highway bridges that exceed 20 feet in total length located on public roads.
There are over 600,000 bridges in the United States and this means that there are close to 300,000 bridges due for inspections each year, or 1,100 bridges being inspected every work day. Unfortunately, a significant percentage of these bridges need major repair or even being replaced.
While bridge inspections make up the bulk of bridge work carried out by state departments of transportation and contractors, there is also bridge maintenance, cleaning, and repairs to be done.
Underbridge Inspection Access Options
Many bridges have accessible roadways with shoulders under them that allow standard boom lifts or "snooper" cranes to be used for underbridge inspections. However, when bridges are too far above a roadway, or they span waterways, then specialized underbridge inspection equipment is needed.
One option, of course, is to make use of rope riggers who operate from rope systems attached to and suspended from the bridges themselves. This is a traditional and highly specialized trade and is still actively used for bridge work today. 
Often, however, bridge inspectors use vehicles that are parked on the bridge decks to inspect and work on the underside of bridges. These articulated underbridge vehicles can often lift a platform over railings and pedestrian walkways, lower the platform beneath the bridge deck, and reach underneath the bridge.
There are several standard types of bridge inspections that can be carried out, and often workers need to do a close-up inspection in-between hard to reach girders and beams under the bridge deck. An underbridge platform can safely maneuver inspectors closer to the bridge structure and allow for hands-on work that can be done more efficiently, safely, and effectively.
Snooper Cranes – Underbridge Platforms for Your Project Needs
There are five basic types of bridge inspections.
These are initial, routine, in-depth, damage, and special inspections. Because the "routine" inspection is the most common type of inspection performed and required every two years, it is the type of inspection most bridge inspection contractors and state DOTs engage in.
With the wide range of capabilities available, determining the best choice for your bridge inspection project can be challenging. However, it often depends on the structure itself and the terrain you're working on.
Pricing is a major consideration, of course, but your specific project needs and required capabilities should be the primary deciding factors for your underbridge inspection truck choice.
As professionals in the industry, we can guide you through the process of renting or buying the right vehicle and equipment for your project. Experience and knowledge are key to making the best choice.
We provide quality under bridge equipment throughout all the Western States, including California, Washington, and Oregon. Our inventory of snooper cranes and under bridge access platforms include the state-of-the-art self-drive access platform, the Truck Mounted Hydra Platform HPT43
We take a great deal of pride in being the only company in California that offers total under bridge access. By offering high quality customer service, we have managed to build long-lasting relationships with our esteemed customers. And we intend to keep it that way.
Contact us today to discuss your requirements.