As we've noted here in previous posts, bridge riggers and rigging equipment can include a variety of items. In addition, bridge inspections can involve a variety of different bridge types. One of the most common types are railroad bridges.
Critical Structures With a Long History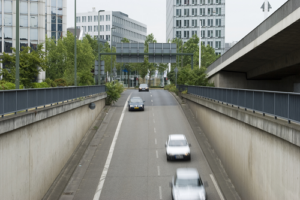 Almost all railroad bridges are privately owned in contrast to public highway system bridges. However, there is still federal, state and local oversight regarding bridge safety and required inspections. 
Inspections are highly critical since railroad bridges regularly carry heavy and potentially dangerous cargo loads, often over busy roadways and important waterways. In addition, many railroad bridges are far older than any highway bridges.
Addressing this concern, a publication from the Congressional Research Service points out, 
"Many of these bridges are a century old or more. For example, the Metropolis and Sciotoville bridges over the Ohio River, owned and maintained by freight railroads BNSF and CSX,
respectively, were built in 1917. Near Baltimore, CSX freight trains and MARC commuter trains use a stone arch bridge built in 1835. These bridges, built to conservative standards in the age of heavy steam locomotives, have proven to be durably engineered, and rail accidents resulting from bridge failure have been rare."
Unfortunately, despite their rugged construction, accidents do occur. An example was an incident that took place on July 5, 2018, when two 30-ton pieces of non-load-bearing concrete fell from the Onondaga Street Bridge, that was owned by the New York, Susquehanna & Western Railway (NYSW), in Syracuse, New York. Fortunately, no one was hurt as a result. 
There have been other accidents, as well, that have resulted in injuries and even deaths, in addition to the massive costs of damage, repairs, and transportation delays of cargo.
Consequently, inspections of railroad bridges are necessary and, like roadway bridges, require the use of various bridge riggers and even under bridge inspection units.
Railroad Bridges Need Inspections, Too
The Federal Railroad Administration (FRA) became responsible for all aspects of rail safety, including railroad operations and the condition of track supports with the passage of the Federal Railroad Safety Act of 1970.
Since that time, FRA has had the authority to inspect railroad facilities and to remove from service any infrastructure that poses a safety hazard, though this has only been required twice in the last 20 years.Before 1995, there was no federal policy specifically addressing the inspection or maintenance of railroad bridges. This left the railroads to decide how and when to inspect their bridges.
FRA undertook a survey of the nation's railroad bridges, starting in 1991, and estimated that there were approximately 100,700 railroad bridges in service.
In 2010, the Federal Railroad Administration (FRA) finally published federal safety standards for railroad bridges in a document known as FRA 237.
Essentially, FRA 237 requires railroads that own bridges do the following:
Inspect all bridges (with no more than 540 days between inspections)

Have a bridge management plan in place that is shared with the FRA

Know the capacity of all bridges and include this data in the plan

Use experts for these requirements (i.e. bridge engineers, bridge inspectors and bridge supervisors)
The Code of Federal Regulations explains it this way:
"The regulations require railroad bridge owners to implement safety plans that include at minimum annual inspections of bridges; conduct special inspections if the weather or other conditions warrant such inspections; maintain an inventory of all bridges and know their safe load capacities; maintain design documents and document all repairs, modifications, and
inspections of each bridge; ensure bridge engineers, inspectors, and supervisors meet minimum qualifications; [and] make sure bridge inspections are conducted under the direct supervision of a designated railroad bridge inspector."
In addition to standard bridge rigging equipment and snooper trucks, railroad bridge inspectors are making use of UAVs, or Unmanned Aerial Vehicles – commonly known as drones – for visual inspections. However, there are limitations as the massive amount of steel in a typical bridge can interfere with the guidance systems of the drones.
Railroads are also incorporating sensors that monitor bridges, record impacts from boats or vehicles, and reports back to the railroad in real time using an email-based messaging system. This allows for faster response time when accidents occur that can otherwise go unreported, leaving a bridge damaged and potentially dangerous for rail traffic. 
Technology and inspection tools continue to evolve, but human inspectors and their bridge inspection vehicles still provide the basis of any reliable inspection. 
According to an article at the RT&S digital magazine,
"Such leaps forward are likely to continue. But no one seems to think that we are approaching an era of fully automated bridge inspection. At least so far, the 21st century of railroad bridges looks to be a machine-enhanced version of the past."
Bridge Riggers and Under Bridge Inspection Units
We provide quality under bridge rigging equipment throughout all the Western States, including California, Washington, and Oregon. Our inventory of snooper trucks and under bridge access platforms include the state-of-the-art self-drive access platform, the Truck Mounted Hydra Platform HPT43. 
We take a great deal of pride in being the only company in California that offers total under bridge access. By offering high quality customer service, we have managed to build long-lasting relationships with our esteemed customers. And we intend to keep it that way. Contact us today to discuss your requirements.