There are over 550,000 highway bridges in the United States, with many of them becoming quite old, which makes them a liability. In addition to age, most of these bridges are regularly exposed to major environmental conditions.
Because of these factors, it's common for bridges of all kinds to develop corrosion, cracking and other types of damage that increases the risks for the load carrying capacity of the bridge. Regular bridge inspections can find and identify issues, damage and other vulnerabilities that will require repairs or other work in order to ensure public safety.
So, who's responsible for bridge inspections?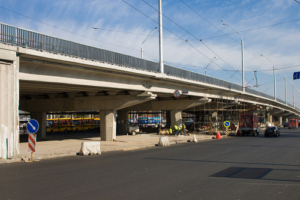 According to the Federal Highway Administration, individual states are responsible for ensuring that all public highway bridges within those States are inspected in accordance with the National Bridge Inspection Standards (NBIS), including those owned by local Agencies or other public authorities.
Most states require certified professional engineers as bridge inspection personnel. This is not a federal requirement, however. Bridge inspectors must complete bridge inspection training and most states require regular refresher training. In addition, many state DOTs also have health, agility, and eyesight requirements for bridge inspectors.
And what kinds of bridge inspections can be done?
The variety of bridge inspections can include magnetic particle testing, ultrasonic testing, phased array and radiographic testing. Of course, the most common approach is visual inspections. Visual inspections allow inspectors to assess the physical condition of bridge equipment through the detection of damage, discontinuities or other surface flaws.
Equipment for Visual Bridge Inspections
An article from the CityLab website noted,
"How do you inspect a bridge for signs of dangerous deterioration? It's not easy. You'd either need to lower yourself on rope over the guard rails, or use specialized equipment like a "snooper"—a heavy-duty truck with a long, extending arm. Those can set back transportation departments as much as $1 million each."
As the article points out, the traditional approach to visual bridge inspections has been to employ the use of ropes, tackle and climbing gear or lifts and bridge inspections units, also known popularly as a "snooper crane" or truck.
However, the article goes to explain how the Minnesota Department of Transportation began experimenting with drones for bridge inspections in 2015. Unmanned aerial vehicles can scan entire bridge lengths and nose into hard-to-reach cracks for a fraction of the cost of traditional inspection methods, according to the article.
According to a blog post at 3dr.com,
"Drones and non-destructive testing devices, for example, are part of a variety of tools are that are shaping the future of bridge inspection and rehabilitation, helping improve project safety, reduce costs, and create more efficient and sustainable methods."
While this is an exciting new chapter in the field of structural inspections, and bridge inspections in particular, the need for manual inspections has not abated. And these require specialized vehicles to be carried out efficiently and safely.
While they can provide high tech tools for inspections, drones and other similar devices cannot do much in the way of maintenance, repair and cleaning of bridge structures. These, of course, still must be done regularly on bridges, as well, and require a "hands-on" approach.
The Snooper Crane – Under Bridge Inspection Truck
Anyone associated with bridge building, maintenance and inspections is familiar with the terms, "snooper", "snooper truck" and "snooper crane." However, not everyone is as familiar with the origin of these names.
Much like Kleenex®, Xerox® and ChapStick®, the name Snooper® is actually a trademarked brand name owned by Paxton-Mitchell Co., LLC, that has become commonly used as a generic term for under bridge inspection vehicles. 
According to the company's website, the first "SNOOPER®" Underbridge Inspection and Maintenance Truck was designed and manufactured in 1964. Since that time, the SNOOPER® has been sold to state highway departments, DOTs, municipalities, counties, contractors, and construction equipment rental companies across the United States, as well as to firms and agencies overseas.
These multi-purpose vehicles provide extensive reach capabilities for inspectors and technicians, to access a wide variety of bridges, trestles, and viaducts. Most versions have a hydraulic crane that allows operators to be placed in the best position needed to be to perform under bridge tasks.
Many "snooper crane" platforms can accommodate as many as three operators or more, depending on the size and configuration. Typically, the crane has a hydraulically extendible second boom that allows the platform or basket to be raised over tall fences or under deep girders. 
When You Need a Snooper Crane
We provide quality under bridge equipment throughout all the Western States, including California, Washington, and Oregon. Our inventory of snooper trucks and under bridge access platforms include the state-of-the-art self-drive access platform, the Truck Mounted Hydra Platform HPT43. 
We take a great deal of pride in being the only company in California that offers total under bridge access. By offering high quality customer service, we have managed to build long-lasting relationships with our esteemed customers. And we intend to keep it that way.
Contact us today to discuss snooper crane requirements.