Throughout the Western United States and the rest of the country, routine highway bridge inspections are a required and essential part of infrastructure management. These regular bridge inspections are typically carried out every 24 months. 
And the inspections are conducted by various entities ranging from small municipalities to large counties to state DOTs – and the private contractors often used to do the work.
Bridge Inspections Help Ensure the Safety of our Transportation Infrastructure
Generally speaking, all publicly owned vehicular (highway) bridges over twenty feet in length must be inspected every two years, and the subsequent report data transmitted to the Federal Highway Administration (FHWA). This is done in compliance with the National Bridge Inspection Standards (NBIS).
The primary purpose of NBIS is to set the national minimum standards for the proper inspection and evaluation of all highway bridges for safety and serviceability and to prepare and maintain an inventory of all bridges.
Although they are not required by NBIS, regular inspections of privately-owned structures and pedestrian bridges can be beneficial for the public accessing them while providing the owners with the crucial information related to the condition and safety of these structures.
In fact, according to the FHWA,
"The inspection of privately owned bridges connected to privately owned roads that are open to the public is not typically the responsibility of the public authority. State DOTs, Federal agencies, and Tribal governments are strongly encouraged to inspect or cause the inspection of these bridges in accordance with the NBIS."
In addition to the "Routine" bridge inspections carried out regularly by these various agencies, other bridge evaluation work is conducted such as in-depth, fracture-critical, and underwater bridge inspections. And, along with inspections and assessments, highway bridges require ongoing work such as cleaning, maintenance, repairs, and even rehabilitation.
Bridge Inspection Work Requires Specialized Tools and Access Equipment
Depending on the size, height, and location of a particular bridge structure, there are various traditional types of access equipment utilized for gaining access to hard-to-reach areas of the bridge. These methods include barges, aerial lifts, fixed or suspended scaffolding, and under bridge access vehicles.
Oftentimes, the primary consideration can be minimizing disruption of traffic flow on a heavily traveled vehicular bridge. In those instances, inspectors and other workers may opt for some type of under bridge access that does not make use of a truck or trailer-mounted vehicle working from the bridge deck.
However, most highway bridges are wide enough – and most under bridge platform vehicles are narrow enough – that interference with traffic is minimal. In addition, one of the advantages of using an under bridge platform vehicle such as an Aspen Aerials A-40 bridge inspection unit, for example, is the rapidity of deployment and the superior vertical and horizontal reach.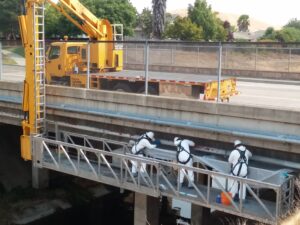 Also, the large capacity and stability provided by the walkway platform allows for unrestricted movement and fewer delays for crews working on a bridge.
Even though there are several advanced tools being employed for bridge inspections such as LiDAR, ultrasonic sensors, and other devices for conducting Non-Destructive Testing (NDT), many of these must be manually operated. Under bridge platforms lowered from bridge decks can provide the safest and most stable and most secure access method for those purposes. 
While UAVs (unmanned aerial vehicles), also known as unmanned aerial systems (UASs) or drones, can and are being used increasingly, they have definite limitations. 
For example, It's often difficult for drones to reach partially enclosed, complex, or congested areas of bridges. As a result, it is often impossible for the cameras to scan these areas completely. On certain bridges that are located near airports, heliports, and other sensitive flight areas it can be difficult for bridge inspectors to get permission to use a UAV. This is often the case in areas where wireless communication could impact safety, as well.
Add to this the unavoidable fact that windy conditions around many bridges, as well as magnetic interference issues caused by the mass of ferrous metal in many bridges, can make it difficult to fly and keep UAVs stable when in flight. Consequently, these adverse conditions can make it nearly impossible to obtain clear still or video images of the bridge structure.
What this means for bridge inspections and bridge safety is that, despite the hugely beneficial capabilities of evolving high-tech tools, manual inspections by human inspectors will continue to be required for the foreseeable future.
Your Most Reliable Source for Quality Bridge Inspection Access Equipment
The professionals at Under Bridge Platforms are proud to serve the highway bridge inspection, maintenance, and construction industries throughout our Western States by providing the best selection of high-quality under bridge access equipment.
Under Bridge Platforms provides quality equipment to customers in California, Washington, Oregon, Idaho, Nevada, Montana, and Wyoming. In addition, we support clients throughout North Dakota, South Dakota, Nebraska, Kansas, Oklahoma, Texas, New Mexico, Arizona, Utah, Missouri, Arkansas, and Louisiana, as well.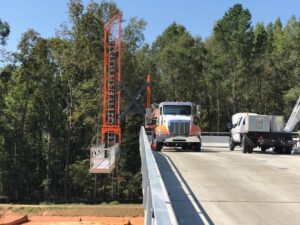 Our expanding, world-class inventory of under bridge access platforms includes high quality aerial access equipment such as the rugged HPT 38 Truck Mounted Platform and the versatile Aspen UB60 Bridge Inspection Unit.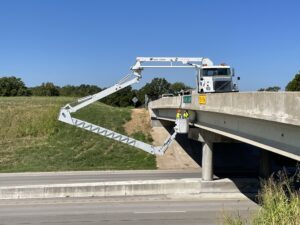 As one of the nation's premier under bridge platform equipment rental providers, we work hard to ensure that you can rely on us. And that includes knowing we can guide you through the entire process of buying or renting the right under bridge inspection vehicle and equipment.
No matter the size or type of project, the professionals at Under Bridge Platforms are here to help you make the proper selection. 
We take a great deal of pride in being the only company in our industry based in California that offers total under bridge access. Because we believe in providing only quality customer service, we have managed to build long-lasting relationships with our esteemed customers.
Contact us today and let us help take care of all your under bridge platform needs.